Fall in Ontario is all about the apples. Every greengrocer has baskets and bushels on display with every variety you can imagine, and perhaps a few you haven't imagined yet.
While the season is still in full swing, I try to eat as many as I possibly can. Red, green, yellow, speckled, striped, and even a pale matte golden-brown. I eat so many that I put the old motto of an apple a day to shame.
And yet, despite my love of apples, I'm woefully short on apple dessert recipes on this here blog. Clearly, I've been slacking.
Searching for the Perfect Apple Crisp Recipe
My favourite way to enjoy apples in season is simply eaten out of hand, but a freshly-baked apple crisp served warm with a scoop of vanilla ice cream is a very close second. That old-fashioned combination of sweet crumbly topping and saucy spiced apple filling is hard to beat.
This recipe is cobbled together (if you'll pardon the pun) from a few different sources, though the biggest inspiration comes from a much-beloved copy of the 1965 Chatelaine Cookbook, which includes a simple apple crisp recipe along with a molasses-spiked variation that's been on my to-do list for a while.
I finally decided to give it a whirl this fall, and as it turns out, molasses may very well be the best thing that ever happened to apple crisp. It's hard to improve on a classic, but that's exactly what the molasses do in this recipe, adding depth and dark caramel notes to the filling without overpowering the flavour of the apples, which are still very much the star of the show.
To round things out, I also added quick oats and chopped walnuts to the simple brown sugar streusel topping, creating a delicious crunchy layer to contrast against the sauciness of the apple filling. (And be warned, this is a very saucy crisp!)
Choosing the Best Apples for Crisp
An apple crisp is only as good as the apples you make it with. For best results, you want to choose a firm, crispy apple with a good amount of tartness.
Some of my favourites varieties for baking are Honeycrisp, Ambrosia and Gala, all of which will hold their shape well and have enough acidity stand up to the sweetness of the brown sugar and molasses.
Granny Smith are also a good choice, though I find their flavour is almost a little too tart, so I'd recommend pairing them up with another variety to balance things out.
Just make sure you avoid varieties that break down as they cook, like MacIntosh - they're quite lovely, but you want distinct slices of apple, not applesauce!
Crumble vs. Crisp: What's the Difference?
People often use crumble and crisp interchangeably to describe a saucy fruit filling topped with a crumbled streusel-style topping made with flour, sugar and butter.
If you want to get really technical about it, though, the biggest difference is that the topping a crisp is... well... crisp. This is usually achieved by using a thinner layer of topping, and by incorporating ingredients like nuts and oats that retain their cripsness as they bake.
Whatever name you prefer to use, though, a crisp-slash-crumble is a perfect choice if you're looking for a quick and easy dessert to feed a crowd, because it takes almost no time to prepare and can be popped into the oven to cook to golden-brown perfection while you enjoy your meal.
Crisps are usually best eaten the day they're made, but will keep in the refrigerator for a few days. (Don't tell anyone, but I may have been known to eat leftover crisp for breakfast. I mean, it's really just fruit with oatmeal, right?)
//
Print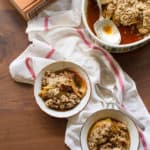 Old Fashioned Molasses Apple Crisp
---
Author:

Total Time:

1 hour 5 minutes

Yield:

6

servings

1

x
Description
Molasses adds an extra layer of deep, dark sweetness to the filling of this old-fashioned apple crisp. Serve it warm from the oven with a scoop of vanilla ice cream for the perfect ending to a fall feast.
---
Molasses Apple Filling:
4

medium-sized apples, such as honeycrisp or gala

2 tbsp

water

2 tbsp

molasses

2 tbsp

brown sugar

1 tbsp

flour

½ tsp

ground cinnamon

¼ tsp

ground ginger
Pinch salt
Crumble Topping:
½ cup

flour

½ cup

quick oats

¼ cup

brown sugar

½ tsp

salt

¼ cup

butter

¼ cup

finely chopped walnuts
---
Instructions
Preheat oven to 350F. Lightly butter a 2-qt shallow casserole dish or an 8" square baking pan.
Core and thinly slice the apples. You should have around 5-6 cups, depending on how big your apples are. (I leave the apples unpeeled for a more rustic texture, but feel free to peel them before slicing if you want a softer, more pie-like filling.)
In a large mixing bowl, toss the apples together with water, molasses, brown sugar, flour, cinnamon, ginger and salt. Tumble into the prepared casserole dish, spreading out into a more or less even layer.
In a second mixing bowl, stir together the flour, oats, brown sugar and salt. Using two knives or a pastry cutter, cut in the butter until you have a fine, crumbly mixture. Stir in the chopped walnuts. Scatter the crumble onto the apples, covering evenly.
Bake in preheated oven for 40-50 minutes, or until the crisp is golden-brown and bubbly around the edges. Let stand for 15 minutes before spooning into bowls if serving warm, or let cool completely if you'd prefer to serve at room temperature.
Prep Time:

15 mins

Cook Time:

50 mins

Category:

Dessert

Method:

Baked

Cuisine:

Canadian