Sometimes, the most wonderful things happen when you start with two great things and combine them together into one glorious whole that's so much more than the sum of its parts.
Take, for example, Johnny Cash covering Nine Inch Nails. Or Girl Talk's entire discography. Or Glittens. Or Breakfast poutine. Or Calculator watches.
OK, scratch that last one. Calculator watches are actually more lame than the sum of their parts, which are already pretty lame to begin with.
But seriously, I love me a great mashup. And that goes doubly so for this crazy good comfort food mashup. It came to me in a flash of inspiration one day, as I was sitting in an Irish pub near the office, trying to decide between the Guinness stew and the shepherd's pie, and wondering why I couldn't just get both.
Which, as it turns out, is totally doable. (Just not at the pub. Apparently the kitchen doesn't like it when you try to freestyle with their menu. Hmph.)
Two Pub Classics, Together at Last
This combination of two pub classics is basically the best of both worlds. It's basically savoury Irish-style beef and mushroom stew in a rich Guinness gravy nestled underneath a golden-brown mound of creamy garlic-cheddar mashed potatoes, all baked together into bubbling hot deliciousness.
Not that you could go wrong with either of the originals, but something pretty magical that happens when you combine them together. We're talking comfort food squared, people.
The Difference Between Cottage Pie and Shepherd's Pie
Most people in North American use the term Shepherd's Pie to refer to any saucy pot pie topped off with a mashed potato filling. However, if we're going to get really technical here, this is actually a Cottage Pie.
So what's the difference between the two? That comes down to the filling - a Shepherd's Pie is made with lamb or mutton, because that's what a shepherd would have on hand (seeing as they raise sheep and all), whereas a Cottage Pie can be made with any kind of meat. In both cases, the pie is always finished off with a topping of mashed potato.
This is a relatively recent distinction, however, as the two terms were used pretty much interchangeably through to the end of the 19th century. So I feel it's perfectly acceptable to call this a Shepherd's Pie, despite the fact that it's made with beef.
Making This Recipe in Advance
I'm not going to lie. These pies are a labour of love. A labour of savoury, cheesy, saucy, stick-to-your-ribs, warm-you-all-the-way-through love that is worth every single minute you will spend making them.
Thankfully, you can spend most of that time kicking back and relaxing while the stew is simmering away. Or, even better, you can cut down your prep time by making the filling in advance. Once that's done with, the rest of the process is basically as easy as... well... pie.
You can prep the stew up to 3 days in advance, and store it in the fridge in an airtight container until you're ready to assemble. You don't even need to warm it up... just let the stew come to room temperature before continuing on with the recipe. You can also freeze the stew for up to 3 months, though the mushrooms will get a little mushy.
Whatever you do, wait until the day of to make the mashed potato topping and assemble the pies. It's a pretty quick process, and mashed potatoes generally taste best the day they're made.
Served bubbling hot from the oven with a pint of Guinness, these beauties are pretty much the closest you can get to a semi-authentic Irish pub meal without leaving the comfort of your own home. Which, when you think about it, is a pretty awesome mashup all on its own.
//
Print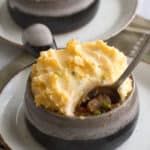 Guinness Beef and Mushroom Shepherd's Pie
---
Author:

Total Time:

2 hours 25 mins

Yield:

4

1

x
Description
Celebrate St Patrick's Day with a delicious dish that combines the best of two Irish pub classics - a rich, saucy Guinness beef and mushroom stew, served up shepherd's pie style under a layer of golden-brown mashed potatoes.
---
Steak and Mushroom Filling:
3 tbsp

olive oil

1

lb beef stew meat, cut into

½

" cubes

½ cup

diced double smoked bacon

1 cup

diced onion

½ cup

diced carrot

1

package (226g / 8 oz) small white button mushrooms, halved

1

clove garlic, minced

1 cup

stout beer (like Guinness)

½ cup

beef stock

2 tbsp

tomato paste

½ tsp

dried thyme

1

bay leaf

2 tbsp

all-purpose flour

3 tbsp

water

½ cup

frozen peas, unthawed
Mashed Potato Topping:
1 ½

lbs russet potatoes

½ cup

table cream (10%)

2 tbsp

butter

1 cup

shredded sharp cheddar

½ tsp

salt

½ tsp

fresh ground black pepper
---
Instructions
Prepare the Filling (can be done up to 3 days in advance):
Heat 2 tablespoons of olive oil in a large pot over medium heat. Working in two batches to avoid crowding the pan, sear the beef until well-browned on all sides. Use a slotted spoon to transfer the seared beef to a bowl, and set aside.
Next, add the remaining tablespoon of oil, and fry the bacon until it starts to brown. Add the onion and carrot, and saute until the onion is soft and golden, about 8-10 minutes. Add the garlic, and cook until fragrant, about 1 minute longer.
Stir in the stout, using a wooden spoon to scrape up any browned bits that are clinging to the bottom of the pan, then add the beef stock, tomato paste, dried thyme and bay leaf. Stir in the mushrooms, along with the reserved beef and any juices that may have accumulated in the bowl. (Don't worry if there isn't quite enough liquid to cover everything in the pan - this is totally the way it's supposed to be.)
Bring the mixture to a simmer, then reduce heat to low and cook, covered, for 1 hour 45 minutes or until the beef is tender.
In a small bowl, whisk together the flour and water until smooth. Stir into the stew, and cook for 15-20 minutes longer, or until the sauce is thick and rich. Stir in the frozen peas, and simmer for another minute or two to warm them through.
Remove from heat, and discard the bay leaf. Taste and adjust the seasoning, if necessary. Set aside to cool while you prepare the mashed potatoes. (You can also prepare the filling in advance and store in the refrigerator for up to 3 days, then bring up to room temperature before assembling the pies.)
Make the Topping and Assemble the Pies:
Preheat oven to 375F.
In a large pot of boiling salted water, cook the potatoes and garlic until the potatoes pierce easily with a fork, about 15 minutes. Drain, and stir in the cream and butter. Mash until smooth, then stir in the cheese, mixing until it melts and incorporates into the potatoes. Season to taste with salt and pepper.
Divide the beef stew between four oven-safe bowls (or into a casserole dish, if you prefer to make one big pie). Spoon the mashed potatoes onto the filling, smoothing out into an even layer. Bake in preheated oven for 20-25 minutes, or until the filling is bubbling hot and the mashed potatoes are golden-brown. Let stand for 5 minutes to cool off slightly, then serve.
Prep Time:

2 hours

Cook Time:

25 mins

Category:

Main