I'd like to think I'm pretty knowledgeable about a wide variety of things. Not to toot my own horn or anything, but if you want to go up against me in a game of Trivial Pursuit, you best be ready to get served.
However, when Gay Lea asked us to write about kids in the kitchen this month, I was a little bit stumped at first... mostly because the closest thing I have to a child is a bossy little tortoiseshell cat, and she's not particularly interested in people food unless it's roast chicken or tuna juice.
But if you follow me on Instagram, though, you might have noticed I do have two little nephews who live in Rhode Island, so I've picked up a trick or two from my sister when it comes to making kid-friendly meals.
My nephews both tend to be picky eaters, so the biggest challenge most days is figuring out what they're willing to eat, but I do have a few surefire meals in my arsenal on the rare occasion that I'm on auntie duty.
Thanks to the wonders of Pinterest, I've learned how to turn hot dogs into an octopuses (or is that octopi?), and when that fails to impress, there's always boxed mac and cheese, or bagels with cream cheese.
But if there's one thing that's a surefire winner with these boys, it's got to be pancakes.
And when it comes to pancakes, there's nothing better for feeding a pair of impatient boys than a dutch baby, because instead of spending your morning hovering over a hot pan flipping flapjacks, you just pop one big pancake into the oven and let it bake up to golden, puffy perfection.
It will start to deflate as soon as it emerges from the oven, but that's just part of its beauty because by the time you get to the table you'll have an elegantly rumpled pancake with crispy golden edges and a sweet custardy centre. All you need to do at that point is serve your guests.
(And yes, this is equally convenient for a bunch of hungry adults, in case you happen to have a few of those sitting at your breakfast table.)
This particular version is especially perfect for winter weekends, with a tangy batter made with fresh Hewitt's buttermilk and warm winter spices, all wrapped around softly sauteed apple slices.
All if needs is a generous dusting of icing sugar, and you're good to go.
Which is good thing, because I've also learned from my nephews that you've probably got all of five minutes to enjoy the fruits of your labour before they're ready for their next adventure.
//
Disclosure: I am part of the PTPA Brand Ambassador Program with Gay Lea, and received compensation as part of my affiliation with this group. The opinions on this blog are my own.
//
Print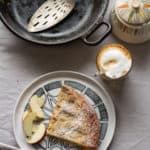 Apple-Spice Buttermilk Dutch Baby
---
Author:

Total Time:

30 mins

Yield:

4

1

x
Description
This oven-baked pancake is perfect for feeding a crowd - no more hovering over a hot stove all morning flipping flapjacks!
---
½ cup

flour

½ cup

Hewitt's 2% buttermilk

2

eggs

2 tbsp

brown sugar

1 tsp

vanilla extract

½ tsp

salt

½ tsp

ground cinnamon

½ tsp

ground nutmeg

¼ tsp

ground cardamom

3 tbsp

Gay Lea unsalted butter

1

small Empire or Cortland apple, cored and thinly sliced
Powdered sugar, for garnish
---
Instructions
Combine the flour, buttermilk, eggs, brown sugar, vanilla, salt. cinnamon, nutmeg, cardamom in a blender or food processor. Blend until smooth and completely lump-free. Set aside to rest for 10-15 minutes.
While the batter is resting, preheat the oven to 450F.
Set a large oven-proof skillet over medium-high heat. Once the skillet is good and hot, add the butter and swirl it around to coat the bottom and sides of the pan. Add the sliced apples in a single layer on the bottom of the pan, and cook for about 3-4 minutes or until they start to soften, flipping over halfway through.
Gently pour the batter into the pan, doing your best not to disturb the layer of apples apples, tilting the pan to make sure the batter gets evenly spread out into all the nooks. Transfer to the preheated oven and bake until puffed and golden-brown around the edges, about 15-20 minutes.
Serve immediately with a dusting of icing sugar, and some extra sliced apple for garnish, if you desire.
Prep Time:

10 mins

Cook Time:

20 mins

Category:

Breakfast