It's development plan season at work, which means that I've spent a good chunk of the past month evaluating my strengths and opportunities, and figuring out what I want to be when I grow up.
(For those of you who don't work in the corporate world, "opportunity" is just a nicer way of saying "things I'm not very good at".)
According to the various tests and assessments I've done, there are several things I'm not very good at. I'm not very organized, I have a short attention span, and I'm a little bit too honest. Go figure.
On the bright side, I scored high on creativity, analytical thinking, and strategic planning. So there's that.
That whole planning thing probably explains why I've strategized solutions for my lack of organization and patience. Like this neat trick for making delicious (and healthy!) fruity frozen yogurt with literally no prep time whatsoever using the brand-new Ascent series blender I recently received from the lovely folks at Vitamix.
This dessert is perfect for short attention spans - just two ingredients, one push of a button, and in less than 2 minutes you've got yourself a delicious fruity treat.
It's so easy, you barely need a recipe, but I've given you one anyways. And while I was at it, I decided to film a little video, too.
I am honestly head over heels in love with this new Vitamix of mine. I splurged on an Aspire series blender a few years ago, and have been a total fan-girl ever since, if only because it does such a whiz-bang job on blending whatever I put in it.
Soups and smoothies come out silky smooth. Emulsified sauces like aioli and hollandaise come together like a breeze. And don't even get me started on how easy it is to make pot de creme.
While I have no complaints whatsoever with my old blender, the Ascent 2500 is a serious upgrade.
It has a sleek base design with electronic display that looks great on my countertop, a selector dial that allows you to choose between 10 speeds and three pre-programmed functions, and a new clear lid design lets you see what's happening inside.
The basic container in the box is a spacious 64oz, but I'm excited for the additional container sizes coming later this spring - especially the single-serve blending cups that look perfect for making morning smoothies without the hassle of getting the full-sized container dirty.
My only complaint is that the sound of the motor scares the cat when it kicks into high gear, but then again, she's also scared of vacuum cleaners, garbage bags, and small children... so we'll take it with a grain of salt.
And when it comes to this dessert, the Ascent's powerful motor does short work of transforming rock-solid frozen fruit into a silky-smooth puree, and there's even a preset frozen dessert program that does all the work for you. (Because obviously this recipe wasn't easy enough to start with.)
Patience is overrated. This gorgeous new blender, on the other hand? Definitely not.
//
Disclosure: This is a sponsored post on behalf of Vitamix. I received a Vitamix Ascent series blender to test out for myself, and another one to give away. All opinions, as always, are entirely my own. Thank you for supporting the brands that keep the Crumb test kitchen running!
//
Print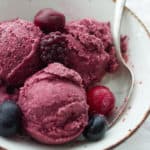 "Instant" Frozen Yogurt
---
Author:

Total Time:

5 mins

Yield:

4

1

x
Description
All you need to whip up this easy (and healthy!) fruity dessert is two ingredients, a powerful blender, one push of a button, and less than two minutes. Play around with different fruit combinations - the only limit is your imagination!
---
1 cup

full-fat vanilla Greek yogurt

3 cups

frozen berry blend

2 tbsp

honey (optional)
---
Instructions
Place the yogurt and frozen berries in the container of the Vitamix.
Select the frozen dessert program. If necessary, use the tamper to push down the ingredients and break up air pockets. Blend until smooth and well blended.
(If your blender doesn't have a preset program, start the blender on the lowest speed and then slowly increase to the highest speed. Blend for 45-60 seconds, stopping as soon as the mixture is smooth.)
Notes
This frozen yogurt is best served right away, straight out of the blender.
However, if you want to prepare it ahead of time, scoop it out into individual serving dishes and store them in the freezer. When ready to serve, pull the dishes out a couple of minutes in advance to let the frozen yogurt soften up.
Prep Time:

5 mins

Category:

Dessert
//
Giveaway Details:
Sorry, the giveaway is over. Better luck next time!