When it comes to guilty indulgences, I have more than my fair share. The occasional expensive latte on my afternoon coffee break? Yup. Lying in bed for an extra hour on weekends? Double yup. A great pair of shoes, especially if they're on sale? Absolutely. Gooey sweet desserts? Not so much.
Yup. Despite what you might thing from reading this blog, I don't really have much of a sweet tooth. Honestly, I'd much rather save the calories for savoury treats, like gooey soft cheeses or fresh-baked bread.
I do, however, make an exception for certain things.
As of this week, I'm adding one more dessert to my list of exceptions - this citrusy riff on coeur a la creme, a classic French dessert that takes looks and sounds super-fancy, but actually takes roughly five minutes and four ingredients to prepare.
It's light as air and wonderfully creamy, falling somewhere in the intersection between cheesecake, panna cotta and mousse, and with just barely enough sweetness to keep it firmly planted in dessert territory.
And since citrus season is in full swing, I've topped it off with a brilliantly crimson blood orange compote. Partially because I love me some blood oranges (ding ding... another guilty treat), and partially because I just love that pop of colour against the snowy white of the coeur a la creme.
Not to mention that it's heart-shaped, which is a nice bonus... what with Valentine's Day coming up and all.
Traditionally, coeur a la creme is prepared using a combination of fromage blanc and creme fraiche. But since real fromage blanc can be a little tricky to find here in Canada, I've used a clever alternative.
(And no, it's not cream cheese, which is what most North American versions use.)
So what's my not-so-secret weapon? Nordica Smooth cottage cheese.
Yes, that's right. Cottage cheese. Betcha never thought something as mundane could be transformed into something so sexy, right?
As far as indulgences go, it may not be up there with a cute new pair of boots on clearance, but it's dang close.
//
Disclosure: I am part of the PTPA Brand Ambassador Program with Gay Lea, and received compensation as part of my affiliation with this group. The opinions on this blog are my own.
//
Print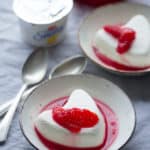 Lemon Coeur a la Creme with Blood Orange Compote
---
Author:

Total Time:

25 mins

Yield:

4

1

x
Description
This classic French dessert may look impressive, but it actually comes together in a matter of minutes. Smooth cottage cheese takes the place of the more traditional fromage blanc - if you can't find it, substitute for regular cottage cheese and then blend in a food processor until smooth.
---
Coeur a la Creme:
200g

Nordica Smooth lemon-flavoured cottage cheese

½ cup

Gay Lea sour cream

2 tbsp

sugar

¾ cup

heavy cream, whipped to soft peaks
Blood Orange Compote:
4

medium-sized blood oranges

½ cup

sugar

¼ cup

water

1 tbsp

lemon juice

1 tablespoon

orange liqueur (e.g. Grand Marnier or Triple Sec)
---
Instructions
Make the Coeur a la Creme:
Line 4 individual coeur a la creme molds with cheesecloth.
In a medium-sized mixing bowl, beat together the cottage cheese, sour cream and sugar until smooth. Gently fold in the whipped cream.
Spoon the mixture into the prepared molds. Fold in the edges of the cheesecloth to cover the top, and arrange on a wire rack that's been set over a shallow dish. Transfer to the refrigerator to drain for at least 8 hours (preferably overnight).
Make the Compote:
Using a sharp knife, cut away all of the peel and white pith from the oranges. Working over a small bowl, carefully slice away each segment from the membranes. Once the segments have all been cut out, squeeze the membranes into the bowl to extract as much of that precious juice as you can, then discard.
Measure out the blood orange juice that's accumulated in the bowl - you should have about ¼ cup. (If you're a little short, squeeze in the juice from another orange, or top up with some bottled OJ… trust me, no one will notice.)
In a small saucepan set over medium heat, stir together the blood orange juice, sugar, water, and lemon juice. Bring to a simmer and cook, stirring occasionally, until clear and syrupy, about 8-10 minutes. Remove from heat, and stir in the liqueur. Pour over the orange segments, stir well, and set aside to cool completely.
Assemble:
When ready to serve, unfold the cheesecloth covering the top of dish and invert the molds into four shallow dessert bowls. Gently peel away the rest of the cheesecloth and discard. Spoon orange compote on top, and serve immediately.
Notes
If you don't have the special coeur a la creme molds, you use a fine wire-mesh strainer lined with cheesecloth and place over a mixing bowl to drain. It won't be heart shaped, but I promise it will be just as delicious!
Prep Time:

15 mins

Cook Time:

10 mins

Category:

Dessert

Cuisine:

French