I like to think that citrus fruits are the universe's way of apologizing for the misery that is Canadian winters, like a promise that warmer days are just around the corner.
Canadian weather being what it is, you'll probably have to tough it out through a couple of late-March snow flurries, but at least that's a good excuse to hide indoors and bake cake.
And if you're in need of a cake to bake, may I suggest this one? It's a perfect way to celebrate my favouritest of the winter citruses, the oh-so-elusive and seductively bittersweet Seville orange.
My first experience with bitter oranges was at an early age, on a family trip to Portugal. The trees were full of ripe oranges, filling the warm early summer air with their delicious aroma.
My father, ecstatic to see such a bounty literally ripe for the picking, couldn't resist reaching up and grabbing one from the tree.
However, excitement quickly turned to dismay once he took his first bite and realised that those gorgeous oranges had been left untouched was because they were entirely ornamental. They were bitter and sour and full of seeds, but oh my, did they ever smell amazing.
I still get excited when I spot bitter Seville oranges at the store, but for entirely different reasons... now I know that with a little patience and a lot of sugar, these lumpy-skinned, seed-filled citrus fruits can be transformed into a delicious homemade marmalade.
They're only in season for a brief moment in late winter and tend to be hard to find, which makes them doubly covetable - which is probably why I went a little overboard on the oranges this year.
After chopping up enough to make a half-dozen jars of fresh whiskey marmalade, I still had three oranges left over. So I decided to try something a little different and riffed off a favourite recipe from Bon Appetit to create this lovely orange and cornmeal cake.
To put it simply, this cake is a citrus lover's dream. The thin slices of candied Seville orange deliver a hefty dose of marmalade flavour, which is tempered by the nutty cornmeal cake soaked in an orange-scented syrup.
If you love marmalade, you will love this cake. On the other hand, if you're more of a strawberry jam kind of person, this probably isn't for you.
BTW, while I do love the hint of bitterness the Seville oranges add to this recipe, feel free to substitute with easier-to-find oranges if you want, whether it's Cara Caras, blood oranges, or even plain ol' navels. The resulting cake won't be quite as intensely marmaladey, but it's just as good for curing those is-spring-here-yet blues.
//
Print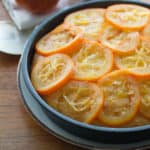 Seville Orange Polenta Cake
---
Author:

Total Time:

1 hour 20 mins

Yield:

8

1

x
Description
Bring a little sunshine to a winter afternoon with this simple cake featuring candied Seville orange slices on a tender orange-scented cornmeal base.
---
Candied Oranges:
3 cups

water

1 cup

sugar

¾ cup

honey

6

green cardamom pods, crushed

1

small Seville orange, thinly sliced and seeds removed

1 tsp

orange blossom water
Cake:
1 cup

all-purpose flour

½ cup

fine-ground cornmeal

1 ½ tsp

baking powder

½ tsp

salt

¼ tsp

baking soda

½ cup

olive oil

½ cup

sugar, divided

3

large eggs, separated

⅔ cup

plain yogurt

1 tbsp

grated Seville orange zest

1 tsp

vanilla extract
---
Instructions
Make the Candied Oranges and Syrup:
Line a baking sheet with parchment paper.
In a medium-sized saucepan, bring the water, sugar, honey and cardamom to a simmer, stirring until sugar dissolves.
Add the orange slices, and reduce heat to medium-low. Simmer for about 45 minutes, turning the orange slices occasionally, until the oranges are tender and the syrup is reduced to 3 cups. Remove from heat, and stir in the orange blossom water.
Arrange the orange slices on the prepared baking sheet. Strain the syrup and set aside for later.
Make the Cake:
Preheat oven to 350°. Lightly butter an 8" springform pan with parchment, and line the bottom with parchment paper.
In a medium-sized mixing bowl, whisk together the flour, cornmeal, baking powder, salt and baking soda.
In a second bowl, beat together the olive oil and ¼ cup sugar. Beat in the egg yolks, one at a time, then add the yogurt, orange zest and vanilla. Add the dry ingredients and beat until smooth and well combined.
Using an electric mixer, beat the egg whites until soft peaks form. Gradually add in the remaining ¼ cup sugar, beating until firm peaks form. Gently fold the egg whites into the batter, working in two batches. Pour into the prepared pan, and smooth out into an even layer.
Bake in preheated oven for 35-40 minutes, or until a toothpick inserted into center comes out clean. Using a toothpick or thin skewer, poke all over the top of the cake. Slowly drizzle the cake with ¾ cup of the reserved syrup, wait for it to absorb, then drizzle again with another ¾ cup of syrup. Arrange the candied orange slices all over the top of the cake. Place the pan on a wire rack and let cool completely.
When ready to serve, run a thin knife around the edge of the pan to release, then remove the sides of the pan. Cut into wedges and serve drizzled with more syrup.
Prep Time:

45 mins

Cook Time:

35 mins

Category:

Dessert