Call me a weirdo, but I actually get really excited by leftover turkey after the big Thanksgiving or Christmas dinner. I know some people dread having a big pile of leftovers, but for me it's honestly the best part of the holiday meal.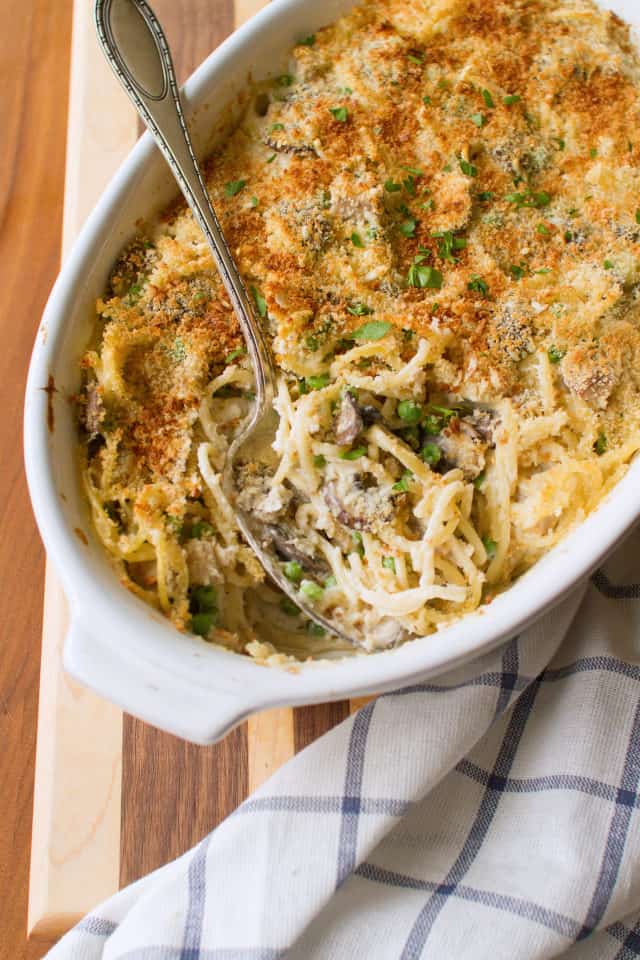 That's because the only thing I love more than a big ol' roast turkey is the endless possibilities that can be made with chopped cooked turkey, from pot pie to hash to soup to chili to... well... pretty much anything, except maybe dessert.
(I once had a bread pudding that was filled with apples and chopped turkey, and topped with turkey skin brittle. That was a flavour experience that I would prefer not to repeat ever again.)
One of my favourite ways to make over roast turkey is in this Turkey Tetrazzini Casserole, an old-school favourite of turkey, mushrooms and spaghetti smothered in a cream sauce and baked until bubbly and browned. It's rich and creamy and absolutely perfect for a cold winter day.

A brief History of Turkey Tetrazzini
Despite its Italian-sounding name, the origins of turkey Tetrazzini are entirely American.
There's some disagreement as to who first came up with the dish. Some sources say it was Ernest Arbogast, the chef at the Palace Hotel in San Francisco, while other sources say it was invented at the Knickerbocker Hotel in New York City. What every does agree on, however, is that the dish was named after Luisa Tetrazzini, a famous Italian soprano.
In the late 1800s and early 1900s, it was all the rage to name restaurant dishes in honour of famous actresses, dancers and opera singers. Some of the other dishes that were invented during this period include peaches Melba and Melba toast (both named after the singer Dame Nellie Melba), poires Mary Garden (named for the opera singer), Sarah Bernhardt cookies (named for the famous actress), and pavlova (named after the ballet dancer Anna Pavlova).
Because of its murky origins, there isn't a single authoritative recipe for turkey Tetrazzini, but everyone agrees that the main components are chopped turkey (or chicken), spaghetti, peas, mushrooms, and a creamy cheese sauce.
Some versions I found serve it right out of the pan, while others turn it into a casserole or individual ramekins and add a crispy topping of breadcrumbs or almonds that's baked until golden-brown.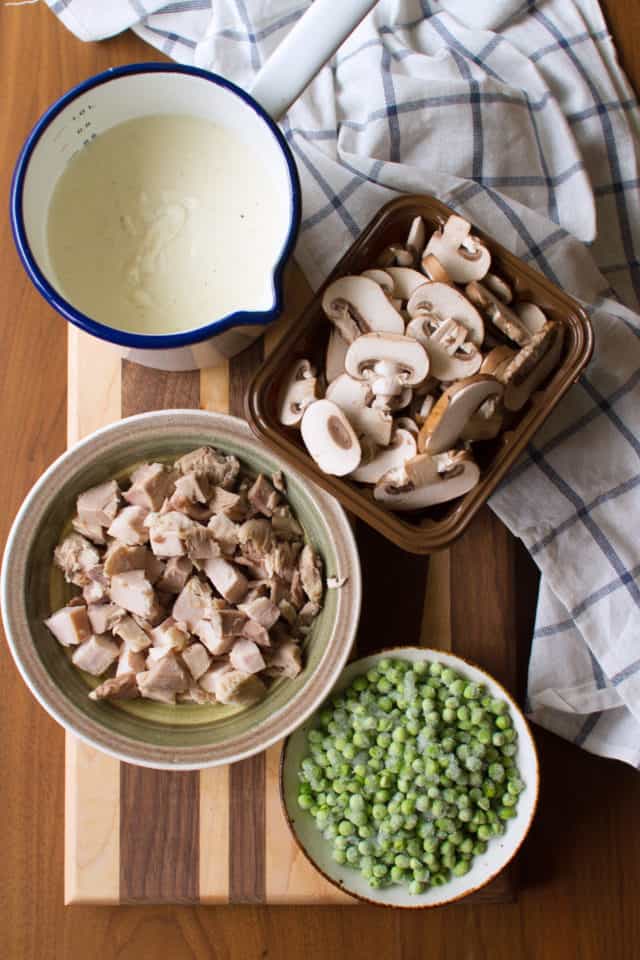 Making Turkey Tetrazzini from Scratch
As the years went on, the original dish started to move away from its elegant origins.
When convenience cuisine swept the nation in the midcentury, housewives gleefully swapped out ingredients, turning Tetrazzini into a quick and affordable casserole. Many of the recipes I found while researching this dish include all kinds of shortcuts, from canned cream of mushroom soup to shredded Velveeta cheese. I even found a recipe for Beef Tetrazzini that includes two cans of roast beef with gravy, among other things. (Yes, canned roast beef was a thing.)
I don't know much about Signora Tetrazzini, but I'm pretty sure she'd have been horrified to see what became of her namesake dish!
To take this dish back to its roots, I tracked down a recipe from the 1912 edition of the Fannie Farmer Cookbook that skips all those shortcuts. It's about as back-to-basics as it gets, with a simple cream sauce seasoned with celery salt, shredded cooked turkey, chopped spaghetti, fresh mushrooms, and a Parmesan cracker crumb topping.
For my version, I used a lighter sauce that's based on chicken broth and half-and-half instead of heavy cream. I also omitted the celery salt, added a splash of white wine to the mushrooms, and stirred some sweet peas for a pop of colour and sweetness.
The end result is a slightly more modern version that still stays faithful to the original. A classic is a classic, after all!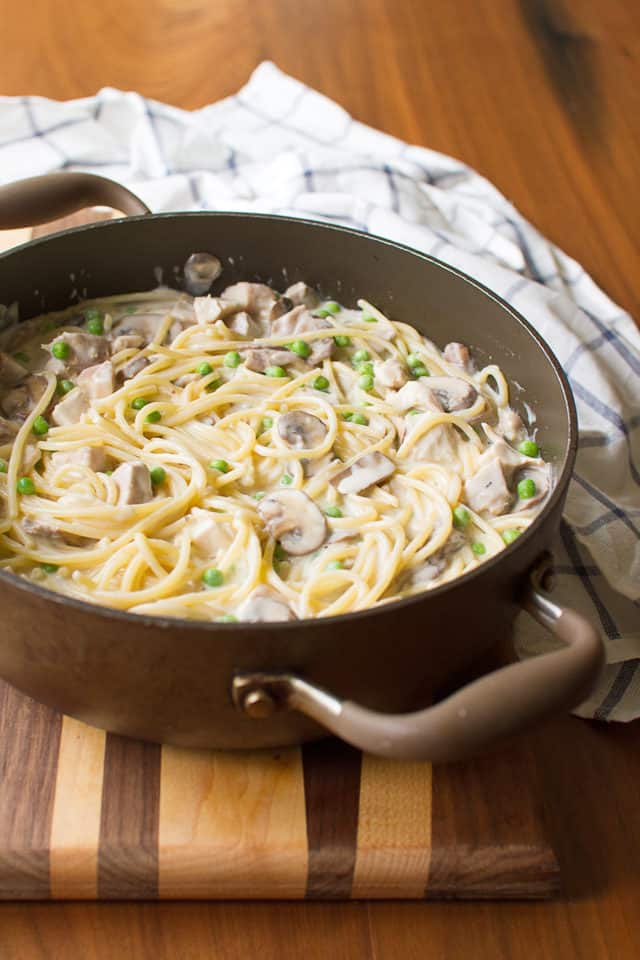 How to Make the Best Ever Turkey Tetrazzini
Here are a few tips that will guarantee you'll end up with the most delicious, creamy, comforting turkey Tetrazzini ever.
Make it Extra-Saucy: The spaghetti will absorb some of the liquid in the sauce as it bakes, which is why some versions of turkey Tetrazzini end up being fairly dry. So don't worry that your Tetrazzini looks a little soupy when you first assemble it. I promise it will bake up perfectly creamy and saucy.
Whisk it Good: Speaking of sauce, the trick to making a beautifully smooth sauce is to slowly pour in the liquid while you whisk vigorously to prevent lumps from forming. Once the liquid has been incorporated, keep whisking as the sauce comes to a simmer and starts to thicken, making sure you're getting the edges of the pan. If you've had bad luck in the past, you can also warm up the broth and cream mixture before pouring it in - this is a fool-proof way to avoid lumps, but I usually skip it because it means there's another pot to clean.
Don't Overcook the Pasta: The pasta will continue cooking on the oven, so cook it to barely al dente. I usually subtract a minute from the suggested cooking time on the package, which guarantees the pasta won't turn to mush in the oven.
Use Frozen Peas: As crazy as it sounds, there's no point in thawing the peas in this dish. Just throw them straight from the freezer to the pot - they'll thaw out as the casserole is baking, and will come out perfectly cooked.

More Ways to Use Up Leftover Turkey
I'll be honest - my favourite thing about Thanksgiving and Christmas dinners is the fact that I've usually got enough leftover turkey to feed an army, because there are so many delicious things you can make with cooked turkey!
Here are a few of my favourites recipes featuring leftover roast turkey:
//
Print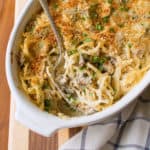 Turkey Tetrazzini Casserole
---
Author:

Total Time:

40 minutes

Yield:

6

servings

1

x
Description
This rich, creamy casserole made with cooked spaghetti, mushrooms, turkey and peas smothered in Parmesan sauce is quite possibly the best thing that could ever happen to leftover roast turkey. This recipe also works with leftover roast chicken or ham.
---
5 tbsp

butter, divided

6 tbsp

flour

2 cups

chicken broth

1 ½ cups

half-and-half cream

1 tsp

salt

1 tsp

fresh ground pepper

½

lb (250g) uncooked spaghetti, snapped in half

½

lb (250g) sliced cremini mushrooms

¼ cup

dry white wine

2 cups

diced cooked turkey

1 cup

frozen peas, unthawed

¾ cup

grated parmesan cheese, divided

¾ cup

panko breadcrumbs
---
Instructions
Preheat oven to 375F. Lightly butter a 9x13-inch casserole dish.
In a small saucepan, melt 4 tbsp butter over medium-high heat. Add the flour and cook, stirring constantly, for 2 minutes. Whisk in the chicken broth and cream, and bring to a simmer. Reduce heat to medium-low and cook for about 5 minutes or until the sauce is thick and silky, whisking constantly as you go. Season with salt and pepper, and set aside.
Bring a large pot of salted water to a boil, and cook the spaghetti as per package directions until al dente. Drain and set aside.
While the spaghetti is cooking, melt the remaining 1 tbsp butter in a large heavy-bottomed saucepan set over medium-high heat. Add the mushrooms and saute for 5 minutes, or until the mushrooms are soft and have released most of their liquid. Add the wine and continue cooking for 5 minutes longer, or until most of the liquid in the pan has cooked off.
Stir in the cream sauce, cooked turkey, peas, cooked spaghetti, and ½ cup Parmesan cheese. Test the seasoning, adding more salt and pepper as desired.
Transfer the mixture to the prepared casserole dish. Sprinkle evenly with the panko crumbs and remaining ¼ cup parmesan. Bake in preheated oven for 20-25 minutes, or until top is golden-brown and filling is bubbling and hot. Serve immediately with a sprinkling of fresh parsley.
Prep Time:

20 mins

Cook Time:

20 mins

Category:

Mains

Method:

Baked

Cuisine:

American