Confession time. I am a complete sucker for a good romantic comedy.
I blame it on coming of age in the late 90s, which is basically the golden era of the romantic comedy. Many an evening in my high school and university years was spent with a stack of VHS tapes (and eventually DVDs) from the local Blockbuster Video with titles like Say Anything, When Harry Met Sally, Clueless, Sleepless in Seattle, Can't Hardly Wait, and 10 Things I Hate About You.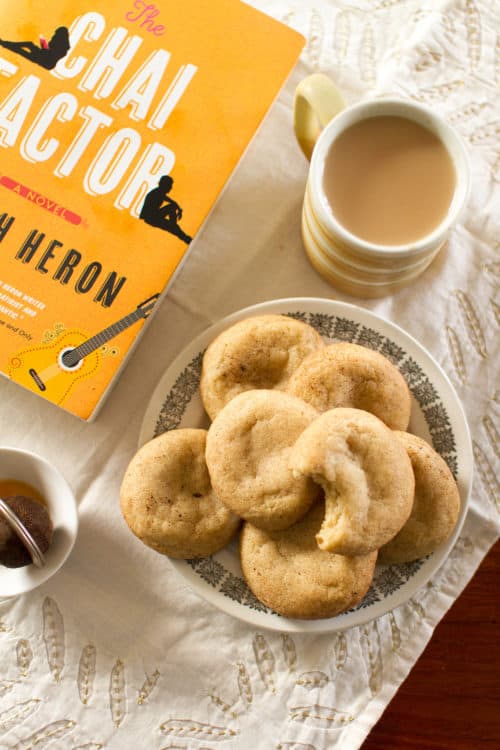 And I haven't even mentioned The Princess Bride, which I've watched so many times that I can pretty much recite the dialogue on command. (Inconceivable!)
So let's just say I was a wee bit excited to be sharing a post about The Chai Factor, my friend Farah Heron's debut novel.
It's not just a romantic comedy - it's chock full of all the things I love in a romance, including an independent heroine, a hunky hero, multiple Princess Bride references, more Canadiana you can shake a hockey stick at, and most important of all, loads of delicious food.
A Little Bit About The Chai Factor
The Chai Factor stars Amira Khan, a 30-year-old engineering grad student who comes home to Toronto to get the peace and quiet she needs to finish up her masters thesis. Except there's a catch... her grandmother has just rented out the basement to a barbershop quartet, including a dashing lumberjack lookalike with the unlikely name of Duncan Galahad.
This book has all the bits you expect in a rom-com - there's a meet-cute moment in a small town train station, an opposites-attract personality clash, and plenty of humour.
But despite all that, it also doesn't hesitate to break away from some of the other common tropes of the genre. Amira is the furthest thing you'll find from a manic pixie dream girl. She's smart and independent and doesn't take crap from anybody, least of all the charming lumberjack who keeps trying to play hero. And Duncan may look like a burly alpha-male hero, but he's more than happy to let Amira boss him around.
And while there's plenty of romance, there's also a hefty dose of reality. As they make their way towards happily ever after, our protagonists don't just have to figure out how to overcome their pride and cultural differences, but also encounter a variety of very real prejudices from sexism to racism to homophobia. (See what I did there?)
There's also a diverse cast of supporting characters who are just as interesting as the leads, from Amira's best friend Reena (who is set to get her own happy ending in Farah's next book), her little sister Zahra, and the other three-quarters of Duncan's barbershop quartet.
Interested? If so, I have great news for you! Farah has generously offered to give away a copy of The Chai Factor to one lucky reader. Scroll to the bottom of the post for all the details on how to enter.
Making Masala Chai at Home
No surprise, there are several scenes in The Chai Factor that revolve around masala chai, the traditional Indian beverage of sweet black tea brewed with spices and milk.
Most North Americans make masala chai at home using a prepared tea blend, but that's not nearly as much fun as making your own from scratch.
Masala chai is typically made by simmering black tea and whole spices on the stovetop for a few minutes, adding a splash of milk to the pan, and then straining out the solids before serving.
However, a ground spice blend is a handy shortcut if you want a quickie version - simply add a teaspoonful of the spice mix to your favourite black loose-leaf tea, brew as usual, and then finish with milk and sugar to taste.
When Masala Chai Met Snickerdoodles - A Cookie Love Affair
Much like the two characters of The Chai Factor, these Chai Spice Snickerdoodle cookies combine the wholesome old-fashioned goodness of snickerdoodle with the aromatic spices of chai masala, for a sweet (and a little bit spicy) love story.
Traditionally, snickerdoodle cookies are rolled in a cinnamon and sugar blend, but this version swaps out the cinnamon with my favourite chai spice blend. The end result is a soft, chewy cookie loaded with all of the traditional flavours of masala chai, minus the black tea. (My first attempt did use finely ground black tea in the cookie dough, but I found it added a bitter aftertaste, so I ended up leaving it out of the final recipe.)
Much like any other spice blend, there are a million and one different versions of chai spice, but the most common building blocks are green cardamom, ginger, cinnamon, and ground cloves. Some blends also add in other aromatic spices like star anise, fennel seeds, black peppercorns, allspice or vanilla.
My personal blend goes heavy on the cardamom and cinnamon, and then layers in nutmeg, cloves, star anise and ginger to round out the flavour.
Tips and Tricks for Making Your Own Chai Spice Blend
Here are a few tricks to make sure your masala chai is as aromatic and flavourful as possible:
Start with Whole Spices: Ground spices may be convenient, but they tend to lose their potency quickly. Instead, buy small quantities of whole spices from a bulk or specialty store, and grind them fresh.
Stick to Small Batches: As tempting as it is to make one big batch that'll last you for months at a time, you're better off preparing just enough chai masala to last you a couple of weeks. Any longer than that and the flavour will start to fade.
Use an Airtight Container: As I said earlier, ground spices lose their potency quickly. However, you can slow this process down by storing them in an airtight container like a small mason jar or Weck jar, and keeping them in a cool, dark spot. (And BTW, this is a general best practice for all of your spices, not just chai masala!)
Other Chai-Spiked Recipes to Try
Here are a few other ways to enjoy your freshly-made chai spice, aside from stirring it into your tea:
Book Giveaway: Win Your Own Copy of The Chai Factor!
Interested in reading The Chai Factor for yourself? (Duh, of course you are!)
I have good news for you, because Farah has generously offered up a signed copy of her book to one lucky reader.
To enter the giveaway, simply leave a comment on this post telling me how you enjoy your chai. Are you a purist who only ever brews masala chai from scratch, a crafty baker who makes chai-flavoured desserts, or perhaps a clever mixologist who shakes up chai-spiked cocktails?
Here's the fine print:
Giveaway is open to readers in Canada and the US who have reached age of majority in their province/state of residence.
Contest closes on November 24, 2019 at midnight EST. Winner will be randomly selected from eligible entries.
To receive their prize, the winner will need to successfully answer a skill-testing question within 3 business days of being contacted via email.
//
Print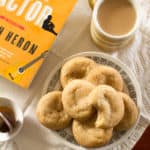 Chai Spice Snickerdoodles
---
Author:

Total Time:

20 minutes

Yield:

4 dozen
Description
Inspired by Amira and Duncan's love story, these cookies are deliciously sweet and a little bit spicy, pairing the chewy goodness of an old-fashioned snickerdoodle cookie with the fragrant spice of masala chai.
---
Snickerdoodle Cookies:
1 ½ cups sugar
2 ¾ cups all-purpose flour
1 tsp baking soda
1 tsp chai spice blend
½ tsp salt
Chai-Spiced Sugar:
---
Instructions
Preheat oven to 400°F. Line two large baking sheets with parchment paper.
Start by making the snickerdoodle cookie dough. In a large bowl, cream together the sugar and butter until pale yellow and fluffy. Add the eggs, one at a time, beating well after each addition. Stir in the flour, cream of tartar, baking soda, chai spice and salt.
In a small bowl, prepare the chai-spiced sugar by stirring together the sugar and chai spice until combined.
Scoop out heaping tablespoons of dough, and roll into 1 ½ - inch balls. Roll the balls in the chai-spiced sugar to coat. Arrange 2" apart on the prepared cookie sheets.
Bake 8 to 10 minutes, or until the cookies look set and pale golden brown around the edges. Let cool on the cookie sheet for 5 minutes, then transfer to a wire rack to cool off completely.
Notes
Homemade Chai Spice Mix: You can use a pre-made spice blend for these cookies, but if you want to make your own, combine 1 crushed cinnamon stick, 2 tbsp green cardamom pods, 1 tbsp ground ginger, ½ tsp ground nutmeg, 4 allspice berries and 2 cloves, and grind into a fine powder using a coffee grinder or mortar and pestle. (As with any spice blend, feel free to adjust any of the quantities based on your personal preference.)
Prep Time:

10 mins

Cook Time:

10 mins