Considering the new direction I've taken for this blog, it seems a shame that I haven't gotten around to posting the granddaddy of all vintage appetizers - the cheese ball.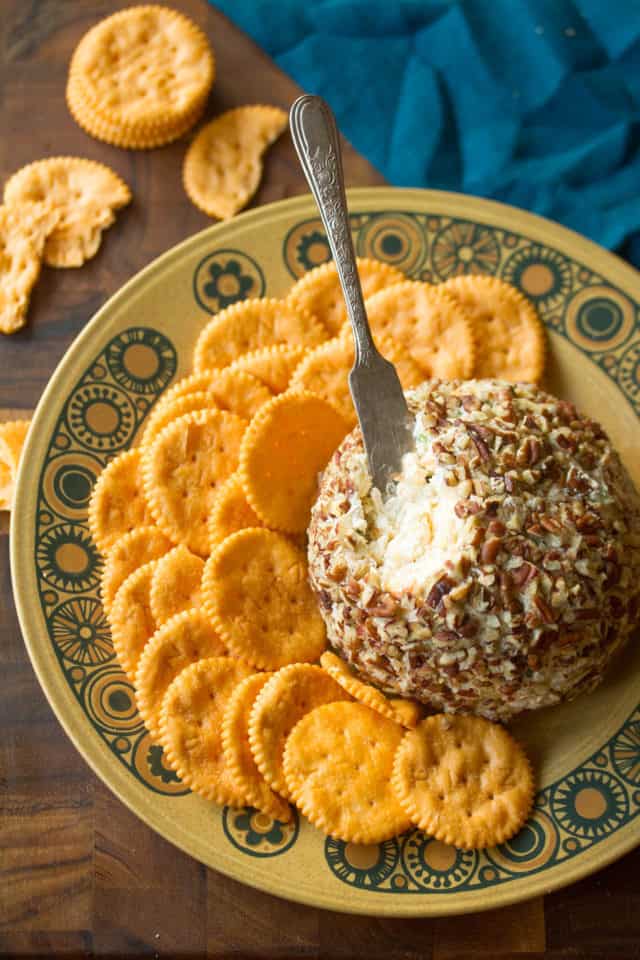 And not just any old cheese ball, either. I'm talking about a pineapple and bacon cheese ball encrusted in chopped pecans, because if you're going to make a cheese ball, you may as well embrace it in all its cheesy glory. (See what I did there?)
With its gloriously retro looks and its delicious combination of sweet pineapple, salty bacon, tangy cream cheese and crunchy pecans, this easy appetizer is guaranteed to be a hit at your next big holiday party.
A Brief History of the Cheese Ball
The story of the cheese ball starts off big. Like, real big.
The first recorded instance of a cheese ball is an enormous 1235-pound ball delivered to the White House by Elder John Leland of Cheshire, Massachusetts. It's unclear what happened to the cheese ball, though some stories claim it was served at several official functions over the next two years before being tossed into the Potomac.
(For the record, I do not recommend keeping a cheese ball for two years, no matter how big and impressive it is.)
After that, cheese balls disappear off the radar until the first known printed recipe for a cheese ball appeared in Food of My Friends, a collection of party recipes published by Virginia Wetherby Safford in 1944. The cheese ball recipe is attributed to Mrs. Selmber E. Ellertson, but doesn't share where Mrs Ellertson learned the recipe.
From there, cheese balls slowly gained popularity, but didn't really hit their peak popularity until the 70s, when no dinner party was complete without a big honking cheese ball to get things rolling.
Most versions were pretty straightforward combinations of cream cheese, seasonings and chopped nuts, some versions got really fancy with mix-ins like blue cheese, pimento, or crushed pineapple.
While some things are best left in the past, it's kind of a shame that cheese balls have been filed away with lava lamps, shag rugs, avocado-green appliances and super-wide shirt collars, because they're actually pretty amazing.
What to Serve with a Cheese Ball
A cheese ball this retro deserves an equally retro accompaniment, which is why I like to serve it with Ritz or Triscuit crackers.
That said, there are plenty of other options if you don't want to go full retro.
The most obvious choice is crackers. Pretty much any cracker will do, except for those fancy fruit-and-seed kinds - they've got too much going on, and you want your cheese ball to be the star of the show.
If you want to go a little more upscale, bagel chips or homemade crostini are a great option.
Or if you would rather take it in a healthier direction, serve it with celery and carrot sticks instead.
Preparing Cheese Balls in Advance
Cheese balls are a perfect make-ahead appetizer, because they actually taste better after the flavours have had a day or two to meld.
Just wrap your prepared cheese ball filling tightly with plastic wrap, and store in the refrigerator for up to a week. All you need to do on the day of the party is pull the cheese ball out of the fridge about 20 minutes ahead of time to warm up slightly, then roll in pecans and serve.
If you really want to plan ahead, it's also worth noting that cheese balls can be frozen for up to 3 months, so long as they're wrapped tightly to protect from moisture loss. (Personally, I do two layers of plastic wrap, and then pop it into a freezer bag for extra security. I don't mess around with freezer burn!)
Just make sure to pop the cheese ball into the fridge to defrost at least 24 hours in advance to make sure it has plenty of time to thaw out.
In both cases, save the pecan coating for the last minute, to help keep the nuts nice and crunchy.
More Cheese Ball Recipes to Try
The beauty of the cheese ball is that the base recipe is something of a blank canvas, so you can really go nuts with the potential flavour combinations. You could even do a three-course meal, with an appetizer cheese ball, a main course cheese ball, and a cheesecake-inspired cheese ball for dessert.
(Though, come to think of it, that might be too much cheese ball even for me.)
Still, if pineapple's not your thing or you want to experiment with a few different options, here are a few other creative cheese ball recipes that are well worth trying:
//
Print
Pineapple-Pecan Cheese Ball
---
Author:

Total Time:

8 hours

Yield:

2

0

1

x
Description
Kick off your party old-school style with this gloriously retro cheese ball flavoured with pineapple, jalapeno, bacon and pecans. It'll have you partying like it's 1979!
---
2

packages (8 oz each) cream cheese, softened

2 cups

shredded marble cheddar

1

can (8 oz) crushed pineapple, very well drained

2

green onions, finely chopped

1

jalapeno pepper, seeded and finely minced

2

strips bacon, cooked until crispy and crumbled into bits (optional)

1 tsp

seasoned salt
Dash worcestershire sauce

1 cup

finely chopped pecans
---
Instructions
In a large mixing bowl, combine all of the ingredients and stir until thoroughly combined. (I find a fork works really well for this.)
Cover the bowl with plastic wrap, and chill for 30 minutes to firm up the cheese mixture.
Scoop the chilled mixture onto a large piece of plastic wrap and shape into a ball. Wrap tightly, and return to the refrigerator to chill for at least 6 hours to firm up (or up to 1 week).
Before serving, unwrap and let stand about 20 minutes. Roll in chopped pecans to coat, and serve with your favourite crackers.
Notes
Vegetarian-Friendly Variation: If you've got vegetarians coming over, simply omit the bacon and use a dash of soy sauce or Maggie sauce in lieu of the worcestershire.
Preparing in Advance: The prepared cheese ball mixture can be stored in the refrigerator for up to 1 week, or transfer to an airtight freezer bag and freeze for up to 3 months. If freezing, thaw the cheese ball for 24 hours in the refrigerator. Either way, wait until the day of the party to roll the ball in chopped pecans so that they keep their crunchy texture.
Prep Time:

10 mins

Category:

Appetizers

Method:

No Bake

Cuisine:

American