I've always been a little skeptical of kitchen gadgets, mostly because they rarely make it easier to achieve whatever task they're supposed to do. However, I make an exception for my Instant Pot, because it actually delivers on its promise and then some.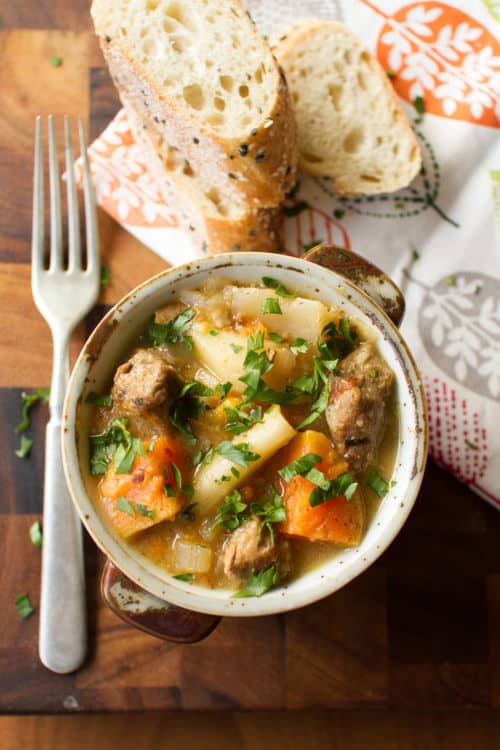 I initially bought it because I loved the idea of nearly-instant risotto and making super-flavourful chicken broth in a couple of hours, but what really made me fall in love is the fact that I can have a piping hot bowl of fall-apart tender stew on the table within an hour. It's almost magical.
I've done everything from short ribs to chili in my Instant Pot, but my latest obsession is this hearty pork stew.
It's the perfect cold-weather meal in a bowl, with tender cubes of pork shoulder and loads of seasonal root vegetables in an apple cider broth. It's a little bit sweet and a little bit savoury, and completely comforting.
I like to serve this one with a sprinkling of parsley for freshness, and a loaf of crusty bread to soak up every little bit of sauce.
Stew on a Weeknight? The Instant Pot can do That!
As I said earlier, what really made me fall in love with my Instant Pot was the ability to make stew on a weeknight. I've got plenty of delicious stew recipes in my arsenal, but most of them need at least 2-3 hours of slow simmering on the stovetop or in the oven to fully break down to perfect tenderness.
The Instant Pot, on the other hand, can get stew on the table in just about an hour.
So how does the magic work? It's actually simple science. Like all pressure cookers, the Instant Pot uses steam to create a pressurized environment. The pressure raises the boiling temperature of the cooking liquid, which allows your food to cook in a fraction of the time it normally would. It also helps to extract more flavour from meats and vegetables, because everything's locked up under an airtight seal.
One word of warning: it usually takes about 10-15 minutes for the pot to come to pressure, so you'll get the most bang for your buck if you use it for recipes that require a long cook time, like stocks and broths, dried beans and pulses, heartier grains like brown rice, and yes... stews.
Tips for Making the Perfect Instant Pot Pork Stew
Making stew in the Instant Pot is so easy that it practically makes itself, but there are a few simple tips I like to follow to make sure my stew comes out as tender and flavourful as possible.
Use the Right Cut of Pork: Lean cuts like pork loin are great for chops or roasts, but in a stew they turn tough and dry. Instead, use a fattier cut like pork shoulder, which will stay perfectly soft and flavourful over the (relatively) long cook time. Plus it's usually one of the cheapest cuts of pork, so it's as easy on the budget as it is on the tastebuds.
Sear Thoroughly: Searing the pork until it's well browned builds an important layer of flavour into your stew, so don't skimp on this step. The layer of golden-brown goodness that builds up on the bottom of the pot during this step is what the French call the "fond", which loosely translates to "base", which is exactly what this is. Once you've built up a good fond, add a splash of liquid (in this case, apple cider), and scrape up all that goodness from the pan.
Don't Add the Vegetables Right Away: Pork needs about 30 minutes under pressure to end up perfectly tender, but that same amount of time will turn your vegetables to mush. The easiest way to avoid this is to pop the pressure at the 20-minute mark, add the vegetables, and then keep going. The end result is perfectly cooked pork and perfectly cooked vegetables. No mush in sight.
Thicken with a Slurry: The tight seal on a pressure cooker means the liquid doesn't evaporate as it cooks, which means the stew will come out a lot thinner than if you'd cooked on the stovetop or in the oven. To solve for this, simply prepare a slurry (ie. a paste of flour and water), and whisk it into the finished stew to thicken it up.
More Delicious Stews You Can Make in the Instant Pot
Almost any kind of stew can be made faster and easier with the help of your pressure cooker. Here are a few more recipes for stews you can make in the Instant Pot:
//
Print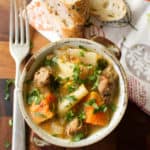 Instant Pot Pork and Cider Stew
---
Author:

Total Time:

50 minutes

Yield:

6

servings

1

x
Description
Pork stew on a weeknight? Totally doable if you're using an Instant Pot! Cooking under pressure means you'll have tender, fall-apart chunks of pork in just under an hour. Serve with thick slices of crusty bread for mopping your bowl clean.
---
2

lbs pork shoulder, cut into

1

" cubes

1 tsp

salt

1 tsp

fresh-ground black pepper

2 tbsp

olive oil, divided

1

small yellow onion, finely diced

2

ribs celery, finely diced

1

large carrot, peeled and finely diced

1 cup

sweet apple cider

2 cups

chicken broth

3 tbsp

cider vinegar

2 tbsp

old-fashioned grainy mustard

2 tsp

fresh thyme

1

medium-sized sweet potato, peeled and cut into 1" cubes (~

2 cups

)

2

medium-sized parsnips, cut into 1" chunks (~

2 cups

)

4

small turnips, peeled and quartered

2 tbsp

flour

¼ cup

water
Chopped fresh parsley, for garnish
---
Instructions
In a large mixing bowl, toss the pork cubes with salt and pepper to coat.
Press the Saute button on your Instant Pot. Add 1 tbsp oil to the pot, and then add the pork cubes and sear until well browned on all sides. Using a slotted spoon, return to the mixing bowl and set aside.
Add the remaining 1 tbsp oil to the pot. Add the onion, celery and carrot, and saute for about 5 minutes, or until the onions are softened but haven't started to take on any colour. Stir in the apple cider, using a wooden spoon to scrape up any browned bits left on the bottom, then add the broth, cider vinegar, mustard and thyme. Finally, return the browned pork to the pot, along with any liquids that have accumulated in the bowl.
Cancel the Sauté function. Lock the lid of the Instant Pot, press the Manual button, and program it for 20 minutes on High pressure.
After 20 minutes, quick release and add the sweet potato, parsnips and turnips. Cover, press Manual, and cook on High pressure for another 10 minutes. Let the pressure release naturally for 5 minutes, then manually release.
In a small bowl, whisk together the flour and water, and whisk into the stew. Press the Saute button and let the stew simmer for 3-5 minutes, or until the sauce is thickened. Serve immediately with a sprinkling of parsley and some crusty bread to mop up the sauce.
Prep Time:

20 mins

Cook Time:

30 mins

Category:

Mains

Method:

Pressure Cooker

Cuisine:

Canadian