This post is sponsored by Amarula Cream Liqueur. Please enjoy responsibly. Thanks for supporting the brands that keep the Crumb test kitchen up and running!
Tis the season for sweets, whether you're looking for a last-minute contribution to your office pot luck, or something a little different to bring to a holiday cookie swap. Or maybe you want to bring a nice hostess gift for a party. Or perhaps you're the one throwing the party and you need an easy yet impressive dessert.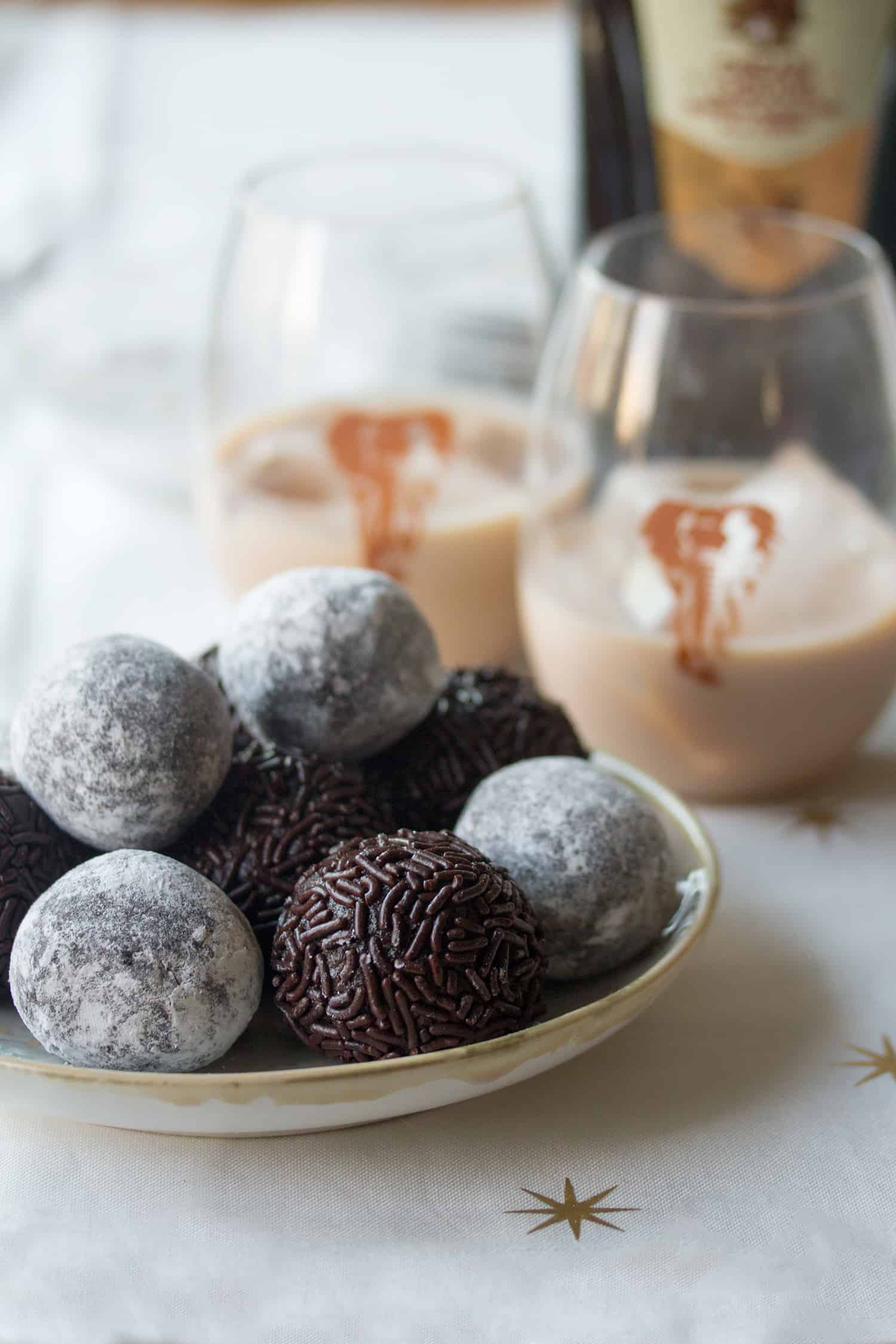 For all the above, allow me to suggest these fudgy Dark Chocolate Amarula Balls as the solution to all your holiday problems. They're easy. They're unique. And they're ridiculously good.
a Classic Holiday Treat with an Amarula Twist
The original inspiration for this recipe comes from one of my favourite Christmas sweets: the rum ball.
Not quite cake, not quite candy and not quite truffles, these easy no-bake sweets are a traditional holiday treat in many parts of Europe. Here in Canada, they're commonly found in bakeries that specialize in old-fashioned British or Central European sweets.
While there's nothing wrong with a good old-fashioned rum ball, I think it's even better when you swap out the rum with Amarula Cream Liqueur.
The sweet cream liqueur, with its smooth nutty flavour and hints of vanilla and caramel, pairs beautifully with dark chocolate. This is true whether you're adding a splash to a mug of hot cocoa, or you're adding it to the filling for these fudgy sweets.
How to Make Dark Chocolate Amarula Balls
There are literally hundreds of different variations on the rum ball, ranging from soft moist versions that are similar to a cake pop, and others that are dense and chewy like a homemade fudge.
Personally, I'm a die-hard card-carrying member of Team Fudgy. I like my rum balls rich and dense, so that they can be slowly savoured a few nibbles at a time rather than gobbled down in one quick bite.
To achieve the perfect balance of soft yet fudgy, I use a blend of cookie crumbs, melted chocolate, icing sugar, and chopped nuts. A dollop of corn syrup adds both sweetness and chewiness, and a generous splash of Amarula Cream Liqueur adds a heady aroma and another layer of nutty flavour. It all adds up to the perfect no-bake Christmas treat.
My coating of choice is chocolate sprinkles (particular if you use the fancy Dutch variety that are actually made from chocolate), but I'm also partial to icing sugar or cocoa.
Regardless of how you like yours, the real key to a good rum ball is patience. Once you've finished rolling the balls in your coating of choice, you'll want to let them age for at least 2-3 days to let the flavour fully develop.
What's Amarula Cream Liqueur?
Amarula Cream Liqueur is made from real Marula fruit, which is harvested from Marula trees that grow wild in the subequatorial regions of Africa.
The fruit is harvested just once a year at the end of Africa's summer, when the scent of the ripe fruit attracts the elephants from the surrounding areas to come feast, hence why the Marula is also known as the "Elephant Tree". The fruit is handpicked, fermented, distilled, and aged for 2 years in aged French oak casks.
Amarula was first launched in 1983 as a clear spirit, becoming the sweet liqueur we know today when cream was added in 1989.
With the holidays just around the corner, it's the perfect time to discover the rich sweetness of Amarula. I love bringing a bottle as a hostess gift for holiday brunches, because it's the perfect addition to a fancy coffee bar - just add a splash to your cup of coffee for an instant upgrade!
For fellow Ontarians, keep an eye out for a holiday discount on the 1140ml Amarula Cream Liqueur bottle at your local LCBO. For gift-giving, you can also pick up a gift pack with a 750ml bottle and two stemless glasses.
More Holiday Gifts from Your Kitchen
Looking to make a few more sweet treats for your holiday gift-giving? I've got you covered!
//
Print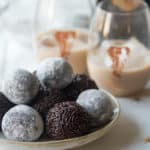 Dark Chocolate Amarula Balls
---
Description
These gooey no-bake chocolate balls are normally made with rum or brandy, but they're even better when made with Amarula Cream Liqueur. They're a great make-ahead treat because they actually taste best after they've had a few days to mellow - if possible, plan to make your Amarula Balls at least a week ahead to give the flavours a chance to fully meld and develop.
---
1

 

cup

roughly chopped dark chocolate

½

 

cup

Amarula Cream Liqueur

2

 

tbsp

 

light corn syrup

2 ½

 

cups chocolate cookie crumbs

1

 

cup

ground almonds

½

 

cup

icing sugar
Coatings: Chocolate sprinkles, icing sugar, ground almonds, cocoa
---
Instructions
Using a double boiler or microwave, melt the chocolate.
In a medium-sized mixing bowl, stir together the melted chocolate and Amarula Cream Liqueur and corn syrup, and whisk until smooth. (Don't worry if the chocolate mixture seizes up a little when you first add the liquids - just whisk briskly and it will eventually come together.)

In a separate bowl, mix together chocolate cookie crumbs, ground almonds and icing sugar. Add to the chocolate mixture, and stir until well combined. Cover the mixture and chill it for 1 hour, or until firm.

Once the mixture is thoroughly chilled, scoop out walnut-sized pieces and roll into balls. Roll the finished balls in your chosen coating. Transfer to an airtight container, and store in the refrigerator for at least 2 days (but ideally at least a week) to allow the flavours to develop.
Notes
Storing Amarula Balls: The finished balls will keep for up to a month in the fridge in an airtight container.