Welcome back to Christmas Week! As soon as I saw that today's theme was Gingerbread Surprise, I knew immediately what I should make - my own homemade take on the oh-so-addictive Holiday Gingerbread from Starbucks.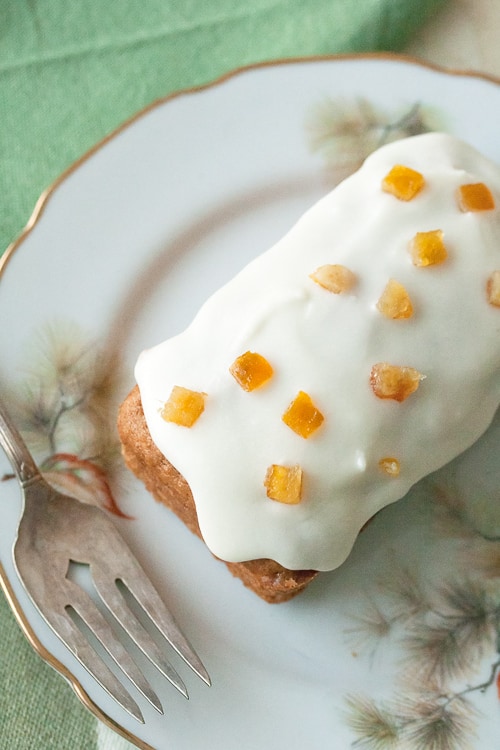 Truth is, I've got a bit of a Starbucks habit.
I'm one of those folks who can't do anything without my daily 2pm caffeine fix, which usually comes in the form of a tall non-fat latte. Sometimes I get a little crazy and add a vanilla shot, but that's about as far as I'm willing to stray. I like to think I've got it under control.
That is, until the red holiday cups show up at the beginning of November. That's when I know I'm in trouble, because that can only mean one thing: the holiday gingerbread is back.
It Ain't the Holidays Without Gingerbread
I usually have no problem resisting the lure of the glassed-in display of baked goodies, but that goes out the window as soon as I spot that neat little stack of golden-brown gingerbread slices topped with a thin layer of white icing as perfect and pristine as a fresh winter snowfall, dotted here and there with jewelled nuggets of candied orange.
I don't know why it's so irresistible - maybe it's the subtle spice, maybe it's the tender moist texture, maybe it's the hint of orange, maybe it's the fact that it's handed to me by a barista with the most adorable dimples, or maybe it's all of the above.
All I know is that I can't quit this cake. It completes me. It is the wind beneath my wings. It is all that and a bag of chips and every other cliched line in the book.
In other words, where some people decide that the official kick-off to Christmas begins when they string up their outdoor Christmas lights, or when they hear their first carol on the radio, or when they check the first gift off their list, mine officially begins when I have my very first slice of Holiday Gingerbread.
How to Make Starbucks Holiday Gingerbread Loaf at Home
Thankfully, I think I've finally settled on a recipe that lets me make my favourite treat at home, so that I can now feed my addiction without decimating my pocketbook. (And also so that I can enjoy it anytime I want, which is even better than saving all that precious cash.)
The trick, as it turns out, was to reverse-engineer the formula based on the ingredients posted on the Starbucks website.
For one, there's no molasses in this gingerbread. I know this is counter-intuitive, because what's gingerbread without molasses, but it means that there's nothing to down out the subtle spice blend and hint of orange zest.
The other surprise is the applesauce, but it turns out to be a critical ingredient for keeping the loaf moist and tender.
It's not an identical match, but it's a damn good copycat version.
Mini Gingerbread Loaves Make a Perfect Holiday Gift
Since it's the holidays, I've switched up the recipe to make a batch of mini-loaves that are perfect for holiday gift-giving.
Simply wrap up a loaf of two in festive cellophane wrap, tie up with some curly ribbons, and tuck into a gift bag (perhaps with a bag of good coffee beans, if you're feeling particularly generous).
More Holiday Gifts You Can Make at Home
Everyone knows the best holiday gifts are the ones you make at home. Here are a few more of my favourite edible gifts from the kitchen:
//
Print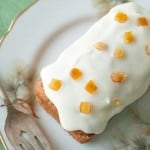 Mini Holiday Gingerbread Loaves
---
Author:

Total Time:

1 hour

Yield:

8

1

x
Description
This recipe is as close to the classic Starbucks holiday treat as you can get without leaving your house. No mini-loaf pan? No worries! An 8x8 square baking pan will also do the trick, though it won't be as pretty.
---
2 cups

flour

1 tsp

baking soda

¼ tsp

salt

1 ½ tsp

ground cinnamon

1 tsp

ground ginger

¼ tsp

ground cloves

¼ tsp

ground nutmeg

½ cup

unsalted butter, softened

½ cup

light brown sugar

½ cup

white sugar

2

eggs

½ tsp

vanilla extract
Zest of

1

orange

½ cup

milk

¾ cup

unsweetened applesauce
Vanilla Icing:
2 cups

icing sugar

2 tbsp

unsalted butter, softened

1 tsp

vanilla extract

2 tbsp

whipping cream, divided
Finely chopped candied orange, for decoration
---
Instructions
Bake the Cake:
Preheat oven to 350F. Lightly butter and flour a mini loaf pan.
In a large mixing bowl, whisk together the flour, baking soda, salt, ground cinnamon, ginger, nutmeg and cloves.
In the bowl of a stand mixer, beat the butter and sugar on medium speed until light and fluffy. Add the eggs, one at a time, beating well after each addition. Add milk, applesauce, vanilla extract and orange zest, and continue mixing until mixture is completely combined.
Fold in the dry ingredients, mixing only until just barely combined. Pour batter into the prepared pan, smoothing the top of each mini loaf. Bake in preheated oven for 40-45 minutes, or until a toothpick inserted into the center of one of the loaves comes out clean.
Let cool on a wire rack for 10 minutes, the remove from the pan and allow to cool off completely.
Make the Icing:
While the cake cools, prepare the frosting. In a mixing bowl, beat together icing sugar, butter, vanilla extract and 1 tbsp whipping cream until smooth and spreadable. (If the icing looks too thick, add more whipping cream, a teaspoon at a time, until it loosens up to the right consistency. If it looks too runny, add more icing sugar, a tablespoon at a time, until it thickens up.)
Frost and Decorate:
Once the loaves have cooled, spread a thin layer of icing onto each cake and decorate with a few bits of chopped orange peel. Devour on the spot, or store in an airtight container for up to 3 days.
Notes
My mini-loaf pan makes eight 4 ½" x 2 ½" loaves, so if your pan is bigger or smaller, you will need to adjust baking times accordingly.
Prep Time:

15 mins

Cook Time:

45 mins

Category:

Dessert
//
Welcome to day #4 of Christmas Week, a multi-blogger event co-hosted by Kim of Cravings of a Lunatic and Jen of Juanita's Cocina. Today's theme for Christmas Week is "Gingerbread Surprise". Make sure you visit all the participating bloggers today to see what special dish they whipped up for you: