All good things must come to an end, and that includes Christmas Week. But there's still one more recipe to share before we go, on the theme of Christmas Pies and Pastries.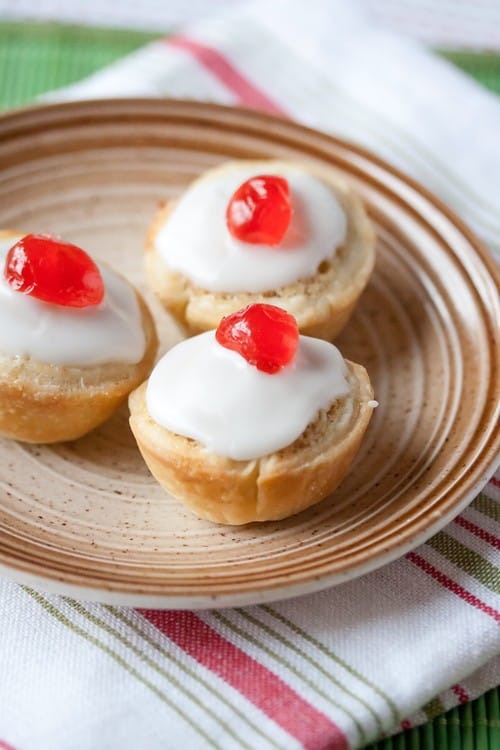 I had a few options, but in the end I couldn't pass up the excuse to crack open a jar of homemade jam to make these adorable mini bakewell tarts. They have all the deliciousness of the original, but in a two-bite format that's perfect for holiday cookie trays.
What's a Bakewell Tart?
Bakewell tarts are a quintessential British dessert that consists of a shortcrust pastry shell filled with layers of jam and sweet almond frangipane, and finished with flaked almonds. Traditionally they're baked up as a full-sized tart, but I think they're much cuter when they're scaled them down into a two-bite format using a mini muffin tin.
While you might expect that they come by their name because they're so delicious when they're baked well, they're actually named for the town of Bakewell, where they were first concocted. (Incidentally, Bakewell is also known for their eponymous pudding, which also combines jam and almonds in a pastry base.)
The recipe I'm sharing with you today is a variation that's more properly known as a cherry Bakewell tart, which is basically the same tart only finished with a thin layer of white almond-scented glaze and topped with a single glace cherry.
Bakewell tarts aren't a traditional holiday treat, but I think a case could be made for starting a new tradition. I feel like there's something awfully festive about a plateful of teensy tarts draped in snowy white icing and capped with a sliver of bright red glace cherry, after all.
Choosing the Right Jam for Your mini Bakewell Tarts
The traditional choice for a proper Bakewell tart is raspberry jam, which is what I used for this particular batch.
That said, you can easily swap out for whatever jam you like best.
Red fruits like red currant, sour cherry or strawberry are your best bet because they have a natural acidity that balances out the sweetness of the frangipane, plus they're an appropriately festive colour for the season,
If you really want to buck tradition, though, I could see these being quite lovely with blueberry or even rhubarb. Nothing is off-limits - these mini tarts are a great way to use up whatever half-finished jars of jam are kicking around in the fridge.
Preparing Mini Bakewell Tarts in Advance (Yes, You Can Freeze Them!)
I'm not going to lie. These tarts are basically the opposite of a quick and easy dessert. The pastry crust and the filling can both be assembled pretty quickly, but the crust needs to hang out in the fridge for at least an hour to firm up, while the frangipane needs to chill for at least a half-hour.
But the good news is that you can (and should!) split up the prep over several days. The tart dough and the frangipane filling can be made up to 2-3 days ahead of time, which means you just need to assemble the tarts and whip up the frosting while they bake.
Even better, they also freeze beautifully, which means you can bake up a batch or two well in advance and then freeze them unfrosted in an airtight container. All you need to do is thaw them out overnight before finishing them off with icing and cherries.
Regardless of how you prepare ahead, make sure to brew up a big pot of proper tea and brace yourself for the inevitable onslaught of compliments. Because if there's one truth when it comes to sweet treats, it's that no one can resist desserts in bite-size format. No one.
//
Print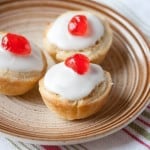 Mini Cherry Bakewell Tarts
---
Author:

Total Time:

1 hour 35 mins

Yield:

2

4

1

x
Description
A British classic goes bite-sized in these adorable mini tarts filled with jam and frangipane and covered with a snowy white icing. Fill with whatever flavour jam you like - raspberry or redcurrant are traditional, but this is also a great canvas for showing off more experimental flavours.
---
Pastry:
1 ¼ cups

all-purpose flour

¼ cup

icing sugar

½ tsp

salt

½ cup

cold butter, cut into small pieces

2

egg yolks

½ tsp

vinegar

3 tbsp

ice-cold water
Filling:
⅓ cup

unsalted butter, softened

⅓ cup

sugar

2

eggs

¾ cup

finely ground almonds

½ tsp

almond extract

½ tsp

vanilla extract

¼ tsp

salt

¼ cup

raspberry jam (or any other jam you like)
Glaze:
1 ½ cups

icing sugar

2 tbsp

water

½ tsp

almond extract

6

red glace cherries. quartered
---
Instructions
Prepare the Pastry Shells:
In the bowl of a food processor, combine the flour, icing sugar and salt and pulse to mix. Add the cold butter, and pulse five or six times, until mixture resembles coarse meal.
In a small bowl, whisk together egg yolk and vinegar. With the machine running, add egg yolk mixture, then add the ice water, one tablespoon at a time, stopping as soon as the dough starts to clump together.
Turn the dough out onto a clean surface, divide in half, and gently form each half into a flat disk. Wrap in plastic, and refrigerate for at least one hour or until quite firm. (You can also do this a day or two in advance.)
Prepare the Filling:
While the pastry chills, begin on the frangipane filling.
In a large mixing bowl, beat butter and sugar until fluffy. Add the eggs, one at a time, beating well after each addition. Stir in ground almonds, almond extract and vanilla. Cover the bowl tightly with plastic wrap, and chill for 30 minutes.
Assemble the Tarts:
Preheat oven to 400F.
On lightly floured surface, roll out the chilled pastry to ⅛" thick. Using a 3-inch round cookie cutter, cut out 24 circles. Gently press the dough circles into the cups of a mini muffin tin, then place in the freezer to chill thoroughly for 15 minutes.
Spoon ½ tsp jam into the bottom of each shell, then spoon in a little frangipane overtop, making sure to leave a little rim of tart shell uncovered. (Make sure not to overfill, as it will be very difficult to extract the tarts once they're baked!)
Bake in preheated oven until filling is puffed and golden, about 18-20 minutes. Let tarts cool in pan for about 10 minutes, then carefully remove and set on a wire rack to cool off completely before frosting.
Glaze and Decorate the Tarts:
Once the tarts are cooled, whisk together icing sugar, water and almond extract in a small bowl until you have a smooth, thick glaze. Spread a layer of icing onto the cooled tarts, then finish each one with a piece of cherry.
Prep Time:

75 mins

Cook Time:

20 mins

Category:

Dessert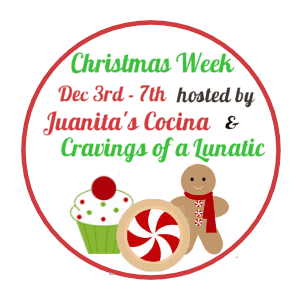 Welcome to day #5 of Christmas Week, a multi-blogger event co-hosted by Kim of Cravings of a Lunatic and Jen of Juanita's Cocina. Today's theme is "Christmas Pies and Pastries". Make sure you visit all the participating bloggers today to see what special dish they whipped up for you: