Meet Nina Roy.  Nina doesn't like egg nog. Not even the teensiest bit.
Personally, I think Nina is missing out on one of the best parts of the holidays.  Then again, I spend most of December chugging egg nog like a frat boy on a bender, so I might be a bit biased.
In fact, you could say I'm something of an egg nog addict.  I stir it into my coffee, warm it on the stovetop with some cocoa to make eggnog hot chocolate, and occasionally drink it straight from the carton when no one is looking.  You know that person who stashes multiple cartons of eggnog in her fridge at the end of the holidays so she can stretch out the season for a few more weeks? Yeah, that's me.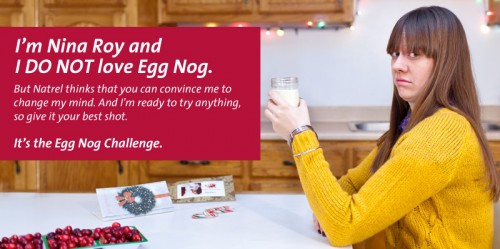 However, Natrel thinks someone can find a way to change Nina's mind and open her eyes to the awesomeness that is egg nog.
Clearly, I am totally for this challenge, given my vast egg nog consumption.  So I set out to concoct a deviously delicious recipe that could tempt even the staunchest of egg nog doubters.
The most obvious solution is to drown the eggnog with rum, but then it kind of just tastes like slightly milky rum and not at all like egg nog, which sort of defeats the purpose. Besides, what doesn't taste good when drowned in rum, especially by the time you get to your second glass?
No, my plan was to transform egg nog into a completely different format.  Something that would woo Nina by transmogrifying her nemesis into something comforting and familiar and irresistibly delicious.  Something like cookies... or ice cream... or cake... or truffles.
And then it hit me.  Waffles!
I mean, doesn't everyone love waffles of any kind?  The recipe itself is incredibly easy, too - I just replaced most of the buttermilk in my standard waffle batter recipe with egg nog, and then added a dash of nutmeg and a splash of rum to round things out.
What emerged from my waffle iron a few minutes later was sheer waffle perfection, with golden-brown crisp outsides, perfectly fluffy insides, and a delicately sweet flavour with just the teensiest soupcon of the dreaded egg nog.
Drizzled with a little maple syrup, I think they're good enough to convince even a hardened egg nog haters to reconsider their position... or at least, that's what I'm hoping.
(And hey, if they don't like them, that's fine too.... that just leaves more waffles for me!)
//
Disclosure: I've received compensation from Natrel Canada in exchange for promoting their campaign to make Nina Roy love eggnog.  All opinions, including my undying devotion to all things eggnog, are entirely my own.
//

Eggnog Waffles
Start off your holiday celebrations with a pile of crisp eggnog-scented waffles. A splash of rum is entirely optional, but highly recommended... it is the holidays, after all.
Author:
Isabelle Boucher (Crumb)
Ingredients
2 cups flour
1 tbsp sugar
1 tbsp baking powder
¾ tsp salt
½ tsp nutmeg
1¾ cups egg nog
¼ cup buttermilk
¼ cup canola oil
2 eggs, lightly beaten
1 tbsp dark rum (optional)
Instructions
In a large mixing bowl, sift together flour, sugar, baking powder, salt and nutmeg.
In a separate bowl, whisk together egg nog, buttermilk, canola oil, eggs and rum (if using). Pour into the bowl of dry ingredients, and mix thoroughly until the batter is smooth and free of lumps. Let stand for 5 minutes.
Meanwhile, preheat a waffle iron. Once the waffle iron reaches the desired temperature, spoon batter to waffle iron and spread into an even layer (check your manufacturer's instructions to confirm how much batter you should be using - this varies from one machine to another). Cook until waffles are lightly golden and crisp on the outside, and cooked through inside.
Transfer the finished waffles to a wire rack on a baking sheet and keep warm in a 200F oven in between batches.