It's not Christmas at our house unless we're up to our eyeballs in cookies, and this year is definitely no exception to that rule.
This year's selection included a pile of Christmas-coloured biscotti, bitty bite-sized Bakewell tarts, airy cinnamon-speckled meringues, and these lovely pistachio-edged slices scented with exotic spices.
To give credit where credit is due, these cookies are partially The Mister's brainchild.
As far as he's concerned, almost everything can be improved with a pinch of saffron, so it's become something of a running joke for him to suggest it whenever I'm stuck on what to do with a recipe. It doesn't always work, obviously, particularly if I'm making burgers or lamb chops... but when he suggested I add a saffron cookie to this year's cookie round-up, he finally got his way.
I used my basic icebox cookie recipe as a starting point. It bakes up into crisp, buttery and simply sweet slices that are a perfect blank canvas for whatever flavours might catch my fancy.
In this case, those flavours are a classic blend of saffron, pistachio and cardamom that's often found in traditional Indian and Persian desserts.
The end result is a cookie that tastes almost exactly like those addictively fragrant rice puddings served at every Indian buffet in town, only in the form of a cookie - aromatic and not-too-sweet, with that distinctive almost-floral quality that both cardamom and saffron share. They're rather pretty, too, with their pale golden hue edged with green pistachios.
I'll admit that they're not the most traditional of cookies, but they're still utterly perfect for this time of year, since the dough can be made well in advance and then stored in the fridge or freezer until you're ready to bake.
Simply slice off as few (or as many) cookies as you need, then return to the fridge until you're ready to bake cookies again. It just doesn't get more convenient than this!
In fact, I suspect that a certain portly red-clad gentleman would appreciate finding a couple of these sweet treats next to his usual glass of milk when he drops by on his annual rounds.
He's probably a little tired of chocolate chip by now, don't you think?
//
Print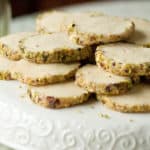 Pistachio-Cardamom Icebox Cookies
---
Author:

Total Time:

1 hour 45 mins

Yield:

5

0

1

x
Description
Spice up your Christmas cookie platter with these pretty pistachio-edged icebox cookies. Their Persian-inspired combination of cardamom and saffron is a great change of pace from the usual gingerbread cookies.
---
2 tbsp

boiling water

½ tsp

saffron, crumbled

1 cup

unsalted butter, softened

¾ cup

granulated sugar

½ cup

icing sugar

1

egg

½ tsp

vanilla extract

2 cups

flour

¾ tsp

salt

½ tsp

ground cardamom

1 cup

finely chopped pistachios
---
Instructions
In a small bowl, combine boiling water and saffron. Set aside to steep for 10 minutes, or until brilliantly orange.
In the bowl of a stand mixer, beat together butter and sugars on medium speed for 3-5 minutes, or until soft and fluffy. Add egg, vanilla extract and saffron mixture, and beat until combined.
Add flour, salt and cardamom, and mix on low speed just until the dough starts to come together. (The dough might look a little crumbly, but should stick together when pressed into a ball. If the dough is too dry, add some water, 1 tbsp at a time, until it comes together.) Cover the bowl with plastic wrap and place in the refrigerator to chill for 30 minutes or until slightly firm.
Transfer the dough to a clean working surface, and shape into a ball. Divide in half, then roll each portion into a 2" thick log. Roll each log in chopped pistachios, ensuring the surface is completely covered, then wrap tightly with wax paper, and tie off the ends. Refrigerate until very firm, at least one hour.
Once the cookies are chilled, preheat oven to 350F. Line 2 baking sheets with parchment.
Using a sharp knife, slice each log into ½" thick rounds. Arrange on prepared sheets, spacing the cookies ¾" apart. Bake in preheated oven for 12-15 minutes, or until the edges of the cookies are golden brown.
Allow the cookies to cool on baking sheet for 2-3 minutes, then transfer to a wire rack to cool completely.
Notes
Preparing in Advance: Cookie dough can be stored in the fridge for up to 2 days and then baked as usual, or frozen for up to 2 weeks and then thawed out at room temperature for about 30 minutes (or until it is firm but easily sliceable), before slicing and baking.
Prep Time:

1 hour 30 mins

Cook Time:

15 mins

Category:

Dessert

Method:

Baked

Cuisine:

Canadian