Goodness me, where did December go?
It didn't really hit me that Christmas is around the corner until I recorded my out-of-office greeting on my work phone. (Isn't that just the most satisfying feeling in the world? It is to me, anyways... it feels like hitting the official "play" button on my vacation time.)
Tonight we pack up our stuff and hit the road to spend a few days of our holiday break with my family.
The forecast for Montreal is currently calling for cold and crisp weather, which means I'm packing a pig pile of knitting and a couple of good books to keep me occupied indoors. I may be Canadian born and bred, but I've never been a fan of cold temperatures. (I guess it's those Southern European genes kicking in.)
Before I go, though, I'm sharing my recipe for Cappuccino Biscotti from this year's holiday bake-a-thon. They're one of my favourite biscotti concoctions - dense, crunchy cookie slices laced with a sweet cappuccino-inspired blend of coffee, cinnamon and chocolate
They're a little sweeter than my usual biscotti, mostly because I opted to use milk chocolate chips, since bittersweet chocolate didn't feel quite right in this context. Thankfully, a big handful of toasted walnuts adds a slight hint of bitter that cuts through all that sweetness, and adds another level of crunch.
Obviously, there's no better accompaniment for these crisp cookies than a big, frothy cappuccino, a comfy chair and someone special to snuggle with (either of the four-legged or two-legged variety) when you can find a quiet moment to unwind after all that holiday madness.
And speaking of quiet moments to unwind... I'll be taking a short break for the next few days to celebrate Christmas with my family.
Wishing you and yours a very, very happy holiday season full of good eats, good company and good times. See you on the flipside!
//
Print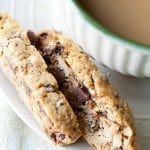 Cappuccino Biscotti
---
Author:

Total Time:

55 minutes

Yield:

4

0

1

x
Description
A crisp cappuccino-scented cookie dotted with milk chocolate chips and chopped walnuts that's sure to please any coffee-lover in your life.
---
2 cups

flour

½ cup

sugar

½ cup

brown sugar

1 tsp

baking powder

1 tsp

instant coffee granules

½ tsp

ground cinnamon

½ tsp

salt

¼ cup

cold butter, cut into small cubes

1 cup

milk chocolate chips

½ cup

chopped toasted walnuts

3

eggs, lightly beaten

2 tbsp

coffee liqueur (optional)
Egg wash (1 egg, lightly beaten with 2 tbsp milk)
---
Instructions
Preheat oven to 350F. Line two large baking sheets with parchment.
In a large mixing bowl, combine flour, sugar, brown sugar, baking powder, coffee granules, cinnamon and salt. Using a pastry cutter or 2 knives, cut in the butter until the mixture is fine and crumbly.
Stir in chocolate chips, walnuts, eggs and coffee liqueur (if using) until the dough is just barely moistened. Turn out onto a lightly floured surface, and knead lightly until the dough is soft and slightly sticky, about 8-10 times.
Using floured hands, divide the dough into quarters. Shape each quarter into a 9" long roll. Place two rolls 4 inches apart on each of the prepared cookie sheets, gently flattening each one into a 2" wide slab. Brush the top and sides of each log with egg wash.
Bake in preheated oven for 30 minutes, or until the top of the slabs feels firm and dry. Remove from the oven, but do not turn off the heat. Set the slabs on a wire rack to cool for 10 minutes.
Once the slabs are cool enough to handle, cut crosswise into into ½" thick slices. Place slices upright, ¼ inch apart, on cookie sheets.
Place the slices on the baking sheet, cut sides down, and return to the oven to bake for 10 minutes. Turn cookies over, and continue baking for another 10 minutes (the cookies should be just a bit soft in the center – don't worry, they'll harden up once they cool). Transfer to a wire rack to cool completely, then store in airtight containers.
Prep Time:

15 mins

Cook Time:

40 mins