While I may be pretty grinchy when it comes to the holidays, there are still a few things about the season that really jingle my bells. My very favourite, of course, being the multi-day orgy of cookie baking that takes up a good part of early December each year.
Yep, Christmas carols and gift shopping make me break into hives, Christmas specials on TV make me nauseous, and I might get a little itchy just thinking about the mall for most of December...
But give me a sunny afternoon of cookie-baking in an oven-warmed kitchen filled with the aromas of vanilla and cinnamon, and I'm instantly in the Christmas spirit (and possibly dusted with flour from head to toe... but that's a whole 'nother story).
Snickerdoodles Plus Saffron Equals the Perfect Christmas Cookie
Every year, I try to sneak a new cookie recipe or two into my repertoire, on top of making my usual favourites like Mint-Chocolate Crackles or Gingerbread Biscotti.
This year, I decided to try my hand at a delicious treat I discovered on my trip to San Francisco in October - Blue Bottle Coffee's golden-yellow snickerdoodle cookies scented with saffron and vanilla bean.
I ate plenty of delicious things over those four days in SF, but those cookies rank very close to the top of my list (the number one slot belongs to Fleur de Lys' super-buttery bacon brioche). I could eat a pile of those cookies for breakfast, lunch and dinner for days on end, and still never grow tired of them.
How to Make Blue Bottle Saffron Snickerdoodle Cookies at Home
Since I can't exactly afford to hop on a plane every time I need to satisfy a craving, figuring out a way to make the cookies at home seemed like a more cost-effective (and delicious) option. So I bravely set out to make a copycat cookie in my own kitchen, risking my waistline and butter supply in the process... because I'm just THAT dedicated.
These aren't exactly the cookies I had, but they're darned close - addictively tender, sweet and aromatic all at the same time, with a golden saffron-yellow colour speckled with vanilla bean. I still haven't figured out how to duplicate the slight chewiness of Blue Bottle's version, but mine make up for it with a soft, almost-cakey texture.
I do recommend splurging on good ingredients for this one - good-quality butter, fresh cinnamon and saffron, and a really aromatic vanilla bean make a huge difference in the flavour of the final result. And hey, it's the holidays... why not splurge a little? Believe me, it'll be worth your while.
So if you're having a little trouble getting into the holiday spirit this year (or if you're feeling a little stabby after a trip to the mall), just throw on a few of your favourite holiday tunes, roll up your sleeves and preheat the oven. Believe me, once you pop a batch of these babies in the oven and fill your house with the delicious smell of baking cookies, it'll feel like Christmas in no time!
//
Print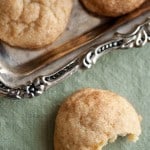 Saffron Snickerdoodles
---
Author:

Total Time:

32 mins

Yield:

5

0

1

x
Description
Inspired by Blue Bottle Coffee's signature snickerdoodle cookie, these cinnamon-dusted chewy cookies are generously scented with both saffron and vanilla for an exotic twist on a classic.
---
2 tsp

boiling water

1 tsp

saffron threads, crumbled

3 cups

flour

2 tsp

cream of tartar

1 tsp

baking soda

½ tsp

salt

1 cup

butter, softened

1 cup

golden brown sugar

½ cup

sugar

2

eggs

1

vanilla bean
Coating

¼ cup

sugar

2 tsp

ground cinnamon
---
Instructions
In a small bowl, combine boiling water and saffron threads. Set aside to steep for 10-15 minutes, or until the water is brilliant yellow in colour.
Meanwhile, in a large mixing bowl, whisk together flour, cream of tartar, baking soda and salt in a medium bowl.
In the bowl of a stand mixer, beat butter, brown sugar and white sugar together on medium-high speed until creamy, about 2 minutes. Add eggs, one at a time, beating well after each addition.
Using a sharp knife, split vanilla bean lengthwise, and scrape the seeds into the butter mixture.
Add the reserved dry ingredients to the mixer bowl, and mix on low speed until just combined. Wrap the bowl tightly with plastic wrap and refrigerate for 30 minutes to firm up the dough.
Meanwhile, preheat oven to 375F, and line four large baking sheets with parchment paper.
In a small bowl, combine sugar and cinnamon in a small bowl. Roll chilled dough into 1" (2.5cm) balls. Roll each ball in the cinnamon and sugar mixture until completely coated. Place on prepared cookie sheets, leaving about 2 inches space (this is important - these cookies will expand a fair bit as they bake).
Bake in preheated oven 10-12 minutes until the surface of the cookies looks slightly wrinkled. Let cool on baking sheets for 5 minutes, then transfer to a wire rack to cool completely.
Notes
Cool cookie sheets are key to getting the perfectly round, domed shape of these cookies, so if you only have two cookie sheets in your arsenal, make sure to let them cool off completely between batches... otherwise, the butter in your dough will melt before the cookies have a chance to set up, resulting in some less-than-spectacular results.
Prep Time:

20 mins

Cook Time:

12 mins

Category:

Dessert