I have a habit of overcomplicating things sometimes.
Not to Nathan Myhrvold levels, mind you. My burger recipe will never involve a combination of an immersion circulator, liquid nitrogen and a deep fryer.
(Seriously, even the best burger on earth can't possibly be worth that much hassle... especially not when perfectly delicious burgers can also be achieved using a cheap hibachi and a pile of white-hot charcoal.)
No, I'm talking about the fact that I take something that's perfectly good just as it is, like my mother's four-ingredient pot roast, and throw all sorts of extra things into the pot because I'm somehow convinced that it'll come out better.
In case you're curious, it doesn't. The only thing I manage to do is add more time and trouble, with no discernible improvement.
I'm getting better, though.
I now know I really only need four ingredients when I make my mother's pot roast, and successfully fight off the urge to increase it to five (or six... or seven...).
And I've learned to embrace dishes like this roasted squash soup, which is simultaneously one of the most flavourful and delicious dairy-free soups in my arsenal, despite being the very essence of simplicity. All it contains is roasted kabocha squash, golden sauteed onions, coconut milk and broth, plus just a dab or two of red curry and lemongrass paste. And yet, it's so much more than that.
Kabocha, The Underappreciated Winter Squash
Kabocha squash is a recent discovery for me, despite the fact that I've always been a massive fan of winter squash.
I'd unconsciously been avoiding it in favour of the more familiar butternut and acorn squashes, but I've grown to love their drier, starchier Asian cousin in recent years.
Also known as buttercup squash or Japanese pumpkin, kabocha is a hard-skinned winter squash with an unassumingly nubbly forest-green exterior and an intensely yellow-orange flesh. (Pinky swear, all I've done to these photos is minor exposure and sharpness adjustments - that colour is REAL, my friends.)
Because it's starchier than many of its cousins, it does exceptionally well in soups and stews, where its velvety soft texture and sweet and subtly nutty flavour shine through. It's also quite lovely roasted, but I much prefer to save that preparation for other winter squashes that have a less starchy texture.
The Inspiration for THis Recipe
This soup borrows directly from southeast Asian cuisines, where the combination of kabocha with coconut milk and red curry is actually rather common. That's because the combination effortlessly hits all of the required elements for that complex sweet-spicy-salty-sour balance of flavours that are the building blocks of most Thai recipes.
This soup has all of those layers of flavour, plus a hint of heat that lingers on the tongue and in your belly, warming you right down to the tips of your toes.
And as a side benefit, it's also completely vegan, since the kabocha and the coconut milk create a rich, creamy texture without having to rely on cream or butter.
Not a fan of red curry? Try this maple-miso kabocha squash soup instead!
Hard to believe a bumpy dark green exterior can conceal so much deliciousness, no? Consider this proof positive that appearances can sometimes be misleading, and that sometimes it's best to leave well enough alone.
That's not to say that I plan on sticking to pure simplicity all the time, mind you. After all, sometimes gussying up an old favourite can have really spectacular results too.
Now, if you'll excuse me, I'm off to add some saffron and vanilla bean to a perfectly good snickerdoodle recipe. Because I can (and probably should).
//
Print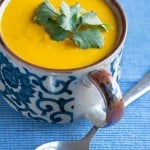 Spicy Kabocha Pumpkin Soup
---
Author:

Total Time:

55 minutes

Yield:

8

1

x
Description
It's hard to believe this thick, creamy, velvety soup is dairy-free and vegan-friendly... but it is! This recipe works best with kabocha squash, but if you can't find any, try it with acorn squash or small pie pumpkins instead.
---
2

medium-sized kabocha squash

3 tbsp

olive oil, divided
Salt and pepper

½ cup

finely diced onion

2 tsp

red Thai curry paste (see Note)

1

can (14 oz) coconut milk

4

to

6

cups water or chicken broth

2 tsp

lemongrass paste
Chopped cilantro for garnish
---
Instructions
Preheat the oven to 375F.
Carefully cut each kabocha in half. Rub the cut surfaces with 1 tbsp oil and sprinkle generously with salt. Place on a baking sheet, skin sides down, and roast in preheated oven for 45-60 minutes or until the squash is very tender. Set aside to cool.
Meanwhile, heat the remaining 2 tbsp olive oil in a large, heavy-bottomed pot over medium-high heat. Add onions and saute for 8-10 minutes, or until soft and golden. Add red curry paste and cook for 1 minute longer, or until fragrant.
Using a spoon, scoop the flesh from the cooled squash into the pot. Stir in coconut milk and 4 cups water (or broth) and lemongrass paste, and bring to a boil. Reduce heat to low and simmer for 15-20 minutes to let the flavours blend. Remove from heat.
Using an immersion blender or food processor, process the soup until you have a thick, smooth puree (if it looks too thick for your tastes, stir in more water/broth, a half a cup at a time, until you reach your preferred consistency). Adjust seasoning with salt and pepper, then serve just as it is or with a sprinkling of chopped cilantro for garnish.
Notes
For a fully vegetarian or vegan soup, make sure your Thai red curry paste does not contain dried shrimp. I use Thai Kitchen brand, but there are a few others on the market.
Prep Time:

10 mins

Cook Time:

45 mins