Welcome to day three of Christmas week, where it's all about the cakes and cupcakes!
I'll admit, I was a little stumped when I started trying to decide what to make for today's theme - it was too late to make a fruitcake, and I just don't have the patience to fuss with piping pretty rosettes of buttercream onto a layer cake pretty much any time of the year, let alone during the busiest time of year in my kitchen.  I'm just more of a straightforward snacking cake kinda gal.
So as far as the holidays are concerned, this is totally my kinda cake. It's easy to assemble and keeps the fuss factor at a minimum, but the bright red layer of cranberry filling nestled beneath the buttery walnut crumble topping still makes it feel appropriately festive (and also looks rather pretty, if I do say so myself).
And let's not forget the cake base, which gets its crumbly texture and a lovely speckled colour from a hefty dose of ground walnuts. It's delicious enough to substitute for the batter in all your regular coffeecake recipes - use it with a sweet cinnamon swirl, sub the finely chopped cranberries for wild blueberries or chopped peaches once summertime rolls back around.
Best of all, it stays moist for days, which means you can prepare it a day or two ahead and still serve it up to company without feeling the slightest bit of guilt.
And if you should have leftovers once the guests have gone, you can theoretically snag a piece on your way out the door in the morning and call it breakfast. (I may or may not have done that on Monday morning. Theoretically speaking, of course.) I mean, it's made with fruit and nuts, right?
In other words, I think this would probably be your kinda cake, too... especially since it's so much harder to justify eating buttercream breakfast.
Not that I'd have experience with that either. You know, theoretically.
//

Cranberry-Walnut Coffeecake
This coffeecake has a hidden surprise... sandwiched between the walnut-speckled streusel topping and the tender buttery cake is a layer of festive bright red cranberries! Bring one to a holiday pot-luck, or bake one up for unexpected guests.
Author:
Isabelle Boucher (Crumb)
Ingredients
Cranberry Filling:
2 cups fresh or frozen cranberries
½ cup sugar
Streusel Topping:
⅓ cup flour
½ tsp ground cinnamon
Pinch salt
¼ cup cold butter, cut into small cubes
½ cup finely chopped walnuts
¼ cup packed brown sugar
Cake
1 cup packed brown sugar
½ cup butter, softened
2 eggs
¾ cup buttermilk
½ tsp vanilla extract
1½ cups all purpose flour
½ cup ground walnuts
1 tsp baking powder
1 tsp baking soda
½ tsp salt
Instructions
Make the Cranberry Filling:
In the bowl of a food processor, combine cranberries and sugar. Pulse until berries are very finely chopped, but not pureed. Set aside.
Prepare the Streusel:
In a small bowl, combine flour, cinnamon and salt. Using a pastry cutter or two sharp knives, cut in the butter until the mixture resembles coarse crumbs. Stir in remaining streusel ingredients until well combined and crumbly, and set aside.
Make the Cake:
Preheat oven to 350F. Generously grease a 9x13 inch pan.
In a large bowl, cream together butter and brown sugar. Beat in the eggs, one at a time, mixing well after each addition. Add buttermilk and vanilla, and stir until smooth.
In a separate bowl, combine flour, ground walnuts, baking powder, baking soda and salt. Fold into the wet ingredients, mixing only until just barely combined.
Scrape the batter into the prepared pan and smooth into an even layer. Spoon the chopped cranberries onto the batter, smoothing into a more-or-less even layer, leaving a little border around the edges. Sprinkle streusel onto the cranberry layer.
Bake in preheated oven for about 40-50 minutes, or until topping is golden brown and a toothpick inserted into the centre of the cake comes out with a moist crumb. Let cool for about an hour before cutting into pieces and serving.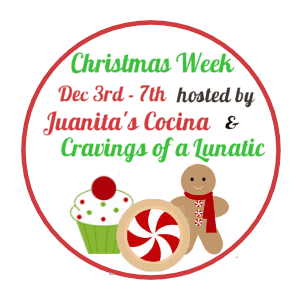 Welcome to day #3 of Christmas Week, a multi-blogger event co-hosted by Kim of Cravings of a Lunatic and Jen of Juanita's Cocina. Today's theme for Christmas Week is "Christmas Cakes and Cupcakes". Make sure you visit all the participating bloggers today to see what special dish they whipped up for you: