In this pickle-loving household, it's not unusual to have 2-3 different kinds of pickles in the fridge at any given time.
Lately, though, the one jar I keep reaching for whenever I need a quick fix is the big mason jar full of these homemade bread and butter pickles.
A lot of people may swear by kosher dills, but that's just because they've only tried the overwhelmingly sweet store-bought bread and butter pickles.
I promise you the homemade version is a total game-changer. They're equal parts tangy and sweet, and delightfully crisp. And best of all, these refrigerator pickles are super quick to make, so long as you've got a little patience and a few cucumbers to spare.
As for their rather quirky name? There are a few different origin stories, but my favourite version is that during tough times these tasty pickle slices could be paired with bread and butter to make a meal.
Choosing the Right Cucumber for Pickle-Making
There's a time and a place for the delicate English cucumbers, but this ain't it.
For these pickles, you'll want to get your hands on proper pickling cucumbers, also known as Kirby cucumbers. These bumpy little cukes are the perfect choice because their flesh is crisper and denser than other varieties, which helps them to keep their crunch even after being bathed in a vinegary brine.
Check the farmers market or your local greengrocer for these sturdy cucumbers starting in early August, and all the way through to early September.
If you're feeling especially ambitious, you can also grow your own, which is what I've been doing the last few years. Pickling cucumbers are incredibly easy to grow because they require very little maintenance besides regular watering and some sunshine, and even a couple of plants should produce more than enough cucumbers to make a couple batches of pickles (and still have enough left over to slice into your salad).
Choose smaller cucumbers, roughly 4-5 inches long, that feel firm to the touch and have glossy dark-green skin. Avoid any cucumbers that feel soft or look wrinkly around the ends.
Prepping Vegetables for Pickling
There's no question that cucumber is the star of this show, but these pickles aren't a solo act - the onions and red peppers are just as essential, if not more. They add both colour and sweetness to the final product, and are very much meant to be eaten along with the cucumbers.
To get the crispest, most flavourful results, make sure you pick the freshest vegetables you can find. (We're at the peak of harvest season, so that should be easy enough!)
Once you've finished slicing up the vegetables, you'll toss them with salt to drain out as much moisture as possible. It's a time-consuming step, but totally worth it because every drop of water you drain out now will be replaced with brine later, ensuring your batch of pickles has that perfect sweet-and-tangy flavour.
Thankfully, the rest of the process is pretty straightforward. Pack the drained vegetables into a jar, fill with hot brine, cool to room temp, and then pop into the refrigerator for a few days to allow the brine to work its magic. Ta-dah! Pickle perfection awaits.
How to Enjoy Your Homemade Refrigerator Pickles
Obviously, the easiest option is to eat them straight from the jar with a fork, but I'm sure you don't need me to tell you that.
Other options include adding to burgers and sandwiches, or piling onto a quick charcuterie board on the days when it's too dang hot to actually cook something. And they're positively brilliant on a grilled cheese, in case you were wondering.
The finished pickles will keep for several months in the fridge, but if your household is anything like mine, there's a very good chance they'll be gone long before then.
More Ways to Preserve Summer's Bounty
No one wants to think about winter when the sun is shining and the summer peaches are at their peak, but this is absolutely the time to start thinking about stashing away some of your summer bounty for a cold snowy day.
Here are a few more recipes from my archives to help you stash away a little taste of summer sunshine:
//
Print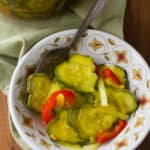 Bread and Butter Refrigerator Pickles
---
Description
Homemade bread and butter pickles are equal parts sweet and tangy, and so easy to make! This small batch recipe makes a single one-litre jar (or one-quart, for our US friends), but it can be scaled up based on how many cucumbers you have.
---
1

lb fresh pickling cucumbers (~

4

-

5

medium cucumbers)

1 cup

sliced white onion (~

1

small onion)

1 cup

sliced red pepper (~

1

small pepper)

2 tbsp

kosher salt

1 cup

cider vinegar

1 cup

sugar

¼ cup

water

1 tbsp

mustard seed

1 tsp

celery seed

6

whole peppercorns

½ tsp

ground turmeric
---
Instructions
Rinse the cucumbers under cold water and gently scrub to remove any dirt that might be left on the skin. Pat dry, then cut into ¼" thick slices.
Combine the cucumbers, onion and pepper in a large colander. Sprinkle with salt, and toss until evenly coated. Set aside to drain for 3 hours, then rinse well and drain thoroughly.
In a small saucepan set over medium-high heat, combine the vinegar, sugar, water and spices. Bring to a simmer, then cook for 2 minutes before removing from heat.
Pack the drained vegetables into a 1-litre or 1-quart jar, then pour in the hot brine. Set aside to cool to room temperature, then cover and refrigerate for at least 2-3 days before enjoying, Pickles will keep for 3-4 months in the refrigerator.