Summertime in Toronto may almost be over, but I've still got a few items on my checklist.
Like any self-respecting Canadian, I have a summer bucket list I need to check off. There are only so many weeks of warm weather each year, so it's important to pack in as much fun as possible.
The Perfect Toronto Summer Bucket List
There are so many things to love about Toronto summers. Evening walks for gelato, and early Saturday morning jaunts to the farmers market. Long bike rides on the waterfront trail, and ferry rides to the Toronto Islands.
If you're lucky, you can score a seat at Diner en Blanc, a pop-up picnic at a secret location where several thousand Torontonians set up for an elegant all-white picnic under the stars. And on the weekends, you're pretty much guaranteed to find an outdoor concert somewhere in the city.
There are also any number of sidewalk patios, where you can soak up some of that precious summer sunshine and knock back a cold beer (or two).
But no matter how many things I manage to check off that list, my summer won't feel complete until I've wolfed down a proper Toronto-style street dog.
What Makes Toronto Hot Dogs So Good?
I know we're hardly the only city in the world to claim the humble hot dog vendor as one of its symbols, but I like to think that Toronto's vendors are a cut above the rest, mostly because they cook their sausages over a hot gas grill until they're gloriously crisp and browned all over.
And if that wasn't enough, they nestle those perfectly grilled dogs into sweet egg buns dotted with poppy seeds, and deck their carts with a vast array of condiments for customers to finish off their dogs as they please.
Sorry, New York and Montreal, but your dirty water dogs and steamies ain't got nothing on our street meat.
My Favourite Hot Dog Toppings
Over the years, I've perfected my topping combination for the ultimate blend of sweet and spicy and salty: a row of pickle slices, a scattering of briny green olives, a spoonful of diced raw onion, a stripe of spicy mustard, a dab of sriracha sauce.
The most important condiment of all, though, is a generous slathering of sweet-and-tangy corn relish. Woe be on the vendor who doesn't have that all-important condiment on hand.
I've always felt like the store-bought version could use a little spicy zip, though, so this year I set out to make my own.
How to Make Corn Relish at Home
As it turns out, making your own corn relish is surprisingly easy. All you need is some sweet corn (preferably fresh off the cob, though frozen will do in a pinch), finely diced peppers, brine and a few simple seasonings.
It comes together so quickly that I'm pretty sure it took me longer to dig up a bandage to deal with a minor corn shucking incident than it did to whip up a batch.
The end product is a bright yellow relish that strikes a perfect balance between sweet, sour and subtly spicy. It's delicious with hot dogs and sausages, obviously, but it's equally good on burgers (as shown here) or with grilled meats.
How to Store Corn Relish
Since our 90-year- old semi-detached home doesn't exactly have loads of pantry space (or storage space in general, for that matter), I've scaled this recipe down to make a small batch just big enough for a couple of 500ml mason jars - one for you, and one for a good friend.
It'll keep for about a month in the fridge, which is just enough time to get those last few items on the summertime bucket list checked off before fall well and truly settles in... starting with a big juicy grilled hot dog, natch.
//
Print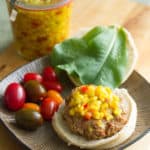 Sweet and Spicy Refrigerator Corn Relish
---
Author:

Total Time:

35 mins

Yield:

1

2

1

x
Description
This sweet-and-tangy relish is a Canadian summertime classic. Serve it alongside pretty much anything that comes off your barbecue - big fat burgers, juicy sausages, grilled pork chops or chicken.
---
1 cup

apple cider vinegar

½ cup

sugar

2 tsp

salt

4 cups

fresh corn kernels (about

4

ears)

1 cup

finely diced red pepper

1

small jalapeno pepper, finely minced

½ cup

finely chopped onion (about

1

small)

1 tbsp

mustard seeds

1 tsp

celery seeds

½ tsp

ground turmeric

¼ cup

water

2 tbsp

cornstarch
---
Instructions
In a large saucepan set over medium-high heat, combine the vinegar, sugar and salt. Bring to a boil, then stir in the corn, red pepper, jalapeno, onion, mustard seeds, celery seeds and turmeric. Reduce heat to low and simmer for 10 minutes, stirring frequently, or until the corn is tender.
In a small bowl, whisk together the water and cornstarch. Stir into the corn mixture, and turn the heat up to medium. Simmer for 3-5 minutes or until the relish starts to thicken up.
Ladle the hot relish into clean mason jars, leaving ½" headspace. Let cool to room temperature before transferring to the refrigerator. The finished relish will keep for up to one month.
Prep Time:

15 mins

Cook Time:

20 mins

Category:

Condiment