One of my favourite parts of summertime is my Saturday morning jaunt to the farmers market.
This year's market got off to a later start than usual because of all the extra restrictions, but thankfully things were back up and running by mid-July.
Granted, these carefully planned in-and-out strategic missions are a far cry from my usual leisurely meander from one vendor to the next. But plenty of things remain unchanged. I'm still coming home with a bag full of fresh produce, local cheese, free-range meats, and yes... probably a sweet treat or two. (Who can say no to a buttery crumbly scone? Not me!)
The one sad casualty of this year's late start was my supply of haskap berries, because the season was nearly over by the time things got going.
I was able to get my hands on a couple of pints to stash away in the freezer for another day, but I'm going to have to carefully ration until next summer rolls around. (So if I serve you something made with haskaps, congratulations - you're probably one of my favourite people.)
Meet the Haskap, Your New Favourite Berry
Haskap berries may look like a blueberry, but they have a unique flavour that's somewhere between blueberry and a plum.
I first discovered these plump purple berries last summer, and am thoroughly obsessed with their sweet-and-tangy flavour. They can be easily substituted for blueberries and other soft summer fruits, making them a perfect choice for pies, crisps and crumbles, and other baked goods.
Last summer, I added them to fluffy buttermilk muffins, but this year I wanted to try something a little more ambitious.
That's where this saucy haskap berry grunt comes in. This old-fashioned East Coast dessert is typically made with blueberries, but it's a perfect way to show off the bright flavour of fresh haskap berries. I used frozen berries from my stash, but fresh berries are equally good if you're lucky enough to get your hands on some.
the Grunt: An East Coast Classic with a Funny Name
So what's a grunt, you ask? As you can see, it's pretty similar to a cobbler - saucy fruit on the bottom, fluffy sweet biscuit layer on top.
The biggest difference between a grunt and a cobbler is the cooking method. While a cobbler is typically baked until the biscuit layer is golden-brown and the filling is thick and saucy, a grunt is cooked on the stovetop to create a much softer and fluffier topping.
As for the name, some say that it describes the grunting sound the filling makes as it cooks. In other regions, the same dessert is sometimes called a slump, because of the way the soft biscuit topping slumps into the saucy filling.
My version is a little untraditional because I like to haphazardly scoop the topping onto the fruit, creating a patchwork for the filling to bubble through. However, if you want to try a more traditional style, you can scoop six equal dollops of dough onto the filling to create individual dumplings.
How to Serve Haskap Grunt
Like most of these old-fashioned fruit desserts, this grunt is best served while still bubbly and warm. I usually make it just before serving dinner, and then keep it covered so that it's still nice and warm by the time we're ready for dessert.
If you're feeling extra-indulgent, add a scoop of vanilla ice cream or lightly sweetened whipped cream.
Leftovers, if you have any, make a pretty amazing breakfast the next morning. (What? It's fruit and carbs, so in theory it's no worse for you than toast with jam!)
More Delicious Recipes Featuring Haskap Berries
If you're looking to find more ways to enjoy this unique Canadian treat, here are some ideas from my favourite bloggers:
//
Print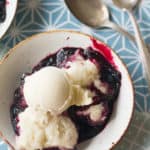 Haskap Berry Grunt
---
Description
Grunts are an old-fashioned dessert that pairs a saucy warm fruit filling with fluffy steamed dumplings. Traditionally, they're made with blueberries, but this newfangled version uses haskap berries (aka honeyberries) for a uniquely Canadian summertime treat.
---
Dumplings:
1 ½ cups

flour

2 tbsp

sugar

2 tsp

baking powder

½ tsp

salt

¼ cup

cold butter, cut into small cubes

1 cup

buttermilk
Filling:
4 cups

fresh or frozen haskap berries

½ cup

maple syrup

1 tbsp

lemon juice
---
Instructions
In a medium-sized mixing bowl, combine the flour, sugar, baking powder and salt. Using your hands, rub in the butter until the mixture is crumbly. Stir in the buttermilk to make a thick batter.
In a large skillet or shallow saucepan, combine the berries, maple syrup and lemon juice. Bring to a simmer over medium-high heat, then reduce heat to low and simmer for 3-5 minutes, or until the berries are soft and saucy.
Drop ¼ cup spoonfuls of dough onto the fruit. Cover the pan and simmer for 10-15 minutes or until the dumplings are cooked through. (If your pan doesn't have a lid, you can use aluminum foil to cover.) Serve warm with vanilla ice cream or whipped cream.