My favourite recipes are the kind that you can throw together with the odds and ends that are kicking around in the fridge, and that are easily adapted based on what's on hand. There's something pretty wonderful out of concocting an entire meal using stuff that might otherwise have found its way into the compost bin.
This Chinese restaurant-style fried rice usually shows up on the menu every couple of weeks, because it's exactly that kind of recipe.
Though, if I'm being perfectly honest, it's really more of a formula than a recipe.
Start with the slightly wrinkly carrot and the two floppy celery ribs that are lingering in the bottom of the crisper, and whatever protein you have hanging around in the fridge or freezer. Add some leftover rice, a few basic veggies, and a splash of soy sauce, and you're good to go!
The Secret to Perfect Takeout-Style Fried Rice
There's only one secret to making delicious fried rice that tastes just like it came from your favourite Chinese restaurant: using leftover rice!
Sure, you can totally use freshly-cooked rice, but you'll get much better results if you start with day-old rice. That's because fresh cooked rice is still very soft, so all that stirring will turn it into a mushy, clumpy mess. Cooling the rice off overnight allows it to dry off and seal the outer layer, so that it doesn't all clump together during the cooking process.
Thankfully, it's not like leftover cooked rice is all that hard to come by. I've even been known to deliberately make an extra cup of rice just so I have an excuse to make fried rice the next day.
Choosing a Protein for your Fried Rice
The fried rice in the photos was made with some homemade hot dogs I had kicking around in the freezer, but the beauty of this recipe is that it's infinitely adaptable depending on what suits you that day.
I tend to go with whatever odds and ends I happen to have on hand rather than intentionally buying something to make my fried rice, but here are a few options if you're in need of inspiration:
Diced cooked ham
Chopped bacon
Diced SPAM (yes, SPAM... trust me on this!)
Chinese cured sausage
Diced barbecue pork
Diced chicken breasts or boneless thighs
Raw or cooked shrimp
If you're using a cooked protein like ham or hot dogs, you only need to fry it long enough to heat through and brown the outside. However, if you're using a raw protein like chicken or bacon, make sure it's cooked thoroughly before you move on to the next step.
For a completely vegetarian option, add an extra egg or some diced tofu instead of the meat options above.
More Ways to Make your Favourite Chinese Takeout at Home
I love my local Chinese restaurant as much as the next gal, but there are definitely benefits to making my own from time to time instead of ordering in. For one, it's usually cheaper, and two, you can customize it exactly to your liking, whether it's less soy, more spice, and better quality veggies and meat.
Here are a few of my current favourites from the blog:
And here are a few more from some of my favourite bloggers:
//
Print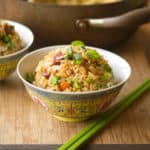 Chinese Restaurant-Style Fried Rice
---
Description
This quick restaurant-style fried rice comes together in half the time it takes to call for takeout. It's a perfect way to use up leftover cooked rice and whatever protein you have kicking around in the fridge.
---
½ cup

protein (see Notes)

2 tbsp

canola oil

1

medium carrot, peeled and diced

1

stalk celery, diced

4

green onions, finely sliced

2 tsp

grated fresh ginger

2

eggs, lightly beaten

3 cups

cooked white rice

½ cup

frozen peas

2 tbsp

soy sauce

1 tsp

sesame oil
---
Instructions
Add the oil to a wok or deep non-stick skillet set over medium-high heat.
Add your protein and saute until cooked all the way through. (If your protein is already cooked, just saute until warmed through and starting to brown.)
Stir in the carrots and celery, and saute for 2 minutes. Add the white and light green parts of the green onions (save the dark green parts for later), and stir in the grated ginger. Saute for 1 minute longer, or until fragrant.
Push the ingredients to one side of the pan and add the eggs. Cook until the eggs start to set, then break them up and stir them into the rest of the ingredients.
Add the rice and peas, and drizzle with soy sauce and sesame oil. Stir everything together until combined.
Sprinkle with the remainder of the green onions, and serve immediately.
Notes
Choosing Your Protein: Feel free to customize this recipe based on whatever you have on hand. Some options include diced raw chicken (breast or thigh), hot dogs, SPAM, cured sausage, bacon, shrimp, diced ham or even tofu.