Over the years, I've collected a handful of recipes that I refer to as Desperation Dinners. That's the name I use for the handful of go-to dishes that I can always count on for the days when I need to get dinner on the table, but can't muster up the energy to go to the grocery store for ingredients.
Desperation Dinners are the recipes I make when I get home after a yucky day at the office and just want to crash on the couch for a three-hour dose of mind-numbing reality TV. They're quick, they're simple, and they require nothing that isn't already in my pantry or freezer.
Some of these recipes aren't even recipes at all.
Sometimes they're pasta with a little olive oil and garlic and Parmesan, perhaps with some crispy bacon or chopped fresh parsley if I can scrounge some up. Or a quickie omelette stuffed with whatever vegetables I can dig up from the crisper. Or a bowl of soft polenta with a runny poached egg, a crumbling of crisp pancetta and a dash of hot sauce.
In fact, as Desperation Dinners go, these peanut butter noodles are downright elaborate, because they require me to have a slightly larger assortment of vegetables in the fridge, and possibly on a protein of some sort (usually pork, though sometimes chicken or tofu or shrimp depending on what's kicking around). That said, on particularly desperate nights, they're actually quite good with nothing more than noodles, sauce and a sprinkling of green onions.
This recipe originally came from John Allemang's beautifully written collection of food essays, The Importance of Lunch, which is sadly now out of print but is well worth seeking out secondhand.
His version, simply called Peanut Butter Noodles, is utterly perfect in its pared-down simplicity - just some cooked spaghetti tossed with a spicy garlicky peanut butter sauce, slivers of red pepper, bean sprouts and a hefty dose of green onions. It's ridiculously cheap, which was a big selling point in my early twenties when Desperation Dinners were sometimes my only option before the next paycheque rolled around.
Over time, the recipe has evolved based on my preferences and my budget. The vegetables have increased in both variety and quantity, and Allemang's spaghetti has been replaced by proper stir fry noodles, which I usually have on hand for just these kinds of emergencies.
I've also added extra protein... here, I've "splurged" on tender pork tenderloin, which is actually surprisingly cheap when you can find it on sale. And the bean sprouts are long gone, because I've discovered that I rather dislike cooked sprouts (slimy... eww).
This is the recipe I tend to make nowadays. It's still as uncomplicated as ever, and yet the blend of colourful vegetables and contrasting textures makes it so much more satisfying than the sum of its parts.
On a Desperation Dinner kind of night, all I need is a bowl of these noodles and a new episode of So You Think You Can Dance, and I'll feel right as rain.
//
Print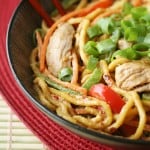 Spicy Peanut Butter Noodles
---
Description
This quick Asian-inspired noodle dish comes together in a flash. For a vegan-friendly version, substitute tofu for pork and omit the fish sauce.
---
1

lb Chinese stir fry or lo mein noodles

2 tbsp

canola oil

2

cloves garlic, minced

3 tbsp

grated fresh ginger

1

red hot chili pepper, finely minced (or

2 tsp

red pepper flakes)

1

lb pork tenderloin, cut into thin strips

1 cup

finely sliced red pepper

1 cup

finely julienned carrots

1 cup

shredded snow peas

¼ cup

natural peanut butter (chunky, if possible)

2 tbsp

soy sauce

2 tbsp

sesame oil

1 tbsp

fish sauce

1 tbsp

rice wine vinegar

½ cup

hot water

½ cup

chopped green onions
Garnish:
Chopped fresh cilantro
Chopped roasted peanuts
---
Instructions
Cook noodles in a large pot of boiling salted water for 1 minute. Drain and set aside.
In a wok or large heavy-bottomed skillet, heat 1 tbsp oil over medium-high heat. Add garlic, ginger and hot pepper, and stir fry for 1-2 minutes or until fragrant.
Add pork strips. Continue stir frying for 4 minutes, until the pork is browned on all sides. Use a slotted spoon to transfer to a small bowl.
Add the remaining tbsp oil to the pan, then add red pepper, carrots and snow peas. Stir fry for 2-3 minutes, until vegetables are tender-crisp. Transfer to the same bowl as the pork.
Add cooked noodles to the pan, and saute for 1-2 minutes just to warm through. Stir in peanut butter, soy sauce, sesame oil, fish sauce, rice wine vinegar and water, and cook for another minute or two until the peanut butter melts into a smooth sauce (if the sauce looks too thick or sticky, add a tablespoon or two of water at a time until it loosens up to the desired consistency).
Remove from heat. Stir in the reserved pork and vegetables along with chopped green onions, and toss until evenly coated with sauce. Serve hot with a sprinkling of cilantro, green onions and roasted peanuts.