Given everything else that's going on in the world right now, it feels a little strange to be writing about pound cake.
These are strange and uncertain times. On the one hand, this introvert is pretty happy to have an excuse to stay home and catch up on the final season of Schitt's Creek. But on the other hand, it's easy to feel anxious when people are cleaning out grocery stores and getting into fistfights over toilet paper.
When the world is upside down, I find comfort in simple rituals. My morning cup of coffee, reading a book, taking a walk around the block, cuddling with the cat, starting a new knitting project.
Most of all, though, there's baking. It's always been my way of finding some certainty in an uncertain world, all the way back to my university days when baking bread was my favourite way of coping with exam stress.
I find comfort in carefully measuring and stirring the ingredients, and then patiently waiting while my house fills with the delicious smell of baked goods. And eating the results is pretty damn therapeutic, too.
The Magic of Butter, Sugar, Eggs and Flour
The basic recipe for pound cake is as simple as it gets. One pound of butter, one pound of sugar, one pound of eggs, and one pound of flour.
This four-ingredient formula is time-tested because it's easy to remember, but it's a little tricky to achieve perfect results because it relies solely on the air beaten into the butter during the creaming stage as its sole source of leavening.
If you don't beat enough air into the butter or you fold in the dry ingredients with just a little too much enthusiasm, you end up with the dreaded dry pound cake that even a cup of tea can't rescue.
The Classic Poundcake, Only Better
Personally, I'm not willing to take the risk of relying solely on my butter creaming technique, which is why I take out a little insurance in the form of a dash of baking powder. It might not seem like much, but it's just enough to give the batter a little lift without compromising on the dense texture that sets pound cake apart from all other cakes.
A little clementine zest and a few dashes of cardamom bitters add a subtle combination of citrus and spice, but you can leave them out if you're a purist. Either way, you'll be rewarded with a gloriously golden loaf, with crunchy edges and a dense buttery crumb.
It tastes best the day it's made, but if you can't finish it all, just wrap it up tightly in plastic wrap and store in an airtight container. The loaf will soften and mellow into a more delicate version of its former self, but it will remain dense and buttery and sweet for several days.
How to Bake a Better Pound Cake
Pound cake isn't particularly tricky, but it does have one fatal flaw in that it can be prone to turning out tough and dry due to its lack of leavening.
Here are some of my tricks for achieving pure pound cake perfection:
1. Cream Thoroughly:
It may be tempting to speed through this step, but take your time when creaming the butter and sugar together. If possible, use a handheld or stand mixer, and blend everything until very fluffy and pale yellow. Even with a mixer, it can take up to 5 minutes to get the perfect texture.
2. Use Room Temperature Everything:
Yes, everything. I like to take the eggs and butter out first thing in the morning, and wait a few hours before baking.
3. Don't Overmix:
I know this sounds contradictory, but while you want to beat the crap out of the butter and sugar, you want to do the exact opposite when combining the wet and dry ingredients. Ditch the mixer and fold in the dry ingredients by hand, stopping as soon as it comes together.
4. Generously Grease the Pan:
The amount of sugar in pound cake batter makes it stickier than most, so make sure you generously butter your loaf pan and then dust with a light coating of flour.
5. Don't Overbake:
An overbaked pound cake is a dry pound cake, so start testing your cake about 5 minutes before the minimum recommended bake time. If a toothpick inserted into the centre comes out clean, it's done!
More Citrus Desserts to Stress-Bake
If you've been following this blog for more than a minute, you probably know I firmly believe in the mood-lifting properties of citrus, especially when paired with plenty of butter and sugar.
Here are three more feel-good recipes to bring a little sunshine into these dark days:
//
Print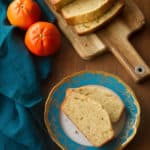 Clementine Cardamom Pound Cake
---
Author:

Total Time:

1 hour 10 minutes

Yield:

1

loaf

1

x
Description
This dense, buttery poundcake is subtly scented with clementine zest and cardamom. Serve with a dollop of whipped cream, or add a simple blood orange compote for a double-dose of citrus.
---
½ cup

butter, softened

1 cup

sugar

3

eggs

½ cup

full-fat sour cream

1 tsp

vanilla extract

5

-

6

dashes cardamom bitters

1 tbsp

clementine zest (~

2

clementines)

1 ½ cups

flour

1 tsp

baking powder

½ tsp

salt

¼ tsp

ground cardamom
---
Instructions
Preheat oven to 375F. Generously grease a 8x4 inch loaf pan, and lightly dust with flour.
Using a mixer on medium-high speed, cream the butter and sugar in a large bowl until very light and fluffy. Add the eggs, one at a time, beating well after each addition. Fold in the sour cream, vanilla, cardamom bitters and clementine zest.
Fold in the flour, baking powder, salt and ground cardamom. Mix until just barely combined, making sure not to overmix - a few small floury streaks are okay. Pour the batter into the prepared loaf pan.
Bake in preheated oven for 55-60 minutes, or until a toothpick inserted into the centre of the cake comes out clean. Let cool in the pan for 5 minutes, then carefully unmold and transfer to a wire rack to cool off completely.
Notes
Ingredient Notes:
Do not use low-fat sour cream in this recipe - it has a higher water content than full-fat, and will affect the texture of the finished loaf.
If you can't find cardamom bitters, you can use angostura or orange bitters instead.
Storage Notes: This cake is best eaten the day it's made, but will keep for up to 3 days in an airtight container.
Prep Time:

10 mins

Cook Time:

60 mins

Category:

Cakes

Method:

Baked

Cuisine:

American