Lately I've been wondering why we bother to distinguish between soup and stew, particularly when it comes to recipes like this beef and barley soup, which is so thick and chunky that you can almost eat it with a fork.
On the one hand, it's got all the hallmarks of a great stew - chunks of tender beef, thick sliced mushrooms, and carrots.
On the other hand, it's also clearly a soup, because all of those tasty chunks are floating around in a flavourful, rich beef broth thickened with barley.
I'm going to go ahead call this a soup, but feel free to call it a stew if that's what makes sense to you. Who needs labels anyway, man?
Slow Food Made Faster in the Instant Pot
Old-fashioned recipes for beef and barley soup can take up to 3 hours from beginning to end, which is great if you're planning on spending an afternoon at home while the soup simmers away on the stovetop.
And believe me, I've done that plenty of times, because it's pretty satisfying to sit in a warm house full of delicious smells when it's miserable and cold outside.
But sometimes you find yourself walking in the door at 6pm on a Wednesday evening with a major craving for beef and barley soup. The Instant Pot is a life saver on nights like those, because it lets you get the exact same results in just under an hour, including the time required for the cooker to come up to pressure!
Pot vs Pearled: Know Your Barley
While many recipes for beef and barley soup use pearled barley, I much prefer to use pot barley (or hulled barley, as it's sometimes called outside of Canada).
What's the difference? Both pot barley and pearl barley have been hulled, meaning the outer layer of the grain (also known as the hull has been removed, which is important since barley hull is very tough and inedible.
Pot barley is polished for a shorter period of time, which leaves behind the bran layer that's directly below the hull. This gives it a slightly nuttier flavour and chewier texture, which I personally really enjoy when I'm making a hearty soup/stew or a quick barley pilaf.
Pearl barley, on the other hand, goes through a few extra rounds of polishing to remove both the hull and the bran layer. As a result, it's much whiter and cooks up softer than pot barley. It also absorbs more liquid than pot barley, so you may need to add a splash of extra broth when reheating leftovers.
The good news is that both varieties cook in the same amount of time, so they're totally interchangeable.
In other words, if you've got pearl barley kicking around, go ahead and use it instead. It'll still be perfectly delicious!
Making Beef-Barley Soup with Leftover Roast Beef
While I've written this recipe to use beef stew meat, it is absolutely possible to make it with leftover roast beef or pot roast.
In fact, that's actually how I first discovered the deliciousness of beef and barley soup. When I was growing up, roast beef dinner was almost always followed by a big pot of scotch broth, a simple soup made with beef broth, chopped leftover beef, cooked barley and diced carrots.
Personally, I prefer to save my cold roast beef for sandwiches, but sometimes I have enough left over that I can't finish it up within the next few days. When that happens, I chop it what's left of the roast into bite-sized cubes and stash it in the freezer until I'm ready to make soup.
If you're making this recipe using leftover beef, skip steps 1 and 2, and add 2 cups chopped cooked beef to the pot in step 5.
//
Print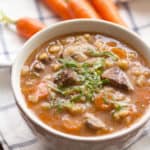 Beef and Barley Soup (Instant Pot)
---
Author:

Total Time:

40 minutes

Yield:

4

servings

1

x
Description
Chase the winter chill away with a steaming-hot bowl of this hearty soup, made with chunks of stew beef, mushrooms, carrots and oats in a rich beef broth. Traditional recipes for this soup can take up to 3 hours to make on the stovetop, but this version is ready in under an hour thanks to the magic of pressure cooking!
---
1

lb beef stew meat, cut into

½

" cubes

1 ½ tsp

salt

1 tsp

fresh-ground black pepper

2 tbsp

olive oil, divided

1

package (227g / 8oz) sliced mushrooms

2

medium carrots, finely diced

2

ribs celery, finely diced

1

small onion, finely diced

½ cup

dry red wine

6 cups

low-sodium beef broth

2 tbsp

tomato paste
Dash Worcestershire sauce

¾ cup

pot barley

1

bay leaf

2

medium-sized carrots, thinly sliced
---
Instructions
Season the beef all over with salt and pepper.

Using the Saute function on the Instant Pot, heat 1 tbsp olive oil. Add half of the beef, and sear until well-browned on all sides. Using a slotted spoon, transfer the beef to a bowl. Repeat this process with the remaining beef.

Add the mushroom to the Instant Pot. Saute for about 5 minutes, or until the mushrooms are soft and starting to brown. Transfer to the bowl with the beef.

Add the remaining 1 tbsp olive oil to the Instant Pot. Stir in the diced carrots, onions, and celery, and saute for about 5 minutes or until the onions are soft and translucent, but haven't taken on any colour. Add the wine and deglaze the pan, using a wooden spoon to scrape up any browned bits stuck to the bottom, and cook for about 2-3 minutes or until the wine has mostly evaporated.

Stir in the broth, tomato paste, Worcestershire sauce, barley and bay leaf. Add the browned beef and mushrooms, along with any liquid that's accumulated in the bowl. Turn off the Saute function.

Cancel the Sauté function. Lock the lid of the Instant Pot, press the Manual button, and program it for 20 minutes on High pressure.
After 20 minutes, quick release and add the sliced carrots. Cover, press the Manual button, and cook on High pressure for another 10 minutes. Let the pressure release naturally for 5 minutes, then manually release. To serve, discard the bay leaf, and adjust the seasoning with more salt and pepper as needed.
Prep Time:

10 mins

Cook Time:

30 mins

Category:

Soups

Method:

Pressure Cooker

Cuisine:

American