As a Canadian, there are a couple of important rules to live by.
One, you have to apologize for pretty much everything. Two, you should always pronounce the last letter of the alphabet as "zed", not "zee".
And three, you must love maple syrup.
So when you're trying to make over a Canadian classic, the obvious answer is to make even more Canadian by upgrading it with a whole lotta maple syrup.
Meet the Butter Tart: A Classic Canadian Treat
There are many regional Canadian recipes, but butter tarts seem to be one of the few that are beloved from coast to coast.
If you've never had one before, a butter tart is a small tart with a crisp pastry shell and a filling made of butter, sugar and egg. Think of them as a long-lost relative of the pecan pie, except a little bit sweeter and a whole lot more gooey.
While no one knows exactly where butter tarts were first made or what inspired them, the first known recipes started appearing in print in the early 1900s, the most notable being the the iconic Five Roses cookbook published in 1913. By the 1930s, the butter tart was firmly enshrined in public opinion as a quintessential icon of Canadian cuisine.
And let me tell you, we Canadians take their butter tarts very seriously.
There are dozens of different butter tart festivals where bakers compete for the title best butter tart. And if you happen to miss your nearest festival, you can follow either the butter tart trail or the butter tart tour, both of which allow travelers to go in search of butter tart perfection.
The Great Canadian Butter tart Debate
Everyone agrees on the basic components of a butter tart, but if you want to see Canadians get really riled up, ask them whether a proper butter tart should contain raisins, nuts or neither of the above.
Entire feuds have been fought on the basis of what (if anything) belongs in a buttertart. I'm talking the kind of deep-seated grudges that would rival the Capulets and Montagues, the Hatfields and the McCoys, the Habs and the Leafs, or Wil E Coyote and the Roadrunner.
Personally, I'm a purist, though I have been known to temporarily switch my allegiance from Team Plain to Team Nuts if that's the only option available. But those weirdos on Team Raisin? Sorry, they're just plain nuts. (See what I did there?)
That said, the first known recipe for butter tarts did contain dried currants, so I guess maybe Team Raisin isn't so crazy after all.
The Easier Way to Get Your Butter Tart Fix
Homemade butter tarts are a thing of beauty, but they're rather time-consuming to make.
The good news is that with these butter tart bars, you get all the same gooey filling and buttery crust, but with way less effort. They start with a super-simple brown sugar shortbread base, which is topped off which a classic butter tart filling mixture enhanced with a splash of maple.
And even better, they've got everything in the same pan - crispy caramelized edges, softly set sides, and a slightly runny middle. In other words, you can satisfy Team Runny and Team Not-So-Runny with a single batch.
Light, Amber or Dark: Choosing the Right Maple Syrup
Traditionally, butter tarts are sweetened with brown sugar (and occasionally, a dash of corn syrup), but this version goes extra-Canadian with a splash of dark maple syrup.
While you can use any kind of maple syrup to make this recipe, I find it works best when made with dark or very dark maple syrup.
What's the difference? Basically, since 2017, all maple syrup in Canada and the US is classified into four different grades:
Golden: delicate taste, clear pale gold colour
Amber: rich taste, amber-brown colour
Dark: robust taste, auburn-brown colour
Very Dark: very strong taste, dark chestnut brown colour
All four grades comes from the exact same trees - the only difference is that lighter grades are made with sap from the beginning of the season, while darker grades are produced towards the end of the season when warmer temperatures start changing the sugars in the sap from fructose to glucose.
In my experience, most stores only carry Golden and Amber grades, but I really do recommend taking the time to hunt down the elusive Very Dark grade for this particular recipe.
Its intense flavour is a bit much for pancakes, but it's perfect in baked goods where you want to get a really noticeable maple flavour. (And despite what I just said about pancakes, a drizzle of dark maple syrup on cornmeal-rye pancakes is a thing of beauty.)
//
Print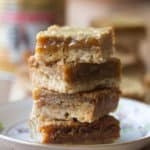 Maple Butter Tart Bars
---
Author:

Total Time:

1 hour

Yield:

16

squares

1

x
Description
These gooey bars start with a brown sugar shortbread crust, and top it off with a maple-spiked filling for a sweet treat that delivers all the goodness of a classic Canadian butter tart, only with way less effort!
---
Pastry:
1 ¼ cups

flour

⅓ cup

brown sugar

½ cup

cold butter, cut into small cubes
Filling:
2 tbsp

melted butter

2

eggs

¾ cups

packed brown sugar

⅓ cup

maple syrup (preferably dark)

1 tsp

salt

½ tsp

baking powder

1 tbsp

cider vinegar

½ tsp

vanilla extract
---
Instructions
Make the Crust:
Preheat oven to 350F.
In a medium-sized bowl, mix the flour and sugar together. Using a pastry cutter or two knives, cut in the butter until you have a fine, crumbly mixture.
Press the crust mixture into the bottom of a 9-inch non-stick square baking pan. Bake for 15 minutes in preheated oven, or until set and just starting to brown around the edges. Cool completely on a wire rack.
Make the Filling:
In a medium-sized mixing bowl, whisk the melted butter and eggs until smooth. Add sugar, maple syrup, flour, baking powder, salt, vinegar and vanilla.
Pour the filling over the cooled crust. Return to the oven and bake 25-30 minutes, or until the filling is set. (It's okay if the middle is just slightly wobbly - it'll firm up as it cools.)
Set the pan on a wire rack to cool to room temperature. Run a knife along the edges to loosen the filling, then transfer to the refrigerator to chill for at least 1 hour before cutting into squares.
Notes
How to Cut Perfect Squares: The filling is quite sticky, so make sure to use a non-stick pan and run a knife around the edges to loosen up the filling while it's still warm. Then chill thoroughly before slicing to allow the filling to set up, and rinse your knife in hot water between cuts to keep the edges clean.
Prep Time:

15 mins

Cook Time:

45 mins