All around me, there are small signs that spring is on its way.
The days are getting longer, the robins have returned to their favourite big tree in the backyard, and the local kids have resumed their regular after-school street hockey games out on our little crescent.
I may have even pulled out my brand-new spring jacket so I could take it out for a spin around the neighbourhood.
But as anyone who's experienced spring in Toronto knows, we're not out of the woods yet. We've all lived through enough April snowstorms to know it's too soon to pack up the parka and the snow boots.
And, more importantly, that means there's still time to sneak in a few more bowls of stew before packing up the big Dutch oven for the season.
Which is where this hearty Portuguese-inspired slow-braised beef stew comes in. It's hearty and flavourful, and just the thing to help you weather through winter's last gasp.
A Little Background on This Recipe
It's not a strictly traditional recipe, as far as I can tell, but it does combine many of the flavours that often make an appearance in Portuguese stews.
Aside from the standard chunks of stewing beef and tender potatoes, there's also spicy smoked chourico sausage, green peppers, and red kidney beans.
The exact origin of the recipe has been lost to the mists of time. My mother tells me she clipped it from an old magazine back in the 1970s, but she can't recall which one exactly.
Either way, as is the case with most old family recipes, there's not much left of the original after forty-something years. My mom adapted it to use what she had on hand, and I've also made a few tweaks of my own.
The end result of that evolution is a hearty bowl that's surprisingly more complex and flavourful than you'd guess from the simple list of ingredients. Round it out with crusty loaf of bread and a glass of red wine (Portuguese, natch) for a perfect cold-weather meal.
Chourico vs Chorizo - What's the Difference?
Both Portuguese chourico and Spanish chorizo have much in common.
Both sausages start with chunks of fatty pork flavoured with garlic and paprika, but chourico is typically smoked while chorizo is dry cured.
There's also a slight difference in the ratio of the key ingredients. Garlic and paprika are the dominant flavours, but chorizo goes much heavier on the paprika (which gives it its distinctive dark red colour), while chourico uses less paprika, more garlic and adds a splash of wine to round things out.
Both are equally good, but for this recipe I highly recommend getting your hands on some Portuguese chourico if you can. Your best bet is a Portuguese butcher shop, or check your local supermarket. Here in Toronto you can usually find Borges brand chourico in the deli case at major chains.
However, if all you can find is Spanish chorizo, that's totally fine. Just avoid Mexican chorizo, which is an uncooked sausage made with ground pork and a very different blend of spices.
More Portuguese Comfort Food for Cold Weather
While Portugal is better known for warm weather and beautiful beaches, there are plenty of flavourful soups and stews that are perfect for colder weather.
Here are a few of my favourites:
Print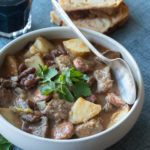 Portuguese Beef Stew with Chourico and Kidney Beans
---
Author:

Total Time:

2 hours 15 minutes

Yield:

4

1

x
Description
Sliced chourico, green peppers and kidney beans give this hearty beef stew a Portuguese flair. Serve with a simple green salad and lots of crusty bread for mopping up the bowl.
---
1

lb stewing beef, cut into

1

" cubes

2 tsp

olive oil

½

lb spicy chourico sausage (see Note)

2

medium green peppers, sliced

1

large onion, thinly sliced

2

cloves garlic, minced

2 cups

beef broth

1

can (540ml / 19 oz) red kidney beans, drained and rinsed

6

medium potatoes, cut into

¾

" chunks

1 tsp

salt

1 tsp

dried basil

½ tsp

fresh ground black pepper

2

bay leaves
---
Instructions
Preheat oven to 350F.
Heat the olive oil in a large heavy-bottomed Dutch oven set over medium-high heat. Working in two batches to avoid crowding the pan, sear the beef until well-browned on all sides. Using a slotted spoon, transfer the browned beef to a bowl and set aside.
Add the chourico to the pot, and cook until it starts to take on some colour, about 5 minutes. Stir in the onion, green pepper and garlic, and continue cooking for another 3-5 minutes or until onions are soft and translucent.
Stir in the remaining ingredients, and bring to a simmer. Transfer to preheated oven and cook for 2 hours, or until beef is tender. Serve immediately.
Notes
Chourico vs Chorizo: You'll want to use a Portuguese-style chourico (or Spanish-style chorizo) for this recipe, which is a fully cooked and cured pork sausage seasoned with lots of garlic and paprika. You will not get the same results if you use a Mexican-style chorizo, because it's a fresh sausage and has a very different flavour profile.
Prep Time:

15 mins

Cook Time:

2 hours

Category:

Mains

Method:

Braised

Cuisine:

Portuguese