Call me a masochist, but to celebrate April Fool's Day this year, I figured I'd dust off my vintage cookbook collection and try out a particularly questionable recipe. After the year we've had, I may as well play the joke on myself, right?
It's no secret that I'm a huge fan of mid-century cuisine in all its weird and wonderful glory, from its excessive use of canned soup to the inexplicable obsession with jellied salads. However, I've always been more than a little hesitant to actually try out any of those recipes.
It's true that some things are probably best left in the past, but maybe some of these dishes might not be quite as strange as they sound.
And so, dear readers, I'm kicking off a new series where I'm going to boldly go where many housewives have gone before by recreating some of these forgotten classics. I'm sure I'll discover that most of them are pretty terrible, but hopefully I'll also find a few gems that deserve a second chance at life.
My inaugural pick for this new series is a vintage bundt cake featuring a very unusual secret ingredient - a whole can of condensed tomato soup.
Yes. You read that right. I made cake with tomato soup. No joke!
A Brief History of Tomato Soup Cake
The first known recipes for tomato soup cake started appearing in community cookbooks in the 1920s, often dubbed as "Mystery Cake" because of their clever secret ingredient.
Like many other cakes made with unusual ingredients, such as mayo or sauerkraut, this cake really gained in popularity during the Depression and WWII, because the tomato soup acts as a substitute for hard-to-get ingredients like butter and eggs.
After the war, bakers embraced the modern convenience of condensed soups as a shortcut for all their old made-from-scratch dishes, from sauces to casseroles to desserts. It's around this time that Campbell's started printing a recipe for this cake on soup cans, which only added to the increase in popularity.
This classic dessert may have fallen out of popularity in recent years, but it's still a beloved favourite tradition for many families.
A Little More About This Recipe
I found several different tomato soup cake recipes while researching, ranging from the Depression-era version with no eggs and very little butter, to the quick-and-easy postwar version made with boxed cake mix.
I briefly considered trying the box mix, but that's the one line I refuse to cross. So instead, I combined the two most reasonable-looking recipes - a one-bowl layer cake from my beloved vintage Campbell's Soup cookbook, and a bundt cake from the 1975 edition of The Joy of Cooking.
The traditional topping for tomato soup cake is cream cheese frosting, so I used a my favourite recipe to frost the finished bundt. It's a super-simple three ingredient version with just the right balance of sweetness and tanginess, which softly drapes over the top and sides of the cake like a fresh snowfall.
Many of the recipes I found include raisins and/or chopped nuts as an optional mix-in. I opted for pecan because I'm generally not into raisins in my baked goods, but you should go with whatever makes you happy!
The Verdict: Does Tomato Soup Cake Taste Like Tomato?
The short answer is no, thankfully!
Despite the whole can of tomato soup in the batter, the finished cake doesn't have a noticeable tomato taste once it's baked. It does, however, give the cake a subtle depth of flavour and a light orangey-red colour.
If I had to describe the taste to someone without giving away the secret ingredient, I'd say it's basically a slightly edgier version of a pumpkin-spice cake. Which shouldn't be that much of a surprise... tomatoes are a fruit, after all!
(And if the idea of using tomatoes in sweet recipes sounds intriguing, did you know you can also make sweet tomato jam? You're welcome.)
I rate this one a solid 4 out of 5. Surprisingly good, but not a life-changing revelation.
What's your favourite weird vintage recipe? Let me know and I might be brave enough to take it for a test drive!
Print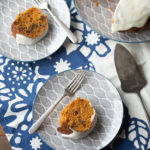 Tomato Soup Bundt Cake
---
Author:

Total Time:

1 hour

Yield:

1

2

1

x
Description
No one will ever guess that this delicious one-bowl bundt cake gets its deep reddish-orange colour and delicate flavour from a whole can of condensed tomato soup.
---
Tomato Soup Spice Cake:
½ cup

butter, softened

1 cup

sugar

2

eggs

1

can (284ml / 10.75oz) condensed tomato soup

2 cups

flour

2 tsp

baking powder

1 tsp

ground cinnamon

1 tsp

ground cardamom

½ tsp

ground cloves

½ tsp

ground nutmeg

1 cup

raisins or chopped pecans (optional)
Cream Cheese Icing:
½ cup

(

125g

/

4 oz

) cream cheese, softened

1 ½ cups

icing sugar

1 ½ tbsp

milk, divided
---
Instructions
Make the Cake:
Preheat oven to 350F. Generously butter a 9-inch bundt cake pan.
In a medium-sized mixing bowl, cream together the butter and sugar until light and fluffy. Add the eggs, one at a time, mixing well after each addition. Add the tomato soup, and stir until smooth.
Add the flour, baking powder, and spices, and mix until combined. Fold in the pecans or raisins, if using.
Pour the batter into the prepared bundt pan, and smooth out the top. Bake in preheated oven for 40-50 minutes, or until the cake is lightly browned and a toothpick inserted into the centre comes out clean.
Cool the cake in the bundt pan for 5 minutes, then carefully unmold and transfer to a wire rack to cool off completely.
Make the Icing:
While the cake is cooling, prepare the icing. In a small bowl, beat together the cream cheese and icing sugar until combined. Stir in the milk, ½ tbsp at a time, until you have a thick, pourable glaze.
Spoon the icing onto the top of the cooled cake, allowing it to drip over the sides. If possible, let sit for at least an hour before serving to allow the icing to set.
Prep Time:

10 mins

Cook Time:

50 mins

Category:

Desserts

Method:

Baked

Cuisine:

American