One of the things I love best about my home is the ancient lilac tree that grows in my backyard.
We don't quite know how old it is, but based on its size, I believe it may have been planted not long after the house was built in the late 1920s, which would make it very nearly a century old.
Despite its grand old age, every spring it puts out dozens of fragrant clusters of pale purple flowers that fill my garden with their sweet smell.
What I didn't know until a couple of years ago is that lilac blossoms are edible, which means you can infuse their delicate perfume into all kinds of things. That way, you get to keep enjoying the scent of lilac long after the blooms have fallen from the tree.
So what does lilac taste like? Not surprisingly, it tastes pretty much like it smells - lightly floral and sweet, with a slight hint of lemon. It's quite lovely on its own, but also pairs beautifully with vanilla, lemon or fresh berries.
My favourite experiment so far is these simple cookies based on my favourite slice-and-bake shortbread cookie dough. The pairing of fresh lilac blooms and lemon zest is like the very essence of spring, captured in one perfectly crisp buttery cookie.
Baking with Lilac Blossoms
Adding lilac to your baked goods is a cinch. All you have to do is snip a few flower clusters from a lilac bush while it's in full bloom.
Any kind of lilac will do. White, classic lilac, or darker purple are all interchangeable. Just look for blooms that are at their peak - they should be fully open, without any browning or discolouration.
The most important part, though, is to make sure you're picking flowers that haven't been sprayed with any pesticides or other harmful chemicals.
I know not everyone is lucky enough to have a big lilac in their own backyard, but another solution is to mooch from friends, family or even a trustworthy neighbour who might be willing to trade for cookies. If you're using store-bought lilacs, make sure to check with the florist that they're selling food-grade lilacs.
Once you've harvested your bounty, carefully pick the individual blooms off the stems, rinse thoroughly with cold water, and then dry well. (A salad spinner is great for this.)
Bonus Recipe: Lilac Sugar
Fresh lilac flowers can be incorporated into any baked good that would benefit from their delicate flavour, or steeped into simple syrup to stir (or shake) into your favourite cocktails.
The easiest option of all, though, is lilac sugar.
Simply layer the blooms with sugar in a large mason jar and set aside in a cool, dark spot to infuse for a week or so, shaking the jar every day or two to help distribute the flavour and break up clumps.
After a week, you'll have a lovely infused sugar that can be used anywhere you'd normally use regular granulated sugar to add a subtle floral note.
More Spring Recipes Featuring Edible Flowers
Nothing quite captures the essence of spring quite like these edible flower recipes that let you enjoy those May flowers just a little bit longer.
//
Print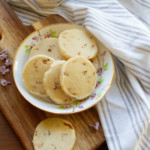 Lemon Lilac Shortbread
---
Description
Lilac lovers will fall head over heels for these buttery shortbread cookies infused with the delicate floral fragrance of lilac blossoms and a pop of fresh lemon. They taste just like springtime in cookie form!
---
1 cup

butter, softened

1 cup

icing sugar

½ tsp

salt

2 cups

flour

½ cup

packed fresh lilac blossoms (see note)

2 tbsp

lemon zest
---
Instructions
Using a mixer, beat together the butter, sugar and salt until combined. Working on low speed, add the flour, mixing just until the dough comes together. Mix in the lilac blossoms and lemon zest.
Divide dough in half, and shape each half into a 1 ½-inch log. Wrap both logs tightly with parchment paper, and refrigerate until firm, about 1 hour.
Preheat oven to 350F. Using a sharp knife, slice the dough ⅜" thick. Arrange the slices on parchment-lined baking sheets, spacing them around 1" apart.
Bake for 15-20 minutes, or until the cookies are lightly golden around the edges. Let cool on baking sheets for a minute or two, then transfer to a wire rack to cool completely.