This is a sponsored post on behalf of Ontario Corn Fed Beef. Thanks for supporting the brands that help to keep the Crumb test kitchen running! All opinions are entirely my own, as always.
Once upon a time, long long ago, there was a girl who had no idea that not all steaks are created the same.
So she decided to buy a package of cheap eye of round steaks (half the price of ribeye = twice as much beef... perfect for a hungry yet impoverished student!) and proudly cooked them up to a perfect medium-rare... only to have to spend a good 5 minutes chewing a very tough first bite.
That girl has since learned that ribeye and strip loin are best for quick grilling, while eye of round requires a little more TLC.
That said, it's a cut of beef that's well worth making friends with, because it's both lean and flavourful. Not to mention it's conveniently easy on the budget, too!
In fact, eye of round has become one of my favourite cuts for preparing roast beef, mostly thanks to this slightly oddball (and yet totally foolproof) technique I first read about on AllRecipes many years ago.
Basically, you sear the roast in a very very hot oven, and then turn the oven off and let it coast on the residual heat for a couple of hours.
Yes, I said turn the oven off. Just trust me on this one. (Unless you have a gas oven or an old oven that doesn't hold heat very well... in that case, drop your oven as low as it'll go.)
It's literally the easiest recipe on the planet, and it results in the juiciest, tastiest piece of beautifully medium-rare roast beef you've ever had. Every time. Totally foolproof.
The hardest part is resisting the urge to crack open the oven door to peek at the beefy goodness that's filling your house with its delicious aroma, but your patience will be well rewarded.
The only change I've made to the original recipe is to rub the roast beef with a mixture of butter and dry mustard powder, which is a trick I picked up from my mother (who in turn picked it up from her trusty Mme Benoit cookbook back in the 70s).
The butter is an essential part of this recipe, because eye of round is naturally quite lean, and that extra bit of fat helps to baste the outside of the roast as it cooks. It also creates a lovely flavourful crust on the outside of the roast that makes it extra-tasty.
Yes, it will look like lots of butter when you're rubbing it on, but you absolutely should use it all. Go ahead. Treat yo'self.
To serve, carve the roast into thin slices and go with old-school accompaniments like roasted or mashed potatoes, a simple pan gravy and some steamed veggies.
By the end of the meal, you and eye of round will be best friends for life, regardless of your past experiences. Just trust me on this.
//
Print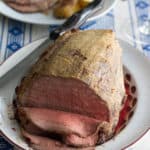 Never-Fail Eye of Round Roast
---
Author:

Total Time:

3 hours 5 mins

Yield:

8

1

x
Description
Eye of round can be tough and lean, which doesn't make it the ideal candidate for roast beef, but a short sear in super-hot heat followed by a long rest in a closed oven is guaranteed to get you a tender, juicy roast every single time. Make sure to slice very thinly across the grain for best results.
---
3

lb Ontario Corn Fed Beef eye of round roast

2 tbsp

melted butter

2 tbsp

dry mustard

1 tsp

garlic powder

1 tsp

salt

1 tsp

fresh ground black pepper
---
Instructions
Preheat the oven to 500F. Once the oven comes up to temp, wait at least 15 minutes to make sure it gets good and hot before you move to the next step.
While the oven is heating up, pat the roast dry, and place on a rack in a small roasting pan. In a small bowl, mix the butter, dry mustard, salt and pepper into a paste. Rub the butter paste all over the roast, covering evenly.
Place the roast in the very hot oven, and immediately reduce the temperature to 475F. Roast for 21 minutes (or 7 minutes per pound of beef), then turn the oven off and leave the roast in the hot oven for another 2 ½ hours. If you are using a gas oven or your oven does not hold heat very well, drop the temperature to 150F or as low as your oven allows you to go. (Do not open the oven door. I repeat, whatever you do, do not open the oven door!)
After 2 ½ hours, your roast should be a perfect medium-rare (145F). To serve, slice very thinly across the grain.
Notes
If you're feeling ambitious, you can use the pan drippings to make an easy gravy. Simply measure out 4 tbsp of fat from the pan, adding some butter to make the difference if you don't have quite enough. Then, add ½ cup of red wine to the pan and scrape the bottom of the pan with a spatula to release as much of the browned drippings as you can.
In a small saucepan set over medium-high heat, stir together the drippings with ¼ cup flour, and cook for 1 minute. Whisk in 2 cups of beef stock, plus the wine and drippings from the pan. Simmer for 5-7 minutes, or until thickened. Taste and adjust the seasoning with more salt and pepper, if needed.
Prep Time:

5 mins

Cook Time:

3 hours

Category:

Main