Remember how I partnered up with a bunch of awesome bloggers for a St Patrick's Day round-up of awesomeness?
Well, we had such a great time that we decided to celebrate other holidays in the same fashion, starting with Cinco de Mayo.
What's Cinco de Mayo About, Anyway?
Technically, Cinco de Mayo isn't celebrated up here in Canada.
However, the holiday has started to get a little more attention in the last few years, mostly because it's a convenient excuse to hit up the local Tex-Mex place for half-price enchiladas and buckets of Coronitas.
So when we decided we were going to do something for Cinco de Mayo, the first thing I did was head on over to Wikipedia to read up on the history of the holiday.
It turns out that Cinco de Mayo (which means "the fifth of May" in Spanish, in case you hadn't already figured that out) commemorates the victory of Mexican forces over the French at the battle of Puebla, and is celebrated in the US to honour Mexican-American culture and heritage.
My New Obsession - Homemade Tortillas
I may not have known much about Cinco de Mayo before now, but most definitely do know my way around a Mexican (or Tex-Mex) menu... which is why as soon as I was done with my Wikipedia search, my next step was was to call dibs on Spicy Fish Tacos as my dish.
So why fish tacos, you ask? Mostly, it was to have an excuse to make another batch of homemade corn tortillas, because I am totally OBSESSED with making my own tortillas right now.
My obsession is totally understandable, because the quality of the store-bought tortillas up here in Canada is pretty dismal. Unless you can make a trip out to the Mexican supermarket, the only tortillas you'll be able to get are dry and tasteless and nowhere near the quality of what you can make at home.
Besides, it's really quite easy to make your own once you get the hang of eyeballing the right texture for the dough and smooshing the little balls of dough into flat discs using a tortilla press.
(Never tried making corn tortillas at home? This tutorial from Meal Hack will teach you all you need to know.)
A Healthier Spin on Fish Tacos for Cinco de Mayo
Since an awesome homemade corn tortilla deserves an equally awesome filling, I topped them off with spicy pan-fried white fish with a chipotle-lime marinade.
It's not the most traditional option, since Mexican fish tacos are typically made with battered deep-fried fish, but I find that skipping the batter and using a hot pan allows the flavour of the fish to shine through.
Plus, you can eat way more of these tacos without feeling overly greasy, which is a pretty nice bonus in my books.
To finish things off, I keep things fresh and light with a squiggle of avocado-yogurt crema, and a crisp topping of shredded cabbage, pickled red onions, cilantro and radishes.
They're colourful. They're bright. And they're way more delicious than the half-price enchiladas at the Tex Mex place… even if they don't come with a bucket of Coronitas on the side.
More Mexican-Inspired Recipes for Your Cinco de Mayo Menu
This post is part of the Cinco de Mayo Holiday Food Blog Party organized by Jen of Jen's Favourite Cookies.
For more fabulous Cinco de Mayo goodies, check out the rest of the posts:
//
Print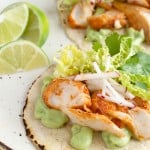 Spicy Fish Tacos with Avocado-Yogurt Sauce
---
Author:

Total Time:

40 mins

Yield:

4

1

x
Description
These lightened-up fish tacos trade in battered fish and full-fat sour cream for pan-fried spicy fish filets and a flavourful avocado and yogurt sauce.
---
Spicy Lime-Chipotle Fish:
2 tbsp

fresh lime juice

2 tbsp

extra-virgin olive oil

2 tsp

chipotle powder (or chili powder, if you prefer)

1 tsp

ground cumin

1 tsp

sweet paprika

½ tsp

salt

1

lb fresh haddock fillets (or any other firm white fish)
Avocado-Yogurt Sauce:
1

large ripe avocado, pitted and roughly chopped

¼ cup

plain yogurt

1 tbsp

fresh lime juice

½ cup

roughly chopped cilantro

¼ tsp

salt

¼ cup

water
Tacos and Garnishes:
12

small corn tortillas
Shredded cabbage
Cilantro sprigs
Finely julienned radishes
Lime wedges
---
Instructions
Marinate the Fish:
In a small bowl, combine the lime juice, olive oil, chipotle powder, cumin, paprika and salt, and stir until smooth.
Pat the fish dry with paper towels. Rub on both sides with the lime-chipotle marinade. Transfer to a plate and cover tightly with plastic wrap, then transfer to the refrigerator to marinate for 15-20 minutes.
Prepare the Avocado-Yogurt Sauce:
While the fish marinates, prepare the avocado-yogurt sauce.
In the bowl of a food processor, combine the avocado, yogurt, lime juice, cilantro, salt and water, and process until smooth and creamy. Transfer to a serving bowl and cover tightly with plastic wrap. Refrigerate until ready to use.
Cook the Fish:
In a large heavy-bottomed skillet set over medium-high heat, saute the fish in the remaining 2 tbsp olive oil until opaque and flaky, about 4-5 minutes per side.
Remove from heat, and transfer to a platter. Using a fork, break up each filet into bite-sized chunks. Cover with foil, and set aside while you warm the tortillas.
Warm the Tortillas and Assemble the Tacos:
In a heavy-bottomed skillet set over medium heat, warm the tortillas one at a time for 20-30 seconds per side, or until soft and flexible. Wrap the finished tortillas with a clean dishcloth to keep warm between batches.
To assemble, place three tortillas on each plate and drizzle with avocado-yogurt sauce. Divide the fish evenly between the tortillas, then serve immediately with bowls of toppings so that everyone can top off their tacos as they please.
Prep Time:

30 mins

Cook Time:

10 mins

Category:

Main
---