Spring is sprung, the grass is ris, and... holy crap, is that snow on the forecast?
(OK, so maybe I'm exaggerating a little, though we did get some pretty nasty flurries over the weekend. Sigh.)
So I've decided to stop waiting for spring to finally show its face, and took matters into my own hands.
I bought a little basil plant from the greengrocer and stuck on my windowsill, where I can lean in and inhale its spicy-sweet scent whenever I'm feeling too cooped up.
On that same shopping trip, I also bought a bundle of asparagus.
They're not local, of course, but I couldn't bear to wait any more. I jumped on that bundle of big, fat green spears like my life depended on it (or maybe just my sanity), and promptly brought it home.
Half the bunch I ate right away, simply steamed, with nothing more than a pat of melted butter.
Then, with my immediate craving satisfied, the rest worked their way onto a simple white pizza - a fragrant base of olive oil, pressed garlic and thin strands of basil (from my little windowsill plant, naturally), topped with a tangle of shaved asparagus and garnished with dollops of creamy ricotta.
If you've never shaved asparagus, then you're totally missing out.
There's something downright magical about the way those sturdy little stalks unravel into bright green curls under the sharp peeler, filling the air with a grassy scent reminiscent of summer afternoons in the garden.
Those paper-thin ribbons can be served up as a simple fresh salad, raw and tossed with a little lemon juice and olive oil, but they're really best tossed upon a pizza and baked under blistering heat until they wilt and char ever so slightly around the edges.
Despite the unseasonable weather, there are still plenty of signs around me that point to the fact that spring is on its way.
The thermostat is working its way up to double-digit temperatures.
The sun shines brighter, and just a little bit longer each day.
The birds sing louder in the bud-covered trees, tightly furled buds nod drowsily on bunches of daffodils near my front door, and a few tender green leaves have shyly emerged on the tips of our old lilac bush.
And this morning, I defiantly retrieved my bike from a very cold garage and rode to work for the first time in months. The chill breeze that stung at my cheeks as I crossed the Don Valley bridge was just encouragement to keep going and pedal faster, rather than turn around and admit defeat.
It's coming. And I'm ever so ready.
//
Print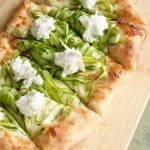 Shaved Asparagus Pizza
---
Author:

Total Time:

25 mins

Yield:

8

1

x
Description
Topped with a tangle of thin asparagus shavings and dollops of creamy ricotta cheese, this pizza is the perfect way to welcome spring's arrival. You'll find it's easiest to shave asparagus if you find the thickest, fattest stalks possible (about as thick as your thumb, if you can find them).
---
5

-

6

thick asparagus stalks (~

½

lb)

2 tbsp

olive oil, divided
Salt and pepper

1

lb pizza dough
Cornmeal, for dusting the pizza peel

1

clove garlic, pressed

3

large basil leaves, finely chopped

1 cup

shredded mozzarella cheese

¼ cup

shredded asiago cheese

½ cup

ricotta cheese
---
Instructions
Preheat your oven to 475F. If you have a pizza stone, place it in the oven now so that it is also preheated by the time you're ready to bake.
Shave the asparagus into thin slices by hold them by the woody bottom end and running a sharp vegetable peeler along the stalks from bottom to top. Transfer the shaved asparagus to a mixing bowl, and toss with 1 tbsp olive oil and a little salt and pepper until well coated.
Roll out the pizza dough into a 12" round, and place it on a pizza peel generously dusted with cornmeal. (Or, if you don't have a pizza peel, the back of a baking sheet will also do.)
Brush the dough with the remaining 1 tbsp olive oil, leaving a 1" border around the edges, and sprinkle with garlic and chopped basil. Sprinkle with an even layer of mozzarella and asiago, then arrange the shaved asparagus overtop.
Bake in preheated oven for 10-15 minutes, or until the asparagus is wilted and slightly charred, the edges of the crust are golden brown and the cheese is melted and bubbly.
Remove from the oven, and immediately top with dollops of ricotta cheese. Let stand for a minute or two, then cut into slices using a very sharp knife and serve immediately.
Prep Time:

10 mins

Cook Time:

15 mins

Category:

Main

Method:

Baked

Cuisine:

Canadian