And just like that, we went straight into balmy blue-skied summer weather, skipping spring entirely.
It's a little strange to go from snowboots to sandals almost overnight, to say the least, especially when my cute spring outfits barely saw the light of day... but hey, at least it finally stopped snowing.
At the rate we were going, I was starting to worry I'd be walking down the aisle next month with wearing warm wooly tights under my dress.
As it always does, that first hint of summertime weather makes me want to cast off the heavy trappings of winter. The soups and stews that felt so warm and comforting just a few days ago suddenly feel heavy and smothering,  and all I crave is lively flavours, bright colours and fresh preparations.
This year, that change came on so swiftly that it felt like an overnight obsession.
Just a few days ago, as I was tucking myself into bed, I found myself daydreaming of a lemony chickpea salad dotted with red onions and radishes, the flavours and textures of it so clear in my mind that I could practically feel the sharp crunch of onions under my teeth.  I honestly couldn't sleep until I wrote it down, assuring myself I'd make it into a reality the very next day.
(Normal people get food cravings just before bedtime, right? I swear I'm not crazy.)
This salad is the result of that late-night obsession.  It's brightly lemony, with a crunchy blend of radishes, red onion and celery to contrast against the softness of the chickpeas, and a little dill to freshen things up.
The real star of the show, though, is the roasted lemon vinaigrette. The roasting process mellows out some of the sourness, and uncovers unexpected depths of flavour that make an otherwise ordinary lemon juice vinaigrette into something very special indeed.
I can't remember where I first picked up the idea for this technique, but it's been kicking around in the back of my mind for a while, and this chickpea salad turned out to be the perfect canvas of flavours for the brighter-yet-mellower flavour it brings out.
Serve it up with a loaf of bread for a light summery lunch, or pair it with grilled salmon or chicken for something a little more substantial.
Either way, I promise you that you'll find yourself dreaming of this salad... though perhaps not at bedtime.
//
Print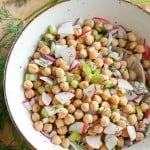 Chickpea Salad with Roasted Lemon Vinaigrette
---
Author:

Total Time:

25 mins

Yield:

6

1

x
Description
This fresh, bright salad is a perfect standalone meal in and of itself, though it's equally good served alongside grilled chicken or salmon if you want something a little more substantial.
---
Roasted Lemon Vinaigrette:
1

lemon (preferably Meyers, if you can get them)

1

clove garlic, finely minced

1 tsp

honey

½ tsp

salt

½ tsp

fresh ground black pepper

2 tbsp

good-quality olive oil (plus a little for brushing onto the lemons)
Chickpea Salad:
1

can chickpeas, rinsed and drained

¾ cup

thinly sliced radishes

½ cup

finely diced red onion

½ cup

finely diced celery

3 tbsp

finely chopped fresh dill
---
Instructions
Prepare the Vinaigrette:
Preheat your broiler.
Cut the lemons in half cross-wise, and use the tip of your knife to remove the seeds. Brush the cut surfaces with a little olive oil.
Place the lemons cut-side up on a baking sheet lined with foil, and broil until soft and slightly charred around the edges, about 8-10 minutes. Set aside to cool.
Once the lemons are cool enough to handle, squeeze the juice and pulp into a small bowl (you should have approximately 1-2 tbsp, depending on the size of your lemons).
Whisk in the garlic, honey, salt and pepper. Then, continuing to whisk, slowly drizzle in the extra-virgin olive oil until completely incorporated. Set aside until ready to use.
Assemble the Salad:
In a large mixing bowl, combine the remaining ingredients. Pour over the vinaigrette, then toss until the salad is well mixed and everything is thoroughly coated with vinaigrette.
The salad can be served right away, but it's even better after it's had a couple of hours to let the flavour blend and mellow.
Notes
The lemons for this recipe can also be grilled, if you prefer - simply place the halved lemons cut side down on a lightly-oiled grill and cook until lightly charred around the edges, about 8-10 minutes.
Prep Time:

15 mins

Cook Time:

10 mins

Category:

Salad