I've been keeping a little secret for the past few months.
Don't worry, it's nothing huge or scary or life-changing, and it's definitely in the good news category.  Still, it's nice to finally be able to share my excitement with you all.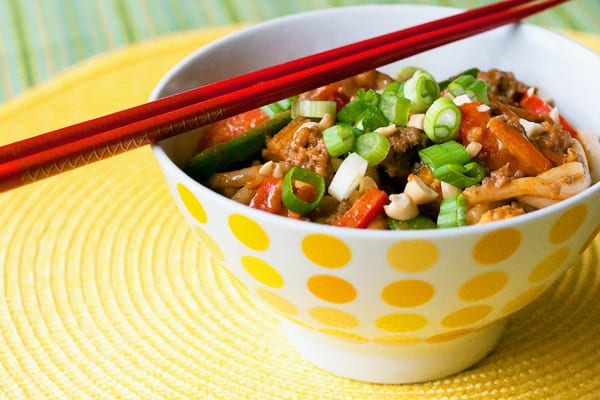 I am, however, proud to announce that I've partnered with Peanut Butter & Co to create recipes for their All-Star Recipe Blog, where I'll be sharing a total of five recipes over the course of 2012.
Yep. Peanut Butter & Co. My favouritest peanut butter company in the world. Exciting, right? (I mean, seriously... have you had their White Chocolate Wonderful PB yet?  If you haven't, run to the store right now and grab a jar. Do not pass Go. Do not collect $200. Just get your hands on that deliciousness stat.)
My first featured recipe is for Spicy Peanut Noodles with Ground Beef, a satisfying bowlful of plump udon noodles, lean ground beef and lots of fresh vegetables, all tossed together with a spicy peanut butter sauce featuring The Heat Is On - a spicy peanut butter with a tongue-tingling dose of cayenne pepper and paprika.
It's comforting, quick and delicious, which means it's perfect for these cold winter months (or really anytime you want to get a little warmth in your tummy, for that matter)... and it's on the Peanut Butter & Co blog today. Go check it out!
In other awesome news, I also found out this morning that Crumb was honoured with a Canadian Weblog Award for Best Food and Drink Weblog.  I'm rather giddy about it, I must say. (I may have also thrown myself a hole-punch confetti party at my desk... because any excuse to have a hole-punch confetti party is a good excuse.)
The only way this day could get better would be to win the lottery... but since that would require I actually buy a lottery ticket, I guess I'm out of luck. :)