Every year, for the past five years, the same thing happens on February 5th... Nutella posts come pouring into my RSS feed, and I kick myself because I've totally forgotten it's World Nutella Day and I have nothing to ready to post.
This year, be damned if I was going to let another World Nutella Day pass me by without getting in on the fun. So here I am. And I brought ice cream, because almost every party can be instantly made better by adding ice cream... preferably of the chocolate variety.
Nutella + Bananas + Cocoa + Cream = Magic
The best part? This ice cream requires a grand total of four ingredients - Nutella, ripe bananas, cocoa powder and cream.
I suppose you could downsize to three ingredients by leaving out the bananas, but I happen to think that Nutella and bananas taste wonderful together. (Also, I happened to have a bunch of very speckly ripe bananas that needed to be eaten ASAP.)
And you can also upsize to five ingredients by adding a healthy glug of dark rum, but I think that's just gilding the lily.
Homemade Ice Cream Made Easy
Of course, it doesn't quite beat my favourite Nutella recipe in terms of simplicity (mostly because said "recipe" involves nothing more than a spoon and a jar), but it's a very close second, especially when you consider the payoff that awaits you in the end.
As far as ice creams go, it's honestly one of the easiest I've ever made.
No need for sugar, since Nutella is plenty sweet on its own. In fact, the cocoa isn't just there for an extra layer of chocolatey flavour, but also to keep the ice cream from being overwhelmingly sweet.
No need for an egg yolk custard base, either, since the cream gets the thick, substantial feel it needs from the pureed bananas (plus that's one less saucepan to wash up afterwards, which is always a plus). Just puree everything together in the blender, chill thoroughly, then pour into the ice cream maker to transform it into a thick, gooey, frozen masterpiece.
What emerges from the ice cream maker is a thing of beauty. Perfectly scoopable and surprisingly quick to melt, with a deep chocolate flavour softened by sweet bananas, this is definitely a recipe worthy of such a magical day.
A sprinkling of toasted hazelnuts or some sliced banana wouldn't be a bad idea, but that's entirely unnecessary.
After all, today is a celebration of Nutella, which means this ice cream ought to be eaten using the most traditional and time-honoured ways of enjoying Nutella... straight from the container with a spoon.
Note: World Nutella Day is an unofficial celebration of our favourite chocolate hazelnut spread, and the brainchild of Ms Adventures in Italy and Bleeding Espresso.
This is not a sponsored post. I didn't receive any compensation for writing this post, aside from having an excuse to eat lots of Nutella.
//
Print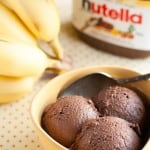 Nutella-Banana Ice Cream
---
Author:

Total Time:

30 minutes

Yield:

6

1

x
Description
This super-easy treat combines two of my favourite indulgences - the sweet chocolatey goodness of Nutella spread, and the cool deliciousness of homemade ice cream. What's not to love?
---
1 cup

Nutella spread

3

ripe bananas, cut into chunks

2 tbsp

cocoa powder

2 cups

half-and-half cream
---
Instructions
Using a blender or food processor, process the Nutella and bananas until smooth and thick. Sift in the cocoa, and process again to blend. Lastly, add the cream and process until completely blended and smooth.
Transfer the mixture into a mixing bowl, cover tightly with plastic wrap and chill for 30 minutes.
Pour the chilled mixture to an ice cream maker, and process according to manufacturer's directions. Once the ice cream is mostly frozen and has a consistency similar to soft-serve, transfer to a freezer-safe container and freeze for at least 4 hours to harden up.