When I was growing up, summer in the city meant an ice cream truck parked right beside the house most evenings and weekends, playing its merry tune all day long. That's the price you pay for living across the street from one of the biggest parks in the neighbourhood.
It was both a blessing and a curse. On the one hand, it meant I had super-easy access to my favourite frozen treats anytime I wanted. On the other hand, my right eyebrow starts twitching uncontrollably whenever I hear Pop Goes the Weasel.
Like most kids, my go-to treat at the ice cream truck was a vanilla-chocolate swirl cone, but sometimes you gotta shake things up... which is when I'd splurge on a strawberry shortcake bar.
These bars taste almost exactly like my beloved strawberry shortcake bars, only better. The filling is cold and creamy and full of bright strawberry flavour, and the topping adds some crunchy sweet-and-salty contrast.
A Little Background on this Recipe
I found this recipe while leafing through my copy of The Strawberry Connection, a classic Canadian cookbook by Beatrice Buszek. It's a unique little book that celebrates the humble strawberry in every way, full of recipes interspersed with trivia, anecdotes and illustrations, all handwritten by Buszek in her perfect penmanship.
It's got all the classics, like strawberry jam and strawberry shortcakes, along with a few more unusual gems like cold strawberry soup and homemade strawberry wine. (Incidentally, it's also the source for the strawberry fritter recipe I shared a few years ago.)
Unfortunately, while Buszek spends a lot of time exploring the history of the strawberry, she's much sparser when it comes to the recipe directions. Thankfully, I managed to track down a similar recipe on Allrecipes that helped fill in the blanks.
This is the kind of recipe I can see myself making over and over again, because it's so easy to make, and yet so impressive. The filling is just whipped cream and macerated strawberries folded together with beaten egg whites, which help to stabilize the mixture and keep it fluffy while it sets up in the freezer. It's all sandwiched between layers of crunchy walnut crumble, which does double duty as both crust and topping, and balances out the sweetness of the filling with a pop of salt.
Other Variations (Blueberries and Raspberries and Peaches, Oh My!)
While it's hard to improve on the classic strawberry version, these bars can be made with lots of different summer fruits.
Try them with different berries, like raspberries, blueberries or cherries. Or really shake things up and make a version with plums, peaches or even fresh figs!
There's also plenty of room to play around with the topping. Try pecans or almonds for a sweeter crust without the pop of bitterness you'd get from the walnuts, or try finely chopped pistachios to add a completely different layer of flavour.
Heck, why not live on the wild side and add in some crushed-up pretzels for an extra pop of salty deliciousness?
Personally, I'm sticking with the classic, at least until strawberry season wraps up and I have to make do with something else.
//
Print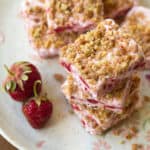 Frozen Strawberry Shortcake Squares
---
Author:

Total Time:

4 hours 25 minutes

Yield:

16

squares

1

x
Description
This easy frozen dessert features a creamy strawberry filling sandwiched between crispy layers of sweet-and-salty walnut crumble. It's the perfect treat for a hot summer day!
---
Walnut Crumble:
¼ cup

packed brown sugar

½ cup

finely chopped walnuts

½ cup

butter, melted
Pinch salt
Strawberry Filling:
1 cup

white sugar, divided

2 cups

sliced strawberries

2 tablespoons

lemon juice

2

egg whites (see Notes)

1 cup

heavy cream
---
Instructions
Preheat the oven to 350 degrees F (175 degrees C). Line a 9x13 inch baking dish with plastic wrap.
In a small mixing bowl, stir together the flour, brown sugar, walnuts and melted butter. Crumble onto a baking sheet, and bake in preheated oven for 20-25 minutes or until toasted and browned, stirring occasionally to break up clumps and brown evenly.
While the crumble is baking start on the filling. Finely chop the strawberries. In a small bowl, combine the chopped strawberries with ½ cup sugar and lemon juice. Set aside to macerate for 15 minutes.
Whip the egg whites to a soft peak. Gradually add the remaining ½ cup sugar, continuing to beat as you go, until you have stiff peaks.
In a separate bowl, whip the cream until stiff peaks form. Gently fold in the egg whites and macerated strawberries.
Sprinkle ⅔ of the walnut crumble over the bottom of the prepared baking dish. Spoon the filling onto the crumble, and smooth out into an even layer. Top with the remaining crumble.
Freeze for at least 4 hours or until firm, then cut into squares and serve. Squares will keep for at least 2-3 days in the freezer, covered with plastic wrap.
Notes
This recipe uses uncooked egg whites, which are generally pretty safe if you're using fresh eggs from a trusted source. However, if you're serving these squares to young children, pregnant women or anyone with a compromised immune system, you can substitute pasteurized egg whites from a carton - they won't whip to stiff peaks, but are otherwise just fine.
Prep Time:

4 hours

Cook Time:

25 mins