When it comes to garlic, I'm firmly of the opinion that more is better.
Where a recipe tells me to add one clove, I add three. If it says three cloves, I throw caution to the wind and add a whole head. The only recipe where I've actually followed the recommended amount of garlic is the infamous Chicken with 40 Cloves of Garlic, because I think even the most hardcore garlic lover probably draws the line at forty whole cloves.
Needless to say, when I first discovered garlic scapes at my local farmers market a few years ago, it was totally love at first sight. Who could resist an ingredient that lets me enjoy even more garlicky goodness, particularly when it comes in such a whimsical format?
Ever since that fateful day, a double batch of garlic scape pesto has become an annual summertime tradition in my kitchen. This bright-green sauce has a sharp garlicky bite that's sure to satisfy even the most die-hard garlic-head, but with just enough mild pistachios and parmesan cheese to mellow things out.
What's a Garlic Scape, Anyway?
Garlic scapes are the blooming stem of the garlic plant. Garlic growers trim them off in the early summer to prevent blooming, so that the plant focuses its energy on the bulb instead. They have a mild garlic flavour with a hint of green onion, and a texture similar to asparagus stems.
You'll find bunches of these beautiful green curlicues at your local farmers' market from late June to mid-July.
Cooking with Garlic Scapes
One of the most common uses for garlic scapes is a simple pesto, like this one, but they can also be used almost anywhere you want to get a pop of fresh garlic flavour.
You can also substitute them for green onions in stir fries or egg-based dishes like omelettes, frittatas and quiches. One of my favourite uses is in egg-based dishes, like omelettes, quiches, or this Early Summer Frittata, which pairs scapes with sweet peas, shiitake mushrooms, feta cheese and basil.
If you want more inspiration, here are a few more blogger recipes featuring garlic scapes:
What to Make with Garlic Scape Pesto
Obviously, you can use this pesto pretty much anywhere you'd use a more traditional basil pesto.
I particularly like it on pasta. It's quite lovely simply tossed with a good-quality dried pasta, though this particular batch ended up getting tossed with gemelli pasta, crispy pancetta bits, sweet peas and fava beans for a quick weeknight dinner that I will definitely be making again.
If you're not feeling pasta, it's also great as a pizza base, spread on your favourite sandwich, or as a simple dip for warm toasted pita wedges.
The pesto will keep in the fridge for up to a week, though I find it starts to lose its garlicky bite after a couple of days. You can also store it in the freezer in an airtight container for up to 6 months so you can enjoy a little taste of summer in the dead of winter.
Just make sure you have some after-dinner mints on hand to deal with the epic garlic breath!
//
Print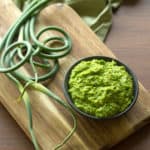 Garlic Scape and Pistachio Pesto
---
Author:

Total Time:

15 minutes

Yield:

2 cups

1

x
Description
This super-green pesto combines fresh garlic scapes, mild pistachios and parmesan cheese for a mega-garlicky twist on the more traditional basil pesto. Try it tossed with pasta or anywhere else you want a pop of garlicky goodness.
---
2 cups

roughly chopped garlic scapes

½ cup

shelled pistachios

½ cup

grated parmesan cheese

½ cup

olive oil

½ tsp

salt
---
Instructions
Using a food processor, pulse the garlic scapes and pistachios until finely chopped. Add parmesan cheese, and pulse a few more times to combine.
With the processor running on low, slowly drizzle in the olive oil in a thin stream. Process until you've added all the oil and you have a smooth paste. (If the pesto is too thick, you can add a little water, a tablespoon at a time, until it reaches a smooth, spreadable consistency.) Season with salt, and serve immediately.
Prep Time:

15 mins

Category:

Condiments

Method:

Blended

Cuisine:

Italian