One of the things I love most about my backyard is the overgrown patch of raspberry canes that just gets bigger and bigger each year. This summer, it's gotten so big that it's completely taken over the space beside the back gate, leaving me literally knee-deep in juicy red berries once raspberry season rolled around.
It meant that for a few glorious weeks this summer, I had more raspberries than I knew what to do with. I ate them by the handful. I stirred them into muffins. I cooked them down into a gorgeous batch of raspberry-cocoa jam.
And like every other year, I couldn't stand to look at another raspberry after about two weeks of this neverending raspberry binge.
But as tired as I am of raspberries right now, I'd happily eat a dozen more of these custard-filled raspberry tarts, because they are just that dang good.
Because who can say no to a delicate buttermilk custard base polka-dotted with fresh raspberries, especially when it's nestled in a buttery shortcrust tart shell? Not me, that's for sure.
A little Background on This Recipe
This recipe is basically a slightly more glamorous take on a classic raspberry custard pie. It has the same combination of buttery crust, silky custard and fresh raspberries, except it's all baked up in a pretty individually-sized tartlet.
The inspiration for the filling comes from one of my favourite classic Canadian cookbooks, Food That Really Shmecks by Edna Staebler. It's a collection of no-nonsense recipes, techniques and anecdotes that Edna compiled based on her time living with an Old Order Mennonite family in Waterloo, Ontario learning all about their traditions.
It reads like a conversation with a good friend, who just happens to be charming and knowledgeable and full of personality, and whose recipes aren't necessarily showstoppers but can always be counted on to be delicious and perfect every time. (In case you're curious, "shmecks" means "tastes" in German.)
My beloved copy was a lucky find at Goodwill. It's technically secondhand, but the previous owner hadn't even cracked the spine, which means I basically scored a nearly-new copy for all of $10.
The first recipe I ever made after bringing it home was the Custard Pie, using a recipe Edna learned from her mother. It's a recipe I've gone back to a few times over the years, because it's such a simple way to show off whatever delicious fruit is currently in season.
The original pie filling is perfectly lovely exactly as written, but I've learned that using a combination of buttermilk and cream rather than plain old milk creates a richer custard with a subtly tangy flavour that's perfect for pairing with raspberries.
Making the Perfect Pastry
You might think the raspberries are the star of the show here, but the reality is that a tart is only as good as its base. That's why I like to use a shortcrust pastry base. It's less temperamental and more forgiving than a traditional pie dough, and what it lacks in flakiness it more than makes up for with its rich, buttery flavour.
My favourite sweet shortcrust recipe comes from my friend Mardi Michel's cookbook, In the French Kitchen with Kids. I've previously posted about it when I wrote up a review of the book and shared Mardi's super-easy recipe for Mini Jam Tarts, but it's a great all-purpose dough for any sort of sweet tart.
The biggest change I've made is to prep the dough using a food processor, because I'm lazy that way, but otherwise it's pretty much unchanged. It's basically a foolproof recipe that bakes up buttery and flaky and delicious every time.
It works so perfectly because it relies of whipping cream instead of water, which adds extra richness and also reduces potential for gluten formation, which can result in tough pastry. Aside from that, the only other requirement is to make sure you work the dough as little as possible - as soon as it starts to come together into a ball, it's ready to go.
Other Variations to Try
Raspberries are my favourite option for these tarts, because I love the way the bright red berries create a polka-dot pattern against the pale yellow custard.
However, if you're feeling creative, this recipe also works beautifully with other summer berries, especially blueberries or blackberries. Other options include pitted halved cherries, thin slices of ripe peach or apple, or tender shoots of early spring rhubarb.
For a winter version, Edna recommends using dried raisins or currants that have been soaked in warm water until plump, or going with a simple plain custard pie by adding ½ cup more milk and dusting with a dash of nutmeg and cinnamon.
But since we're smack in the middle of raspberry season, I really do suggest starting there, even if you've already gotten to the point where you've sworn you couldn't possibly eat another raspberry. I promise you won't regret it.
//
Print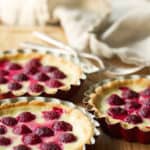 Fresh Raspberry Custard Tarts
---
Author:

Total Time:

54 minute

Yield:

8

tarts

1

x
Description
These elegant little tarts pair a buttery shortcrust pastry base with a buttermilk custard filling and a polka-dot pattern of fresh raspberries, for the perfect ending to your summertime dinner party.
---
Shortcrust Pastry:
1 ½ cup

s all-purpose flour

¼ tsp

salt

¼ cup

sugar

½ cup

cold unsalted butter,cut into small cubes

1

egg, lightly beaten

2 tbsp

whipping cream

½ tsp

almond extract
Buttermilk Custard Filling:
1 cup

whipping cream

1 cup

buttermilk

2

eggs

½ cup

sugar

2 tsp

flour

1 tsp

salt

1 tsp

vanilla extract

2 cups

fresh raspberries
---
Instructions
Prepare the Pastry:
In the bowl of a food processor, combine the flour, salt and sugar. With the processor running on low, add the butter, a few cubes at a time, and continue processing until you have a coarse, sandy mixture.
Add the egg, and pulse 2-3 times to combine. Add the cream and almond extract, and pulse again until the dough starts to come together into a ball. Turn the dough out onto a clean surface lightly dusted with flour, and use your hands to push it all together into a ball. Divide the dough into 12 equal pieces, and roll each one into a ball.
Press the dough into eight 4-inch tartlet pans, pushing it evenly over the bottom and up the sides. Transfer to the refrigerator to chill for at least 1 hour.
Blind-Bake the Pastry:
Preheat the oven to 375F. Arrange the tart pans on a baking sheet, and prick the bottom of each shell a few times with a fork. Bake for 10-12 minutes, or until the pastry is dry to the touch and a pale golden-brown.
Place the tart shells on a wire rack to cool off completely while you prepare the filling.
Prepare the Filling:
In a small saucepan set over medium-high heat, combine the whipping cream and milk. Heat up the mixture, stirring constantly, until wisps of steam start to rise from the surface and it's just starting to simmer. Remove from heat immediately.
In a medium-sized mixing bowl, whisk together the egg, sugar, flour, and salt. Slowly drizzle in the warm cream,  whisking until well combined.
Assemble and Bake the Tarts:
Preheat oven to 350F.
Arrange the berries in the cooled shells. Slowly pour in the custard so it fills in the spaces between the berries, dividing evenly between the tarts.
Bake in preheated oven for 30 minutes, or until the berries are soft and the custard is set. (It's okay if it's still a little jiggly in the middle.) Transfer to a wire rack to cool off - depending on your preference, you can serve these tarts still slightly warm from the oven, or cool off completely and chill until ready to serve.
Prep Time:

1.5 hours

Cook Time:

30 mins

Category:

Desserts

Method:

Baked

Cuisine:

Canadian