As I was packing up the house last summer for our big renovation, I came to a realisation.
I have a lot of cookbooks. Like, a lot a lot. Like, so many cookbooks that even after I ruthlessly culled the collection of any books I no longer wanted or needed, I still had over 50 books that I just couldn't bear to part with.
Which is why I'm now on a strict cookbook moratorium.
But I had to make an exception for my friend Mardi's debut cookbook, In the French Kitchen with Kids.
I may not have kids, but I do appreciate French food as much as the next gal. And Mardi knows a thing or two about French cuisine, as anyone who follows her blog eat.live.travel.write already knows.
Besides, the beauty of In the French Kitchen with Kids is that it's not exactly what you'd expect of a kids' cookbook. Rather than making the stereotypical kid-friendly fare like chicken fingers or grilled cheese, Mardi has pulled together a collection of classic French dishes that are suitable for kids and grownups alike.
You'll find basics like roast chicken, but also more advanced dishes like croissants and baguettes. (Yes, that's right. Croissants!)
To make these recipes suitable for younger chefs, Mardi has streamlined the recipes so they can be made with minimal equipment, simplified some of the more complicated or finicky techniques, and provides very detailed directions that make it possible for even an inexperienced cook to follow along.
To put the book to the test, I decided to try my hand at the Mini Jam Tarts, which are about as simple as it gets - rounds of buttery from-scratch pate sucree filled with dollops of jams, and baked until golden and bubbly.
What I loved about this recipe is that it can be easily customized using your favourite jam or jelly.... or, like I did for this batch, with a combination of different flavours so that you can use up those little scraps of jam that are kicking around in the fridge.
(For those who are wondering, I used a store-bought cherry jam, a homemade strawberry-rhubarb jam, and a homemade concord grape jelly, all of which turned out perfectly.)
The recipe is quite straightforward to make, especially if you follow Mardi's suggestion of making the pastry ahead of time and keeping it in the fridge (or even the freezer) until you're ready to go.  On the other hand, it's easy enough that you can make it all in one day, which is exactly what I did.
I especially liked the fact that Mardi's directions provide plenty of troubleshooting tips, even for this relatively straightforward recipe - like what to do if the dough gets too soft or sticky, and what to do if the jam doesn't spread out and fill the whole shell.
The verdict? These tarts are a perfectly lovely treat for afternoon tea. The pastry is buttery and crisp and not too sweet, a perfect contrast to the sweetness of the jam. These little tarts are, as the French might say, magnifiques!
I'm looking forward to discovering what other delicious dishes are waiting for me in the pages of this book, starting with the Crispy Vegetable Cakes (perfect for using up all those late-summer zucchini!) and Mr Neil's Roast Chicken (made extra-crispy thanks to a whole stick of butter!)
And needless to say, I will totally be trying out those croissants.
//
Disclosure: I received a copy of this cookbook from Appetite by Random House for review purposes. All opinions expressed here, as always, are entirely my own.
//
Print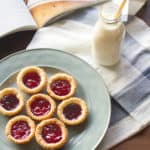 Mini Jam Tarts
---
Author:

Total Time:

2 hours 20 minutes

Yield:

20

tartlets

1

x
Description
These little tartlets are as simple as can be - little rounds of homemade pate sucree are filled with dollops of your favourite jam or jelly, and then baked until golden and bubbly. For a last-minute treat, prepare the shortcrust pastry dough ahead of time, and then roll out, fill and bake on the day of.
---
Jam Tarts:
1

recipe Sweet Shortcrust Pastry (see below)
All-purpose flour, for rolling dough
Unsalted butter, for greasing the pans
About

½ cup

(

125

mL) jam, any flavor
Sweet Shortcrust Pastry (Pate Sucrée):
1 ½ cups

(

225 g

) all-purpose flour

¼ tsp

fine sea salt

¼ cup

(

50 g

) granulated sugar

½ cup

(

113 g

) cold unsalted butter,cut into small cubes

1

large egg, lightly beaten

2 tbsp

heavy (35%) cream
---
Instructions
Prepare the Pastry:
Whisk the flour, salt and sugar together in a large bowl. Add the cubed butter and, using your fingertips, lightly rub the butter into the flour until it resembles large breadcrumbs with some pieces the size of small peas. You can also use a pastry blender for this job.
Make a well in the middle of the flour mix and add the egg. Using a wooden spoon, mix the egg into the flour until they are completely combined.
Add the cream and mix until the dough is firm enough to form a ball when you press the mixture together with your fingers—it might be a little crumbly, but form the dough into a disk and wrap it tightly in plastic wrap.
Refrigerate for a minimum of 1 hour, or up to 3 days, in the fridge. You can also freeze the dough, tightly wrapped in plastic, for up to 3 months. Thaw it overnight in the fridge before you roll and bake.
Assemble and Bake the Tarts:
Remove the disk of dough from the fridge and let it sit for a few minutes so it's easier to work with. Cut the dough in half.
Lightly flour a large sheet of parchment, then place one piece of dough on the parchment. Sprinkle it lightly with flour and place a second sheet of parchment paper on top.
Roll the dough between the two sheets of parchment paper to a thickness of ⅙ inch (4 mm). If the dough is soft, you might need to put it back in the fridge to firm up a little before you cut it.
Preheat the oven to 375˚F (190˚F). Lightly grease two 12-cup muffin pans with butter.
Using a cookie cutter that's about 3 inches (8 cm) in diameter, cut out rounds of the dough. A cookie cutter with fluted edges makes for pretty tartlets but if you don't have a cookie cutter, you can use a glass or ramekin that's the same diameter. One disk of the pastry should make ten rounds. You will need to gather up and re-roll scraps of the pastry to make sure you get ten—and each time you re-roll, you will need a touch of flour to ensure the pastry does not stick to the parchment. You may need to refrigerate the dough again once it's been rolled out if it is very soft and sticky.
Use an offset spatula to help you remove the pastry rounds from the parchment and gently place them in the muffin cups. You don't need to press them right down to the bottom, as gravity will help them sink to form a little cup. Make sure the pastry rounds are evenly centered in the muffin cups. Place the muffin pan in the fridge while you work with the second piece of dough.
Repeat with the second piece of dough and refrigerate the muffin pan and pastry rounds for 30 minutes.
Place 1 teaspoon of jam in the middle of each pastry round. It doesn't look like a lot but it will bubble up and expand when it cooks.
Bake for 20 minutes, until the pastry is golden and the jam is bubbling.
Remove the pans from the oven and let the tarts sit in the pans for about 15 minutes, or until the jam is no longer runny. Remove the tartlets from the pans and cool on wire racks. Serve at room temperature. You can store these in an airtight container for up to 3 days—they will get soggy the longer you store them, though, so best to eat them up!
Notes
Depending on the type of jam you use (and its sugar vs fruit content), it may not spread as it cooks. If your jam doesn't spread, add another teaspoon of the jam when the tartlets are just out of the oven and gently swirl to combine the hot and cold jams. Allow to set as per the recipe.
Recipe reprinted with permission from In the French Kitchen with Kids, published by Appetite by Random House.
Prep Time:

2 hours

Cook Time:

20 mins