Guess what... it's time for the second installment of the year-long Canadian Food Experience Project! The brainchild of Valerie Lugonja (A Canadian Foodie), this project challenges us as Canadian food writers to explore our national food identity.
This month, our challenge was to write about "A Regional Canadian Food", which is something of a no-brainer at this time of year for Ontario, as far as I'm concerned.
I'm talking, of course, about Ontario strawberries, the tiny ruby-red berries that are one of the first signs of summertime in my little corner of the world. Unlike their overblown Californian cousins, our berries are small and rounded, and packed full of bright flavour.
The Strawberry's Canadian Connection
And, as it happens, the modern-day cultivated strawberry (fragaria ananassa) has a Canadian connection lurking in its past.
It all started with the wild strawberry (fragaria americana) that Jacques Cartier found growing in "vast patches" along the shores of the St Lawrence.
Due to the scarce selection of Canadian souvenirs available at the time (the ubiquitous tins of maple syrup and stuffed moose toys would only come to be 400 years later), Cartier decided to bring a few plants back home to France instead - which is where, a couple of centuries later, the descendents of those Canadian plants had a fateful meeting with a South American strawberry (fragaria chiloensis), creating the hybrid variety we all know and love today.
Here in Ontario, strawberry season usually starts in early to mid-June and lasts until early July.
It's a blissful five- to six-week period that I spend gorging myself silly on as many strawberries as I my wallet (and my waistline) can afford, and then spend the remainder of the year sighing wistfully, dreaming of sun-warmed scarlet berries piled high in green plastic baskets.
Obviously, the best way to enjoy ripe local strawberries is straight up, perhaps with a dollop of whipped cream or a sprinkle of sugar if you're feeling fancy, but these old-fashioned strawberry fritters are a very close second.
Some Background on This Recipe
The original version of this recipe comes from a classic Canadian cookbook, "The Strawberry Connection" by Nova Scotian author Beatrice Ross Buszek, first published in 1984.
It's a delightful little book, printed in basic black and white with the occasional splash of red, filled with a handwritten hodge-podge of recipes interspersed with historic tidbits, quotes and trivia, and hand-drawn illustrations that all revolve around a common theme of strawberries.
Unfortunately, Buszek doesn't usually provide much information on the inspiration for her recipes or their original sources, so I have no idea where this particular treat comes from, but I'm guessing New Brunswick might be involved since these go by the name of "Fredericton Fritters" in the book... either that, or she was just in a particularly alliterative mood that day.
What Makes These Fritters Different
Regardless of its origins, though, it's really quite unique - unlike most versions of the strawberry fritter, which involve chopping up the berries and folding them into the batter, this one is made by dunking the berries whole into a thick batter before deep-frying in very hot oil.
The end result is a pile of irregularly-shaped pillowy golden puffs, each one concealing a single perfectly juicy strawberry.
The only downside about these fritters is that they don't keep well at all - within a few hours, the moisture of the strawberries will soak through the batter, turning the light and fluffy puffs into a soggy mess. This means, of course, that the entire batch has to be eaten in one sitting, preferably just as soon as they've come out of the oil.
I know, it's really unfair. I'd suggest inviting some friends over. The kind who won't judge when you've got icing sugar on your shirt and red strawberry juice dripping down your chin.
After all, when the berries and this good and the season is this short, one can be forgiven for being a little gluttonous. Restraint (and your diet) will be waiting for you on the other side.
//
Print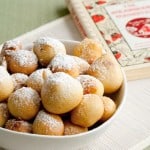 Fresh Strawberry Fritters
---
Author:

Total Time:

30 mins

Yield:

8

1

x
Description
Obviously, the best way to eat fresh locally-grown strawberries is straight up with a sprinkling of sugar... but these crispy fritters come a very close second, especially when they're fresh out of the fryer and generously dusted with icing sugar.
---
1 quart

strawberries

1

egg, lightly beaten

1 cup

milk

¼ cup

sugar

1 tbsp

butter, melted

1 tsp

vanilla extract

½ tsp

almond extract

1 ½ cups

flour

3 tsp

baking powder

½ tsp

lemon zest

½ tsp

salt
Icing sugar, for dusting
---
Instructions
Wash the berries, then pat completely dry. Remove the hulls, then transfer to the refrigerator to chill completely.
In a large mixing bowl, whisk together egg and milk. Add sugar, butter, vanilla extract and almond extract, and whisk until well combined. Sift in the flour and salt, and whisk until you have a smooth, thick batter.
In a deep, heavy pot, heat 2-3 inches of oil to 375F (or use a deep fryer, if you prefer).
Working in batches of 4-5 fritters at a time, spear a strawberry with a fondue fork or a long metal skewer, and dip into the batter to coat completely. Drop the fritter into the hot oil and fry until golden brown, about 1-2 minutes, turning once about halfway through. Transfer to a baking sheet lined with paper towels to drain.
Dust the finished fritters generously with confectioners' sugar, and serve immediately. (As hard as it might be, I do strongly suggest eating the whole batch in one sitting, because they honestly won't be nearly as good by the next day. I have faith in you. You can do it.)
Notes
This recipe works best with the smaller locally-grown Canadian berries. If you must use the larger California strawberries, then cut them in half before dunking in batter to get a similar fruit-to-batter ratio.
While I haven't tested it out yet, I suspect this same batter can be adapted to work with other fruits - thin cross-wise slices of cored apple, large bite-sized chunks of ripe peach or plum, one-inch long chunks of banana, or whole pitted cherries (though for the latter, I'd probably cut into halves, fold into the batter and then drop into the oil by spoonfuls like a more traditional fritter).
Prep Time:

15 mins

Cook Time:

15 mins

Category:

Dessert