The hardest part about this time of year (aside from the crushing humidity that usually blankets the whole of Southern Ontario) is the faster-and-faster technicolour blur of seasonal produce that comes and goes from the greengrocer's shelves faster than I can get my fill.
It seems like asparagus season just started yesterday, but it's already come and gone. Strawberries and sweet peas are winding down, and it won't be long before they give way to cherries and peaches and other stone fruits.
Simplicity is Sometimes Best
Obviously, when fruits and vegetables are at their peak, it's silly to fuss around with them too much.
Some things, like radishes or berries, are best eaten just as they are with little else besides a sprinkling of salt or sugar. Others, like fava beans, asparagus or artichokes, are cooked in the simplest way possible and then lightly seasoned with lemon, olive oil or salt and pepper.
The whole point is to let the ingredients speak for themselves. It's the reason why the most memorable dish I ate in Spain last month consisted of nothing more than a tiny bowl of gently braised baby peas in their own juices. Not a single one of the elaborate over-the-top dishes I went on to eat in Michelin-starred restaurants could top that utterly perfect bowl of peas.
How to Make the Easiest Sweet Pea Soup Ever
This easy fresh sweet pea soup is exactly the kind of recipe I look for when I'm craving that kind of simplicity.
The ingredients list is stripped down to the bare essentials to allow the delicate flavour of the fresh sweet peas to shine, and the cook time is kept to an absolute minimum - just enough to bring out the natural sweetness of the peas, and not a second more.
The added bonus is that this bare simplicity makes it ridiculously quick to prepare, and makes it possible to prepare a meal out of seemingly nothing more than a bag of fresh peas and a few pantry staples.
A Five-Ingredient Soup That's Ready in Fifteen Minutes
And when I say ridiculously quick, I do mean it.
I literally had dinner on the table in 15 minutes from start to finish, including the time it took to shell 2 cups of fresh peas. (Though, admittedly, I'm a pretty quick sheller.)
This recipe makes 4 smallish servings, perfect for serving alongside a simple sandwich or as a starter for a larger meal, or it can be doled out into a dozen shooter cups for a fancier sort of shindig.
Or you can just divvy it up into two big-ass bowls and call it a meal. :)
I'm hardly ready to say goodbye to early summer produce just yet, but at least I can say I did my best to squeeze every last moment of it. And there's always next year to look forward to, right?
//
Print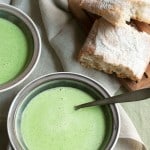 Fresh Sweet Pea Soup
---
Author:

Total Time:

15 mins

Yield:

4

1

x
Description
This beautiful bright green soup is perfect for showing off the sweetness of early summer peas. Plus it's a cinch to make - all you need is 15 minutes, a few basic ingredients and a trusty blender.
---
1 tbsp

butter

1

large shallot, finely minced

2 cups

chicken stock

2 cups

shelled peas (thawed, if frozen)

¼ cup

full fat Greek yogurt
Salt and pepper to taste
Fresh tarragon or mint, roughly chopped (optional garnish)
---
Instructions
In a heavy bottom saucepan set over medium high heat, heat the butter until foamy. Add the shallots and saute for 2-3 minutes, or until soft and translucent.
Pour in the chicken stock, and bring to a boil. Add the peas and cook for 2-3 minutes, or until the peas are bright green and tender. Immediately remove from heat.
Using a blender or food processor, process the soup until completely smooth and pureed, working in batches if necessary. Return to the pot, and stir in the yogurt. Season to taste with salt and pepper. (The soup should be fairly thick but still pourable at this stage - if it's too thick to pour, add a little water until it thins to the proper consistency.)
If serving warm, return the pot to the stove and warm up over medium-low heat until just shy of a simmer. If a cold soup is more your thing, transfer to the refrigerator to chill for about an hour. Garnish with fresh tarragon or mint and add a dollop of yogurt before serving, if desired.
Notes
If you prefer a super-smooth soup, you can pass the soup through a fine-mesh strainer once it's been pureed, though I usually don't bother - it's delicious just as it is.
Prep Time:

10 mins

Cook Time:

5 mins

Category:

Appetiser