When I think back to the summers of my childhood, all I can remember is how hot they were.
I'm sure that seems odd to those of you who haven't ever experienced a Canadian summer, considering we're better known for our icy cold winters, but Toronto is most definitely a four-season sort of city.
Winters are cold and often snowy, with a brisk wind that blows in from the lake, while summers are usually hot and humid, with the occasional heatwave that envelops the city in a stifling, muggy blanket of heat. Spring is rainy, and fall is crisp. It's lovely to watch the seasons progress from one to the next... I just can't imagine living any other way.
I grew up in a big three-story Victorian house on Logan Ave with no air conditioning that felt more like a house-sized brick oven under the hot summer sun. Most of the rooms were equipped with ceiling fans, thankfully, but on particularly hot days they provided limited relief at best.
I particularly remember the nights, when I'd lie in bed in my attic bedroom listening to the ever-present thub-thub-thub of the ceiling fan, sticky hot with arms and legs sprawled akimbo hoping a cool evening breeze might drift in through the open windows.
I also remember the days, where my sister and I would run shrieking through the icy cold sprinkler on our sunburned lawn or skip down to the corner store with a pocket full of change to buy jumbo-sized freezies in neon blue and pink.
Some days we'd spend hours swimming in the bracingly cold water of the big outdoor pool down the street, turning somersaults underwater and doggy paddling until our fingers and toes were as wrinkled as prunes.  We'd head home with dripping wet hair and growling bellies, anxious for dinner.
My mother's gazpacho (or "gaspacho", since my mother spells it the Portuguese way) made regular appearances at dinnertime back then, since we couldn't bear to heat up the kitchen by turning on the stove. It was served up with a full array of crunchy, fresh garnishes on the glossy white wrought iron table that sat on our shady front porch, away from the stifling heat of the indoors.
I hadn't really glommed onto the concept of eating seasonally back then, but gazpacho and summertime were intertwined in my mind, just like watermelon, popsicles and giant pitchers of pink lemonade. It simply wasn't summer without gazpacho.
And no wonder... it tastes like a vegetable garden in mid-August, with its bright acidic tomato flavour and a pungent garlicky bite, rounded out with a generous amount of perfectly fresh diced cucumbers and peppers and onion for texture and flavour.
I still make gazpacho using my mother's recipe, an uncomplicated blend of fresh vegetables flavoured with a drizzle of sherry vinegar for brightness, a hefty pour of peppery olive oil for richness, a dab of tomato paste for depth, and a handful of fresh bread cubes to bind everything into a thick puree.
I don't add any extra liquid like broth or water or V8 juice, mostly because thin gazpacho tastes too much like V8 juice to me - but feel free to dilute with your liquid of choice if you're more of a soupy gazpacho type.
It also contains unabashed amounts of garlic, which means it's probably best not to eat it before a hot date or an important job interview. It does, however, make a most excellent first course for a romantic picnic... they do say that garlic is an aphrodisiac, after all.
Whatever you do, don't hesitate. Gazpacho is meant to be made with the freshest, ripest, juiciest field-grown tomatoes available, which means the time to make it is now.
With the evenings growing cooler and the sun setting ever earlier, there's really no better time than now to whip up a big batch of gazpacho, and to enjoy it in a shady spot outdoors while the summer slowly turns into fall.
//
Print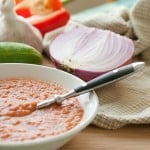 Classic Gazpacho
---
Author:

Total Time:

15 minutes

Yield:

6

1

x

Diet:

Vegetarian
Description
This recipe was originally my mother's, though I've adjusted it to make a much thicker soup, since that's my preference. If you prefer your gazpacho to be on the thinner side, simply blend in enough water to get the texture you desire (my mother's recipe originally called for 3 cups).
---
2

lbs ripe Roma tomatoes, roughly chopped

1 cup

cubed Italian-style bread, crusts removed

½

English cucumber, roughly chopped

½

sweet red pepper, roughly chopped

½

red onion, roughly chopped

3

cloves garlic, peeled and roughly chopped

¼ cup

olive oil

2 tbsp

sherry or white wine vinegar

2 tbsp

tomato paste
Dash Worcestershire sauce (omit for vegetarian version)
Salt and pepper
Garnishes
Diced tomatoes
Diced cucumbers
Diced red and green peppers
Diced red onion
Toasted croutons
Finely chopped fresh parsley
---
Instructions
Combine all of the ingredients (excluding garnishes) in a blender and process until you have a slightly thick, smooth puree. Taste and adjust seasoning if necessary.
Pour into a non-reactive container, and transfer to the refrigerator for at least 3 hours or overnight, if possible, to chill thoroughly and give the flavours plenty of time to mellow and blend.
To serve, ladle the gazpacho into wide, shallow bowls and serve with the garnishes alongside in small bowls, so that everyone can garnish their soup as they like.
Prep Time:

15 mins

Category:

Soups

Method:

No Cook

Cuisine:

Spanish