Road trips are almost synonymous with junk food in my mind.
I've traveled along that busy stretch of the 401 that connects Toronto to Montreal and Ottawa more times than I can count in my lifetime, sustaining myself during the voyage with Timbits crusted with sugary icing, extra-large paper cups of filled with too-hot bitter coffee, greasy McDonald's breakfast sandwiches, and smooshy Wendy's bacon cheeseburgers in shiny foil-paper wrappers.
There's simply no room for good, sensible food along that long asphalt strip stretching between Here and There.
What makes it a road trip is what happens along the way.
It's about whipping along at 100 kph past the patchwork of fields, exclaiming loudly whenever we pass a herd of sheep or cows, taking pictures of my feet propped up on the dash or pretty cloud formations, and singing out of tune to the Cat Empire songs that are always part of our road trip soundtrack.  Without those things, it's just a longer-than-average car ride along the 401... and a boring one at that.
I'm trying something new this time, though.
I made homemade breakfast bars for us to eat on the road.  Simple, chewy, healthy bars which we can quickly grab on the mad dash out the door at the crack of dawn on a Saturday morning.
These healthy breakfast bars start with a base of old-fashioned oats and stoneground Red Fife flour, sweetened with brown sugar and moistened with milk and egg.
Then I layered in a few of my favourite granola bar ingredients for colour and flavour - handfuls of dried cherries for sweetness, chopped walnuts and bright green shelled pepitas for a little hearty crunch, and a scattering of semi-sweet chocolate chips for good measure.
A half-hour in the oven later, I had myself a pile of dense, nutty bars with a texture that falls somewhere in between muffin and cookie and granola bar, and a good-for-you pedigree that's hard to beat - there's fiber from the oats and whole wheat flour, calcium from the milk, and loads of anti-oxidants from the cherries, walnuts and chocolate.
And best of all, they're substantial enough to keep you going until lunch without feeling overly heavy.
Best of all, there's chocolate.  And who doesn't love an excuse to eat chocolate for breakfast?
So there probably won't be a Bacon and Egg McMuffin waiting for me somewhere along the 401 on this particular trip, but there will still be fields full of cows and sheep, pretty clouds to take pictures of, and off-key singalongs to How To Explain and The Lost Song.
In other words, it will still be a road trip... just a healthier, more delicious one.
//
Print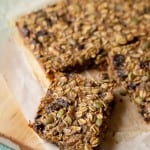 Cherry-Walnut Oatmeal Breakfast Bars
---
Author:

Total Time:

45 minutes

Yield:

10

bars

1

x
Description
These dense fruit, nut and oat bars are filled with the kind of good-for-you ingredients that'll keep you going until lunchtime - a perfect grab-and-go breakfast!
---
1 ½ cups

old-fashioned rolled oats

½ cup

whole wheat flour

½ cup

roughly chopped California Walnuts

¼ cup

semi-sweet chocolate chips

¼ cup

dried cherries

¼ cup

pumpkin seeds

¼ cup

brown sugar

2 tbsp

flax meal

½ tsp

salt

¼ tsp

baking soda

1 ½ cups

milk

1

egg

1 tsp

vanilla extract
---
Instructions
Preheat oven to 350F. Line a 9x13" baking dish with parchment, leaving a 1" overhang on either side.
In a large bowl, stir together oats, flour, walnuts, chocolate chips, cherries, pumpkin seeds, sugar, flax seeds, salt and baking soda.
In a separate bowl, whisk together milk, egg and vanilla extract until combined. Pour into the dry ingredients, and stir until well combined. (It will look like a wet, soupy mess - don't panic, that's how it's supposed to be.)
Scrape the mixture into the prepared baking dish, and smooth out into an even layer. Bake in preheated oven for 30 minutes, or until the bars are set and golden brown.
Allow to cool in pan for 10 minutes, then lift out using the parchment paper and cut into 10 equally-sized bars. Bars can be stored at room temperature in a tightly sealed container for up to 5 days.
Prep Time:

15 mins

Cook Time:

30 mins

Category:

Breakfast

Method:

Baked