I'm really excited to have been invited to join the Canadian Tire Kitchen Crew, a team of bloggers working in partnership with Canadian Tire to help you find new ways to explore your kitchen's potential.
Over the course of the next couple of months, I'll be carrying out three separate missions, each of which will involve great, original recipes based around products that are available at your local Canadian Tire.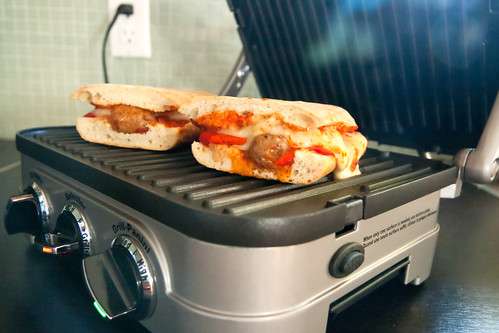 For my first Kitchen Crew mission, I received a free Cuisinart Griddler 4-in-1 Grill, and was given the following challenge:
Between your day job and your social calendar, it's hard to find the time to do anything anymore - let alone pack a lunch!  Besides wanting to stay healthy, you also need a lunch that'll travel well, because - let's face it - who likes soggy sandwich lettuce?  Your mission this week is to develop easy lunchtime eats!  That means a total prep time of 20 minutes or less - no cheating!
Coincidentally enough, I already had a Griddler of my own before this challenge came my way - I bought it as my housewarming present to myself when The Boy and I closed the deal on our house four years ago, and it's still one of my favourite small kitchen appliances... you could take my stand mixer, meat grinder, waffle maker and immersion blender, but you will pry my Griddler from my cold, dead hands.
The biggest advantage of the Griddler is its multi-tasking ability (hence that whole 4-in-1 part of the name) - it's a contact grill, panini maker, flat grill and griddle, all in one.  The newer model comes with a single set of non-stick reversible plates, which have a ridged surface on one side and a flat surface on the other - a nice upgrade from the two sets of single-side plates that came with my old model, which made storage a bit challenging.
Depending on your needs, it can be used folded to for panini, grilled cheese sandwiches, quesadillas or hamburgers, or opened flat to cook up pancakes or grill meats and veggies.  Best of all, cleanup is a breeze - the plates pop out with the push of a button, and are completely dishwasher-safe.
The only complaint I've ever had about my Griddler (aside from the plate storage issue that's been fixed with this model) is the fact that it ought to make waffles, too... but a quick poke around Canadian Tire's website revealed that Cuisinart's fixed that quibble too.  A set of waffle plates can be purchased separately... sweet!
Since one of the things I make most often on my Griddler is grilled Italian-style panini, it seemed like the obvious choice for my quickie 20-minute gourmet lunch challenge.  I have found that the floating hinge can make panini a little tricky, since it makes it very difficult to apply pressure evenly using the handle alone (on my first few attempts, the uneven pressure would often cause the top bun to slide away when using buns or thick slices of bread). My solution is to use a clean dishtowel or oven mitt to press down directly on the top of the Griddler to flatten my panini.  No more runaway buns!
For this recipe, I drew on the classic meatball marinara sub for inspiration, and filled my panini with a combination of Italian sausage "meatballs", roasted red pepper strips, melted Provolone cheese, and a dollop of marinara sauce.  They're just what a great panini ought to be - toast and crispy on the outside, and soft, moist and gooey on the inside.
Admittedly, this sandwich definitely tastes best while still warm from the Griddler, but even when cooled to room temperature and packed up in a lunch bag, it's still miles better than any peanut butter and jelly sandwich on white bread could ever be... plus, if you're lucky enough to have a toaster oven at the office, you could always reheat it briefly to melt the cheese and warm everything through.  No matter what, it's still guaranteed to make your coworkers wild with jealousy.
Disclosure:
I was provided with compensation, including a free Cuisinart Griddler 4-in-1, in exchange for creating this post for the Canadian Tire Kitchen Crew series.
The Kitchen Crew series highlights my stories, recipes & tips with promotional consideration made possible by Canadian Tire. If you want to uncover your kitchen's true potential, stay tuned to the Kitchen Crew for my weekly missions.
//

This quick and easy panini combines several classic Italian flavours - spicy sausage "meatballs", crusty ciabatta bread, marinara sauce and Provolone cheese. If you can't find ciabatta, just substitute with your favourite crusty Italian-style bun.
Author:
Isabelle Boucher (Crumb)
Ingredients
2 spicy Italian sausages
2 ciabatta buns (or 1 small loaf, cut in half)
¼ cup bottled marinara sauce
2 tsp dried oregano
½ tsp red pepper flakes (options)
¼ cup sliced roasted red pepper
4 slices Provolone cheese
Instructions
Remove the casing from the sausages. Cut each sausage into six roughly even-sized pieces, the roll the pieces between the palms of your hands to form a dozen little meatballs.
In a skillet set over medium-high heat, fry the sausage balls for 7-10 minutes, or until well browned and cooked all the way through.
Meanwhile, insert plates into the Griddler with the ridged side facing out and preheat to High.
Split the ciabatta buns lengthwise, and scoop out a small hollow from the inside of both the top and bottom halves to help keep the filling contained when it's pressed in the Griddler.
Starting with the first bun, spread the top and bottom halves with half of the marinara, and sprinkle with half of the oregano and red pepper flakes (if using). Place a slice of cheese onto the bottom half of the bun, followed by half of the sausage, a second slice of cheese, half of the red peppers, and top off with the top half of the bun. Using the palm of your hand, press down gently to squish the sandwich together. Repeat with the remaining bun and fillings.
Arrange the sandwiches on the bottom plate of the preheated Griddler, then lower the top and press down gently for 30 seconds to flatten the panini. Grill for 4 to 5 minutes, or until the cheese is melted and the bread is toasted. Slice in half and serve immediately, or wrap up to take to work and make your coworkers jealous.