Who's got two thumbs and joined the Secret Recipe Club this month? This gal, that's who!
In case you're not familiar with Secret Recipe Club, here's how it works in a nutshell - each month, the SRC members are each randomly assigned a secret blogger buddy, and then pick a recipe from their buddy's blog to cook and document on their own blog on the big reveal date.
A few bloggers I follow have joined up in recent months, and it seemed like a neat way to connect with other bloggers while trying out some recipes I might otherwise never have discovered. Sounds like a win-win proposition, right?
My assigned blogger for September is Megan at Megan's Cookin', whose lovely blog is chock-full of recipes for homey comfort foods and sinfully sweet desserts. It's so chock-full, in fact, that I had a really hard time deciding which recipe I wanted to make!
This Month's Recipe: Killer Artichoke Bread
It was really hard to choose just one recipe to me, but in the end it was her recipe for Killer Artichoke Bread that called my name.
Actually, to be more specific, it didn't exactly call my name... more like it shouted "Bread! With loads of melted cheese! And artichokes! MAKE ME NOW!"
(Yes, food occasionally screams orders at me. Particularly when said food is deep-fried, smothered in cheese, or involves some form of chocolate.)
The only changes I made to Megan's original recipe were scaling down to half of the topping ingredients (except for the garlic, because we LOVE garlic), swapping out the original French bread for a smaller ciabatta loaf, and adding one finely minced shallot to the mix.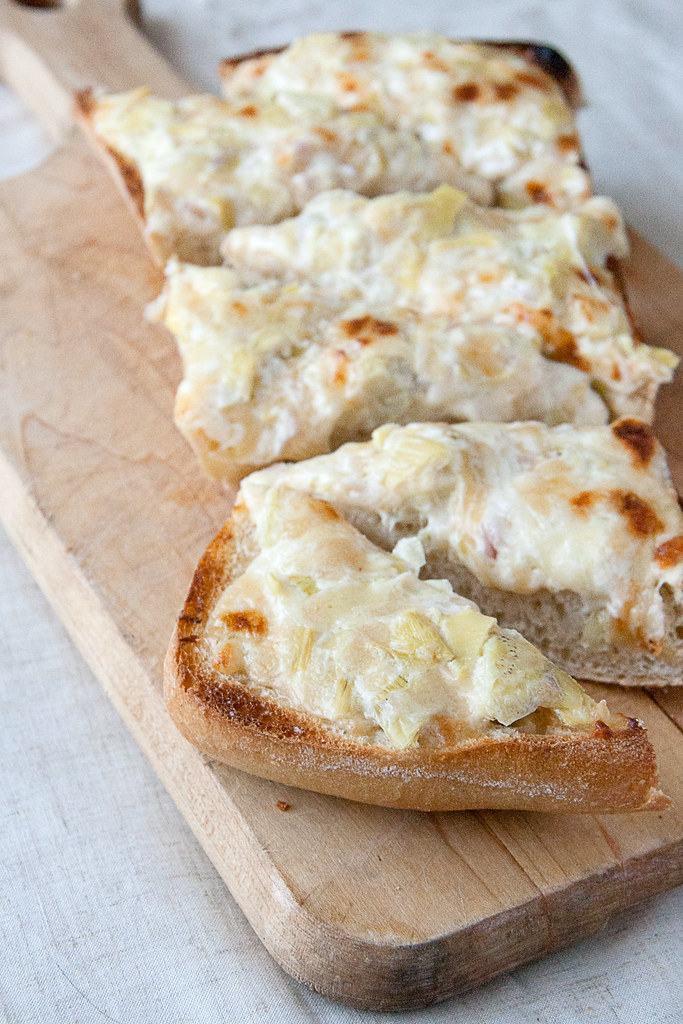 The Verdict: Must-Make or Mistake?
This one is a definite must-make. Seriously. Make this. NOW.
One small caution, however. Do not, under any circumstances, eat the whole loaf on your own, no matter how loudly it is shouting at you to do so. That would be bad.
I take no responsibility for any major indigestion, sudden spikes in cholesterol levels or massive weight gain that might result from actually eating the whole thing in one sitting, as tempting as it might be. Consider yourself warned.
Instead, try inviting a friend or two or five to help you polish off these gorgeously gooey cheese-covered slices of heart-stopping, artery-clogging deliciousness.
Or just scale down the recipe to make a half-batch, which is what I ended up doing for The Mister and myself... and as it is, we ended up declaring defeat halfway through, and saved the second half for another day.
//
Print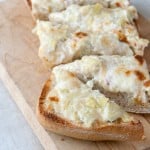 Megan's Killer Artichoke Bread
---
Author:

Total Time:

10 mins

Yield:

4

1

x
Description
Think of this as Cheesy Garlic Bread meets Baked Artichoke Dip, only even better - it's ooey, gooey and pretty much guaranteed to ruin your appetite for dinner (but it's totally worth it).
---
2 tbsp

butter

2

cloves garlic, pressed

1

(14 oz) can artichoke hearts, drained and chopped

1 cup

shredded cheddar and mozarella cheese blend

½ cup

grated Parmesan cheese

¼ cup

sour cream

1

large shallot, finely minced

1

small loaf ciabatta bread
Salt and freshly ground black pepper
---
Instructions
Preheat broiler, and line a large baking sheet with aluminum foil.
In a large skillet set over medium-high heat, melt the butter until foamy. Add garlic and cook until fragrant, about 30 seconds. Scrape the cooked garlic into a large mixing bowl, and stir in artichoke hearts, mozzarella, cheddar, Parmesan, sour cream and shallot until combined.
Slice the bread lengthwise. Place the bread halves on the prepared baking sheet, cut side up, and spoon the cheese and artichoke mixture overtop. Broil for about 5 minutes, or until the cheese is melted and bread is hot. Cut each half into six pieces and serve right away, while the cheese is still nice and melty.
Prep Time:

5 mins

Cook Time:

5 mins