For the second part of my Canadian Tire Kitchen Crew mission featuring the Cuisinart Griddler 4-in-1 Grill, I decided to leave sandwiches behind and show off another way the Griddler could be used to whip up an easy and enviable lunch in under 20 minutes.
I've often used the Griddler to make grilled chicken breasts in the depths of winter, when it's too cold to walk outside and use the propane grill. I mean, I love me some grilled chicken no matter what time of year it is, but I don't love it enough to stand in ankle-deep snow in order to get my hands on it (I know this makes me a bad Canadian, but it's true... I'm a wuss when it comes to cold and snow).
Sure, a chicken breast fresh off the Griddler may not be quite the same as grilling over an open flame, but it comes pretty darn close. The ridged plate even creates perfect char marks on the surface, just like a real grill does!
Normally, if I'm grilling meats or sausages, I open up my Griddler and use it as a flat indoor grill to maximize the cooking surface... but since time was of the essence for this mission, I decided to use the Griddler as a contact grill instead, so that both sides of the chicken would cook simultaneously.
To shorten the cooking time even further, I also butterflied the chicken breasts to make them thinner and flatter. Lucky for me, the cooking surface on the Griddler is large enough to accomodate two butterflied chicken breasts without any trouble!
Those two little tricks make it possible to turn out a pair of perfectly juicy grilled chicken breasts in the time it takes to whisk together the dressing and prepare the rest of the salad fixin's. Easy peasy.
Let's talk about the rest of the salad for a minute, though - after all a good grilled chicken salad is as much about the supporting players as it is about the chicken itself.
This one combines a fall-inspired mix of tender baby salad greens and slices of tart apple tossed with a sweet maple-mustard vinaigrette, and garnishes it with tangy goat cheese crumbles and a sprinkling of fruit and nut trail mix. It's tangy, sweet, crispy and crunchy... perfect for fall.
Top the whole thing off with slices of cooled chicken breast, and it all adds up to a flavourful, colourful and substantial salad that'll help you power through that 2pm slump.
Disclosure:
I was provided with compensation, including a free Cuisinart Griddler 4-in-1, in exchange for creating this post for the Canadian Tire Kitchen Crew series.
The Kitchen Crew series highlights my stories, recipes & tips with promotional consideration made possible by Canadian Tire. If you want to uncover your kitchen's true potential, stay tuned to the Kitchen Crew for my weekly missions.
//
Print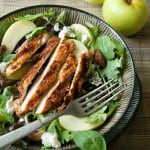 Fall-Inspired Grilled Chicken Salad
---
Description
The Cuisinart Griddler makes quick work of grilling seasoned, butterflied chicken breasts for this sweet and savoury fall-inspired salad. For a brown-bag lunch, pack all the components separately and assemble at the last minute.
---
Cajun Chicken Breasts
2

boneless, skinless chicken breasts

2 tbsp

cajun spice mix
Maple-Mustard Vinaigrette
¼ cup

extra-virgin olive oil

2 tbsp

apple cider vinegar

2 tbsp

maple syrup

2 tsp

Dijon mustard

2 tsp

grainy old-fashioned mustard

1

small shallot, finely minced

1

clove garlic, pressed
Salt and pepper
Salad Fixin's
4 cups

mixed salad greens

2

small apples, cored and sliced

¼ cup

mixed fruit and nut trail mix

¼ cup

crumbled goat cheese (optional)
---
Instructions
Set up the Griddler with the ridged side of the plates facing out and preheat to High.
Meanwhile, butterfly each of the chicken breasts by slicing through it horizontally almost but not all the way through, then open up like a book. Sprinkle each breast on both sides with cajun seasoning.
Once the Griddler is preheated, arrange the chicken breasts on the bottom plate. Close the lid, and cook for 5-7 minutes, or until the chicken breasts are cooked all the way through. Let cool for a minute or two, then cut into thin strips.
Next, make the vinaigrette by whisking together all the ingredients in a small bowl.
To assemble the salads, combine the greens and sliced apple in a large bowl, and toss with a few tablespoons of vinaigrette until evenly coated. Divide the salad between two plates, then top each one with trail mix, crumbled goat cheese and sliced chicken. Serve right away and enjoy.