Zucchini is a divisive vegetable. I find that people either love it or hate it. There's no middle ground.
Me, I'm a lover. At this time of year, I usually end up gorging myself on as much zucchini as I can buy... which is a lot, considering it's both cheap and abundant by early August.
I'd probably plant some, except for the fact that The Boy is quite firmly planted in the "hate it" side of things, and would probably balk at my attempts to sneak some zucchini into every single meal to deal with the overflow.
I understand where the haters are coming from, though. Their experience obviously stems from a bad experience with overcooked zucchini, which has an unfortunate tendency to be watery and slimy, and has an unpleasantly bitter aftertaste to boot.
Even a dedicated zucchini lover like me won't do much beyond poke dubiously at those flaccid greyish-green slices with my fork until they're as far away from me as possible... it's the vegetal equivalent of a well-done steak.
How to Cook Zucchini (the right way!)
The trick is to use tender young zucchini, which are much less bitter and watery than their overgrown siblings. A good zucchini is ;no more than an inch-and-a-half in diameter, with glossy green skin that is easily pierced with a fingernail.
More importantly, it must also be cooked fast over blisteringly hot heat, just long enough to kiss the surface with a hint of golden-brown caramelized goodness, and then removed immediately before the inside gets a chance to go mushy.
Oh, and a generous hand with the salt also helps. Salt and zucchini are very good friends.
The easiest way to convert a lover to a hater, though, is through these fritters. After all, there are few things in this world that aren't vastly better when they've been fried in hot oil.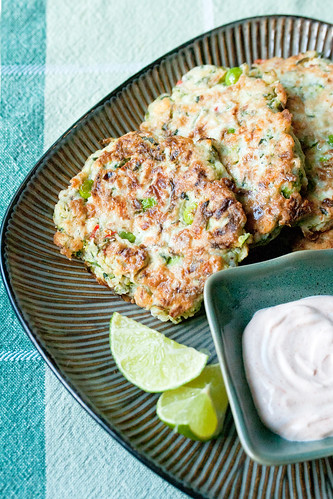 The Inspiration for These Zucchini Fritters
The recipe is inspired by one of my favourite mezes, a simple zucchini fritter seasoned with lots of fresh dill, mint and crumbled feta that's known in Greece as kolokithokeftedes.
That said, similar dishes pop up pretty much everywhere along the Mediterranean coastline.
My version steers away from some of the more classic Greek flavours by subtracting the dill, and adding in sweet peas, shreds of fresh basil, and finely minced red hot chiles, all of which are generally known to get along quite well with feta and mint and zucchini.
It's a totally untraditional version of the original, but it's pretty darn delicious.
How to Serve Zucchini Fritters
Eaten fresh out of the pan, these fritters are a study in balance and contrast. The outside is delicately crisp from the hot oil, giving way to a gently soft, almost custardy interior.
Sweet zucchini shreds are interspersed with pops of sweet pea and briny half-melted feta, and the faint heat of the seeded red chiles is balanced by the coolness of fresh mint.
It's like there's a toga party in your mouth, and everyone's invited.
As good as they are straight up and unadorned, they're even better with a dollop of the sour cream dipping sauce, which provides both a cool counterpoint to the hot fritters and a hint of bright acidity that makes the flavours shine. Even the most hardened zucchini hater couldn't possibly turn these away.
And while I can't speak for all the zucchini lovers, I know I could eat an entire plate of these for dinner, with nothing more than a crusty chunk of bread and a cold beer.
In fact, I just might.
//
Print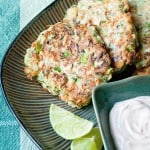 Zucchini Fritters with Feta, Mint and Chili
---
Description
Inspired by a classic Greek recipe, these golden-brown fritters are a delicious way to deal with an overabundance of zucchini. Serve them as an appetizer or as a meat-free main dish for a summer dinner party.
---
3

medium zucchini, coarsely grated (around

3 cups

)

1 tsp

salt

1 cup

sweet peas (fresh or frozen)

½ cup

crumbled feta cheese

½ cup

chopped green onion

1

red hot chili pepper, seeded and finely minced

1

clove garlic, finely minced

2 tbsp

finely chopped fresh mint

1 tbsp

finely chopped fresh basil
Freshly ground black pepper

2

eggs

½ cup

all purpose flour
Canola oil (for frying)
Dipping Sauce
½ cup

sour cream or plain yogurt

1 tbsp

smoked paprika
---
Instructions
Toss zucchini and ½ teaspoon salt in a large mesh colander. Let stand for 10 minutes, then squeeze to remove as much liquid as possible.
In a large mixing bowl, combine the grated zucchini with remaining ingredients (except for canola oil), and stir to combine into a thick batter. If the batter looks runny, add some more flour, a couple of tablespoons at a time, until it reaches the consistency of a thick muffin batter.
In a large skillet set over medium heat, heat 2 tbsp canola oil. Drop generous spoonfuls of batter (~2 tbsp each) into the hot oil and gently flatten into thick patties. Fry until golden and crisp, about 5 minutes per side. Transfer the cooked fritters to a plate lined with paper towel to drain. Repeat this process with the remaining batter, adding more oil to the pan as needed. Serve hot or at room temperature.
To make dipping sauce, stir together sour cream (or yogurt) with smoked paprika until combined. Spoon into a pretty dish and serve alongside the fritters.