Welcome back to the Canadian Food Experience Project. This month, our challenge is to feature a Canadian regional food hero.
While Toronto has a really vibrant food scene and literally hundreds of local heroes to choose from, I really wanted to pay homage to someone who directly influenced my own relationship with food in some in some way. And when it comes to that, there's really no one who's inspired me quite like Jehane Benoit... or rather, Madame Benoit, as she's affectionately known by most Quebeckers.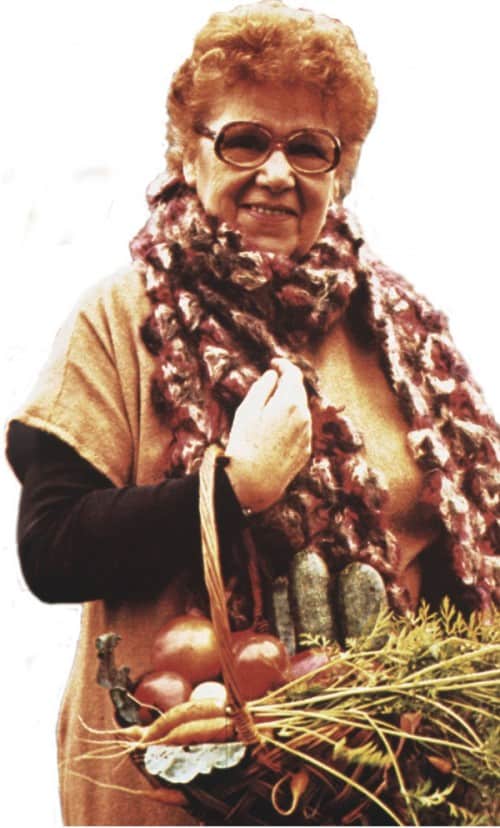 Jehane Benoit, Grand Dame of Canadian Cuisine
Born in Montreal in 1904, Madame Benoit received diplomas in food chemistry from the Sorbonne and in cuisine from the Cordon Bleu in Paris, before returning home to found a cooking school of her own, Le Fumet de la Vieille France.
She also operated one of Montreal's very first vegetarian restaurants before eventually finding her calling as a cookbook author, penning her first book in the 1950s.
In many ways, Madame Benoit is to French-Canadian cookery what Julia Child is to classical French - she took many traditional recipes typical of Canadian (and, more specifically, Québécois) cooking, and made them approachable for even the most inexperienced cooks.
According to Wikipedia, she penned over 30 cookbooks during her decades-long career. And while she didn't have her own TV show, she did make frequent appearances on radio and TV through much of her career.
The Many Cookbooks of Madame Benoit
Like most French-Canadian households in the late 70s and early 80s, her cookbooks occupied a place of pride on our shelf.
There was a yellowed and very dog-eared copy of her Encyclopedia of Canadian Cooking from my mother's university days, now held together with an elastic band, along with her six-volume Encyclopedia of Microwave Cooking (a series published after her 80th birthday, which is pretty damn impressive in and of itself!).
In our house, roast beef and shepherd's pie were made Madame Benoit's way, or not at all. In many ways, her books were considered as essential at my house as The Joy of Cooking or Mastering the Art of French Cooking was for their anglophone contemporaries
And yet, despite all this, she remains largely unknown in English Canada, let alone the rest of the world. Which is really kind of a shame.
My Favourite Mme Benoit Cookbook
I'm rather ashamed to admit that I only have one Madame Benoit cookbook in my own collection at the moment, an oversight I plan on rectifying soon enough.
The slightly battered copy of her children's cookbook, La cuisine au four à micro-ondes, ça m'amuse has a very special place in my heart because it just happens to be the very first cookbook I ever owned.
It's a collection of easy beginner recipes prepared using the microwave that was gifted to me by a family friend many many years ago, and contains many of the recipes I made when I first started to cook on my own.
Those first few dishes may not have been the most impressive, but they set me up with the basic skills I needed to graduate to more complicated dishes and eventually, to using a proper stovetop and oven.
I haven't cooked from La cuisine au four à micro-ondes in a great many years (or used a microwave for anything besides reheating leftovers, for that matter), but I still keep it on my bookshelf as a reminder of how much I've learned since then.
That doesn't mean I don't cook with Madame Benoit's recipes though. I still make shepherd's pie and roast beef the same way I learned all those years ago. Always.
A Simple (Yet Delicious) Slaw for Fall
And then there's this simple cabbage apple slaw, which has all the hallmarks of a classic Madame Benoit recipe.
It's made from a very small number of ingredients and requires no fancy kitchen skills to prepare, but when created with fresh good-quality ingredients, it creates a dish with a perfect balance of bright flavours and textures that belies its simplicity.
I like to use honeycrisp apples, which have enough crunch of their own to stand up to the cabbage, as well as a lovely sweet-and-tangy note. Other options that work well here are gala and russet, or even granny smith if you want something really tart. Avoid mealier apples like macintosh or delicious.
It just goes to show that you can't go wrong with a classic old-fashioned recipe prepared with fresh, local ingredients... which is the biggest lesson I've learned from Madame Benoit.
//
The Canadian Food Experience Project began June 7, 2013 with the goal of bringing together Canadian food bloggers in celebration of the amazing cuisines that make Canada the unique and diverse place we're so proud to call home. As we (participants) share our collective stories through our regional food experiences, we hope to bring global clarity to our Canadian culinary identity.
//
Print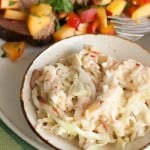 Mother Superior's Cabbage Salad
---
Author:

Total Time:

15 mins

Yield:

6

1

x

Diet:

Vegetarian
Description
This ain't your grandmother's coleslaw - the apple adds a hint of sweetness, while the dressing gets its creaminess from sour cream rather than mayo, making it bright and lighter than a traditional slaw.
---
3 cups

shredded cabbage

2

sweet apples, grated

1

small onion, grated

½ tsp

salt

½ cup

sour cream

2 tbsp

cider vinegar

1 tbsp

honey

¼ tsp

fresh ground black pepper
---
Instructions
In a large bowl, toss the cabbage, apples, onion and salt until combined. Cover with plastic wrap and chill for 20 minutes.
Meanwhile, in a small bowl, whisk together the sour cream, honey, vinegar and pepper until smooth. Cover and chill until ready to serve.
Just before serving, pour the dressing over the salad and toss until evenly coated.
Prep Time:

15 mins

Category:

Salad

Method:

Raw

Cuisine:

Canadian