It's often said that the ability to compromise is essential in a relationship.
However, like most other essential things in life (including flossing every day, paying bills on time, filing your taxes, making your bed, and calling your mother every once in a while because she worries), it's often easier said than done.
Thankfully, the compromises between me and the Mister have been few and far between, especially in the food department. I humor his weird obsession with street meat (as Torontonians fondly call the grilled hot dogs you can buy from vendors on the street), and he humors my belief that oatmeal is a delicious breakfast food as opposed to a good substitute for spackle.
The one catch, really, is that he genuinely can't stand cruciferous vegetables. He's gamely put up with my attempts to get him to try all sorts of different preparations, but I've had absolutely no luck so far. I've even tried smothering tossing the dang things with lots of crispy bacon and smothering them in cheese sauce, but even that was a no go.
So I've compromised. I rarely buy broccoli, cauliflower, cabbage, kohlrabi, kale or any of their ilk, unless we happen to need coleslaw to go with some homemade barbecue. (Because no matter how much you hate cabbage, you have to agree that a big bowl of creamy, tangy, celery-seed-speckled coleslaw is essential when eating barbecue. No ifs ands or buts.)
The problem with this arrangement of ours is that I have a contrary streak a mile wide, which means these previously not-all-that-desirable vegetables have become downright covetable. Seriously. I get way more excited about Brussels sprouts than any sane person ought to be. Especially once bacon gets involved.
So I deal with it by waiting for him to away on business or out for dinner with a friend, and then take advantage of his absence to indulge my cravings.
A whole bucket of kale chips? Yes please. Roasted broccoli with lemon juice and parmesan? Gimme. A small casserole dish of creamy cauliflower au gratin smothered with lots of Gruyere? Pass me a spoon and a bib.
(Side note: I'm pretty sure 10-year-old me would've been deeply disappointed to discover my current guilty pleasure involves binging on vegetables instead of eating an entire tub of ice cream on my own. Then again, 10-year-old-me had a much better metabolism than 30-cough-cough-cough-year-old-me.)
My latest indulgence is this Brussels sprout and bacon pizza, which is basically an olive-oil-and-garlic pizza base topped with finely shredded Brussels sprouts that are briefly wilted on the stovetop and tossed with lots of crispy bacon. It might sound strange, but it's actually quite magical - the sprouts are sweet and nutty and soft, a perfect contrast against the salty richness of the bacon and melted mozzarella, and the sharp bite of garlic brings it all together.
The best part, though, is that I don't have to share with anyone else. It's mine. Aaaaaallllll mine. Neener neener.
I think this is a compromise I can live with.
//
Print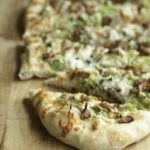 Brussels Sprout and Bacon Pizza
---
Author:

Total Time:

20 mins

Yield:

4

1

x
Description
Nutty Brussels sprouts and crispy bacon are always delicious together. But when they're sprinkled on top of a freshly baked homemade pizza, they're utterly magical.
---
½

lb prepared pizza dough

4

slices thick-cut bacon, chopped

½

lb brussels sprouts, thinly sliced

¼ teaspoon

pepper

2 tsp

olive oil

2

garlic cloves, finely minced

1 cup

shredded mozzarella cheese

2 tbsp

grated parmesan cheese
---
Instructions
Preheat oven to 450F.
In a large skillet set over medium-high heat, fry the bacon until crisp. Using a slotted spoon, transfer the bacon to a plate lined with paper towels, leaving the fat in the pan. Add the shredded brussels sprouts, and season with salt and pepper. Saute until sprouts are bright green and slightly wilted, about 5 minutes.
Stretch the pizza dough into a 16" round (or just stretch it into an amoeba shape like I do… whatever floats your boat.). Brush the olive oil onto the dough, and sprinkle with minced garlic. Sprinkle half of the mozzarella onto the crust, then top with the brussels sprout mixture, bacon bits, and then sprinkle with the remaining mozzarella and parmesan cheese.
Bake pizza in preheated until dough is crisp and cheese is melted, 8-10 minutes. Let cool for 5 minutes, then cut into slices and serve.
Prep Time:

10 mins

Cook Time:

10 mins

Category:

Main

Method:

Baked

Cuisine:

Canadian